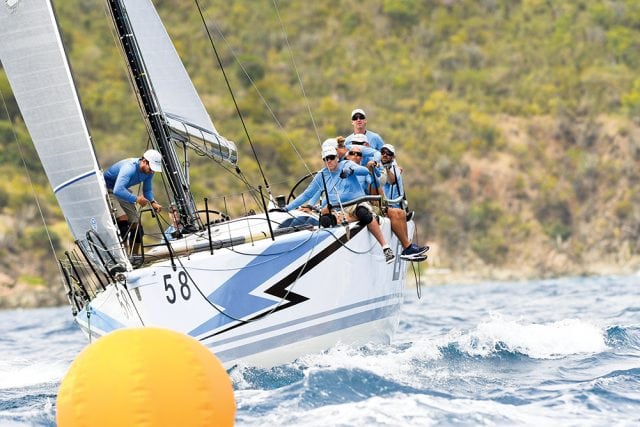 No matter how much you love your powerboat, there's no denying the beauty and draw of sailboats, especially when they're racing on a clear day, their colorful sails filled with the wind. If you've never tried it, participating in a Caribbean sailing regatta is a thrilling experience and one that we highly recommend.
Sailing schools can be found in nearly any coastal city in the U.S. as well as in the Caribbean, and course programs are offered to accommodate all levels of interest. If you're not ready to fully jump in the deep water but simply want to dip your toe in the shallow end of sailing, a great option is to join one of the many Caribbean regattas in which you pay to play. Based on Antigua,
Ondeck Sailing lets guests reserve a spot (for a fee) on one of the yachts in the regattas. (Prices range depending on the event, yacht and other factors.)
With the exception of comfy shoes that have non-marking soles—and recommended sun protection such as sunscreen, sun shirts, and hats—participants don't need any special equipment or previous sailing experience. Yachts in the regatta are crewed by qualified, professional sailors that will teach you as much or as little as you want during the event. Guests are encouraged to get involved in the competitive aspect of the sport, but it's perfectly acceptable to simply observe the action rather than be part of it. Lest one confuses regattas with touristy boat cruises, no alcoholic beverages are allowed on board during the races; this is serious competition, after all. Once the event is finished, a fruity rum punch concoction and other spirits, of course, are freely distributed.
If a sailing regatta has piqued your interest, now is the time to start planning and secure your place as guest spots fill up quickly
once the Caribbean regatta season has commenced. For your convenience, we've included the 2018 Caribbean Regatta Calendar, which lists all of the sailing events during which guests can sail with Ondeck. ondecksailing.com;antigua@ondecksailing.com; (268) 562-6696
Performance Yacht Racing also offers opportunities to join
race yacht charter crews for offshore or inshore regattas. Teams
comprise people of all ages and nationalities for competitive racing in the United Kingdom, Mediterranean, and Caribbean. If making an Atlantic Ocean crossing is on your bucket list, join the Atlantic Rally for Cruisers (ARC), an annual transatlantic event that is the largest transocean race of its kind. It starts in Las Palmas in the Canary Islands and finishes in Rodney Bay on the Caribbean island of St. Lucia. Learn more at performanceyachtracing.com.
Girls For Sail provides sailing courses and events specifically
designed, organized and offered by and for women. The organization was founded by Annie O'Sullivan, an RYA
Yachtmaster instructor, who leads the all-female crew. The
company's programs focus on sailing technique rather than muscle. Sailing and racing experiences are held throughout the year at venues in either St. Lucia or Cowes on the Isle of Wight. For more information, go to girlsforsail.com.
2018 CARIBBEAN REGATTAS CALENDAR WITH ONDECK SAILING
December 31, 2017
Nelson's Pursuit Race, Antigua

January 16-24
Mount Gay Run Round
Barbados Sailing Race
January 29-February 3
Grenada Sailing Week
February 9-12
Jolly Harbour Valentine's Regatta
February 19-23
RORC Caribbean 600
March 2-4
Heineken St. Maarten Regatta
March 15-18
St. Barth's Bucket
March 23-25
St. Thomas International Regatta
March 26-April 1
BVI Spring Regatta and Sailing Festival
April 9-14
Les Voiles de St. Barth
April 22
Guadeloupe to Antigua Race
April 28
Yachting World
Round Antigua Race
April 29-May 4
Antigua Sailing Week
May 12
Antigua to Bermuda
By Liz Pasch, Southern Boating October 2017
Photos: STYC/DEAN BARNES,
PPL/CANARIAS,ONDECK SAILING, STYC/DEAN BARNES WORLD CRUISING CLUB/JAMES MITCHELL