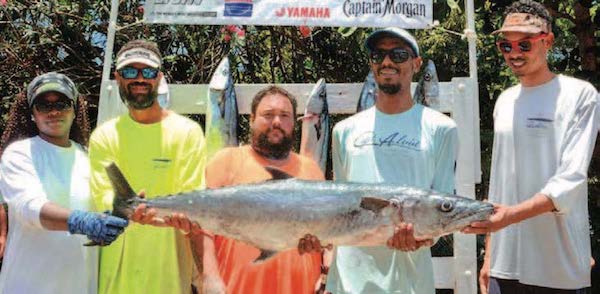 You'll find some royally good game fishing in these Caribbean fishing tournaments.
PICK YOUR PLEASURE: KINGFISH OR TARPON. The kingfish, or king mackerel, is the royally feted fish to catch at the Northside Sportfishing Club's Bastille Day Kingfish Tournament set for July 16th at Hull Bay in St. Thomas, U.S.V.I.
More than 60 boats and 200 anglers compete in this event that's been named as one of the top 10 destinations to celebrate Bastille Day. This is a small boat tournament, so it's easy to fly down and charter a center console with or without a skipper to fish for the day. Big prizes are awarded: $2,000 for the largest kingfish, trophies, luxury gifts, overnight stays at local hotels, dinners at the island's restaurants, and more. Bring the whole family since there are also special awards for lady and junior anglers, plus the after-party vibe at this beach-based event offers fun for everyone.
Farther south, the Trinidad & Tobago Game Fishing Association hosts its Tarpon Thunder Tournament July 29-30 at Island Yacht Charters on Gasparee Island, Trinidad, located about six nautical miles off the capital city of Port of Spain. Another regal catch, the tarpon is nicknamed the "silver king" due to its sheer size. True to its moniker, on the first day of this tournament in 2012, angler Jimmy Aboud of team Outcast landed the island record, a 198-pound tarpon. The competition takes place in three sessions with catered lunches and time for camaraderie in between. ttgfa.com/events/tarpon-thunder