Yacht Protector monitors your boat,
makes sense and saves cents.
Owners of large yachts typically employ crew to manage and care for their yachts and to ensure their systems are in good working order. Owners of boats less than yacht-sized, however, generally manage and care for their own. But if they don't dock it right behind their home, short of hiring full-time crew, it's nearly impossible to monitor their boat 24/7, or it was until recently.
Yacht Protector is an innovative, affordable and easy-to-install boat monitoring system designed for boats of all sizes. Now, before you envision your boat being dismantled to install the system, think again. Yacht Protector was designed to be a plug-and-play system, so no boat modifications are required. Here's how it works.
Wireless sensors are paired with the CORE module then strategically placed and set throughout the boat. Owners download the Yacht Protector app on their phone, tablet or laptop that enables them to monitor essential onboard systems. The boat's current position can be seen in map or satellite view, and a complete history by day, week and month can be viewed and pinpointed to within 3 minutes. If there's any deviation from the system's thresholds that have been designated by the user, the owner and up to four additional contacts are alerted via the app. Additional alerts are sent via SMS, email and even a phone call from the call center.
Yacht Protector is the brainchild of Gerald Berton, CEO and owner of the Yacht Group. "Boat owners of every size wonder what's happening with their boat when they're not there and wonder 'Will my batteries be okay? Has anyone been on my boat?'" says Berton. "The idea was to come up with a very easy-to-install and intuitive system that allows a person to use their smartphone to access the boat and put a geofence around his boat so they know if it's been used." Berton adds that people are comfortable using their smart devices, and the Yacht Protector app provides all the information on the device including forecasted weather risks.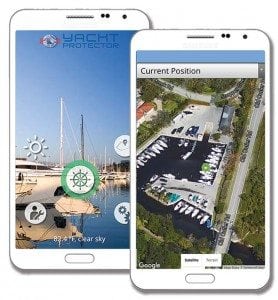 The system has a built-in GPS, so if you're in a mooring the geofence can be set for a perimeter around the boat. You can receive an alert if someone is on or approaching your boat, and you can also adjust for drift. For larger boats, the geofence can be set to also monitor tenders aboard. The alert system can be muted when desired, and customization options include language, sensor names, alert thresholds, geofence settings, avatars, and much more. "The alert system is really user-friendly. You get an email immediately and also a push alert. If you don't accept it, you'll receive one every minute for the first 10 minutes, then at the end you get a text message," explains Berton. "If there's something going on, you want to know about it right away. If you don't answer those, you'll get a phone call from the call center. You can also list whomever you want as a contact—marina, person who cares for the boat, neighbors, etc. So marinas can have a little cottage industry, too, by providing service and being named as a contact." The main keyfob is programmed for the boat owner, and additional keys can be programmed for authorized persons.
Dave Sell and a business partner took delivery of their 2016 Azimut 66 Fly in early August and each has his own keyfob. "I don't live aboard the boat, which is the main reason why I installed Yacht Protector," says Sell, who lives in Newport Beach, California, about 20 minutes away from Marina del Rey where the boat is docked. "I wanted some indication of the systems at all times." Sell installed the system himself with some assistance from a marine service company who was doing work on his yacht at the time. Both Sell and his partner have the app on their phones, and their keyfobs are programmed so that when either one of them goes on the boat, the motion sensor is muted on the other's keyfob so that no alerts are sent.
According to Sell, the Yacht Protector system has already paid for itself. "Just last weekend we got an alert that the shore power was cut. We called the marina, they sent their person to the dock and found out the power receptacle was not functioning properly," says Sell, who added additional sensors to the standard unit. "That malfunction would have caused problems for all the boats on the dock, but Yacht Protector on my boat prevented it."
The Yacht Protector system costs $1,295 and includes a one-year subscription and a two-year warranty. So how does it save you money? In addition to peace of mind, since you're able to monitor your boat 24/7, the risks of theft and other kinds of damage are significantly reduced. Consequently, boat or yacht insurance may be discounted, and some carriers even pay for the alert/service center fees and a substantial portion of the actual system's cost. According to Berton, NOVAMAR gives discounts of up to $500.
INFORMATION:
yachtprotector.com  
— By Liz Pasch, Southern Boating Magazine October 2016