Adding a unit is easy, and provides confidence and safety when docking in challenging conditions.
Single-screw boats can be difficult to dock without aid in wind or when fighting current. Even experienced captains will relent for safety's sake and ask for a helpful hand—someone on the dock who gets tossed a bow line and pulls the boat in. With a bow thruster, however, that helpful hand is a small propeller positioned forward on the boat and it applies side-to-side propulsion to get you safely docked.
If a boat doesn't have a bow thruster, some boat owners are drilling tunnels through the bows of their boats. The tunnel is structurally engineered to accept the retrofit of a bow thruster, and when properly installed it adds strength to the vessel.
"Many people believe that drilling a 4-inch hole or larger in their boat will weaken the structure," says Chris Deboy, Vestus America's sales manager, a manufacturer of bow thrusters and other marine products. "The opposite is true, as long as the thruster tunnel is installed properly, using fiberglass, aluminum or steel, depending on the hull material. The installation can add strength to the bow of the vessel. This would include the proper lamination of the fiberglass tunnel or proper welding of the aluminum or steel tunnel."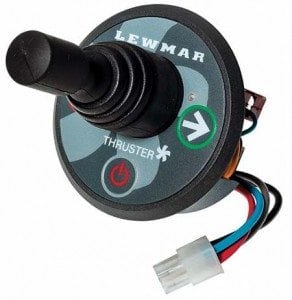 It's estimated that half of all recreational boats from 30 to 65 feet have bow thrusters. Aftermarket installations are becoming common as people fix up their boats. To complete the work the boat must be hauled out for detailed fiberglass work as a tunnel housing is installed in the hull with the bow thruster impeller. The impeller is driven by an electric motor powered by its own battery. The cost to install a bow thruster on a 40-foot cruiser is approximately $8,000, and about 60 percent of that cost is for labor while the rest is for parts. Three companies have the majority of market share in the U.S.: Lewmar, Side-Power and Vetus.
Side-Power introduced its Proportional DC Thrusters in 2011 and won an NMMA Innovation Award that same year. "You can now operate a thruster relative to the conditions like a throttle providing smoother operation," says Peter Nolet, IMTRA Corporation's thruster product manager, the U.S. distributor for Side-Power. "The 'hold' feature is very popular. The SE170 is the most popular size for a 50-foot cruising boat and delivers 374 foot-pounds of thrust, and is used on models like the Fleming 55 and a Princess 56. With our full range of Side-Power Thrusters being available in On-Off or Proportional Control, we can meet any customer's expectations."
With the proper size electric motor for the bow thruster, the boat should hold its bow off the dock in a 20-knot wind. However, there's a misconception surrounding the amount of time you can run an electric bow thruster.
"The common misconception is that you can only run the bow thruster for a few seconds," says Nolet. "Side-Power Thrusters are designed to be run continuously in one direction for three minutes. When pulsing the On-Off thruster, you will get around six minutes of operation. We rarely hear about the motor's thermal protection tripping, which is a testament to our purpose-built motors. If you have a Side-Power and are only getting a short run time, I would suggest you service the thruster."
Vetus' most popular model for a 50-foot cruising boat is the BOW12524D. "This unit is delivered with a single six-blade Delrin propeller which provides 308 foot-pounds of thrust," says Deboy. "The single propeller allows greater flexibility for installation of the tunnel and thruster. The BOW12524D offers a standard run time of 2.5 minutes per hour and can be ordered as an extended run version, BOW1254DE, with 10 minutes of run time per hour for demanding applications."
The percentage of new boats with factory installed bow thrusters has increased over the years with an additional increase in bow thrusters on boats under 30 feet. Bow thrusters give owners moving into larger boats the confidence to operate the vessels without worry.
"For 2017 we are offering a new range of retractable thrusters from 3-13 horsepower as well as improving our controller systems," says Harcourt Schutz, general manager of Lewmar USA. "The new controllers will make dual thruster use easier and more intuitive. You will also see more emphasis on small boat systems."
Lewmar's 185TT bow thruster is a popular choice for 50-foot cruising boats. The 8-hp unit offers equal thrust in each direction without the complexity of dual-prop thruster. Its fully sealed lower unit doesn't require an oil reservoir, which means there's no maintenance of the lower leg. The propeller is a spline-driven, five-blade wheel for maximum efficiency. "Smaller boat owners are really seeing the benefits of having the addition of a thruster as standard equipment," says Schutz. "This is creating a much higher level of comfort and confidence when docking, and that is often one of the most stressful parts of boating."
INFORMATION:
imtra.com
lewmar.com
vetus.com
— By Doug Thompson, Southern Boating Magazine October 2016