IBEX Carries On
Hurricane Ian put the kibosh on IBEX 2022, but didn't dissuade the Innovation Awards judges from evaluating entries.
Southern Boating is combining the Engine Room and Wired columns this month to highlight some of the products entered into the 2022 International BoatBuilders' Exhibition and Conference (IBEX) Innovation Awards. Due to the timing of Hurricane Ian's expected landfall, the conference was canceled to ensure everyone's safety, but judging had already started, so the first day was done in person while the second day was judged virtually. "It's been done before," says Zuzana Prochazka, chair for the IBEX Innovation Awards committee. "In 2020, restrictions from the COVID-19 pandemic didn't allow in-person gatherings, so IBEX was a virtual-only event as was our judging of the awards." 
We don't have the winner's list yet, but here are a few that caught our interest.
MECHANICAL SYSTEMS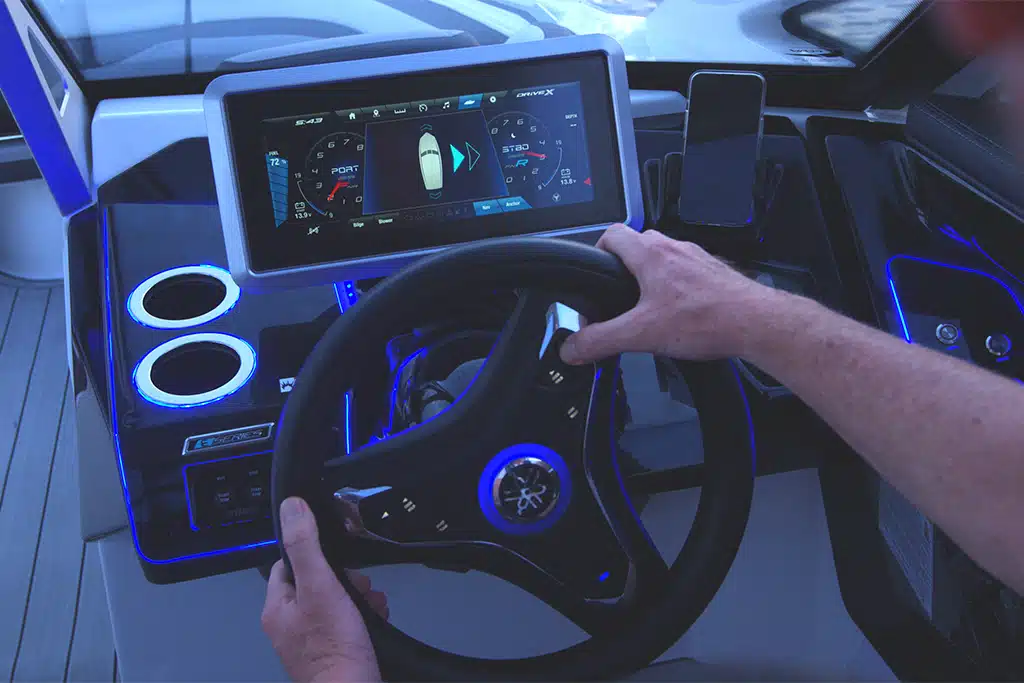 Yamaha DRiVE X
DRiVE X is a combination of Yamaha's DRiVE paddle control system that moves the boat forward and aft while always keeping the driver's hands on the steering wheel, but adds an all-new steering with wheel functionality that slowly moves the boat starboard or port, rotate 360 degrees on its axis, and holds the boat against the dock for quick loading and unloading of passengers. An intuitive feature of DRiVE X is Low Speed Handling Assist. When the steering wheel is turned more than 65 percent while operating the forward DRiVE paddle, low speed handling assist operates automatically, increasing engine speed in proportion to the wheel angle. Turning the wheel more allows the driveline bucket to open further, giving more control. For 2023, DRiVE X is available exclusively on the Yamaha flagship 275SDX. yamahaboats.com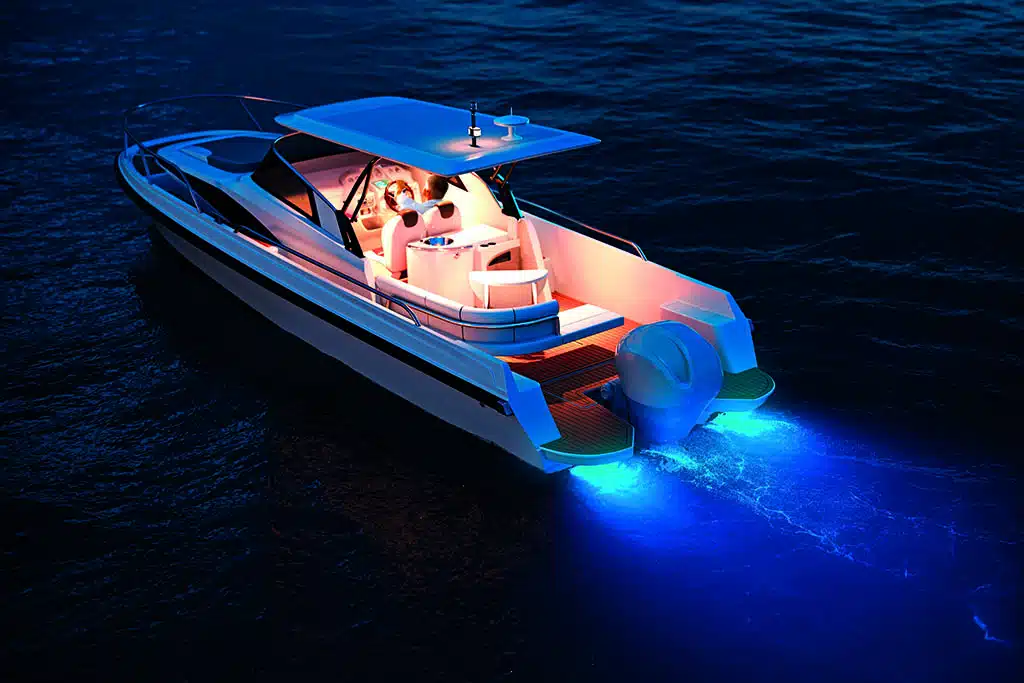 Humphree Lightning
Humphree Lightning is an innovative all-in-one underwater light, trim, and stabilization system for the 20- to 45-foot boat market. The ultra-fast blade movement effectively stabilizes small boats with short roll periods and will trim the boat, control heel in turns, and list in a straight course for a much more stable ride. Built-in red/green/blue/white underwater lights add a touch of class at night (with smartphone control) and eliminates a separate light installation. Wi-Fi/Bluetooth connectivity allows for automatic updates via the Humphree app that gives direct connection to Humphree technical support for upgrades as well as new functions and features. humphree.com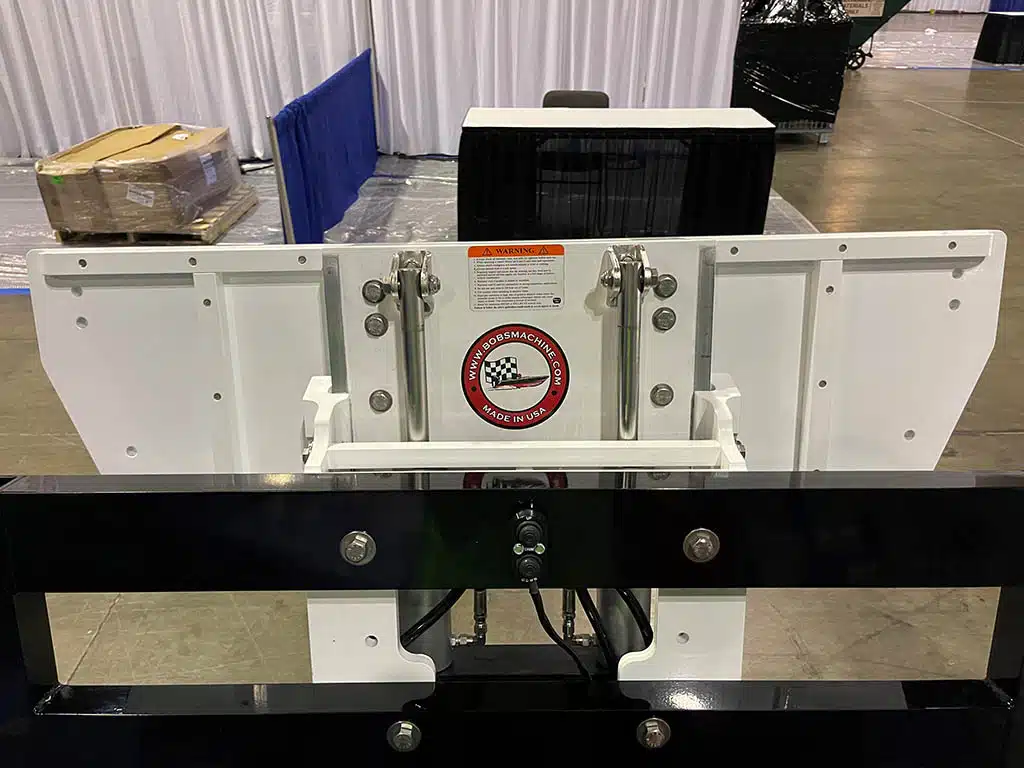 Bob's Machine "Splitter Jac"
Made in the U.S., Bob's Machine Shop manufactured the hydraulic single-engine to twin-engine Splitter Jac. It takes a transom designed for single motors, and "splits" it out into a twin-engine mounting solution. Patent pending, there are two models with ratings of twin 225-hp and twin 300-hp outboards. The powder-coated mount incorporates twin cylinder technology with custom high-speed pump and flow divider. Feel more comfortable offshore with twin engines. bobsmachine.com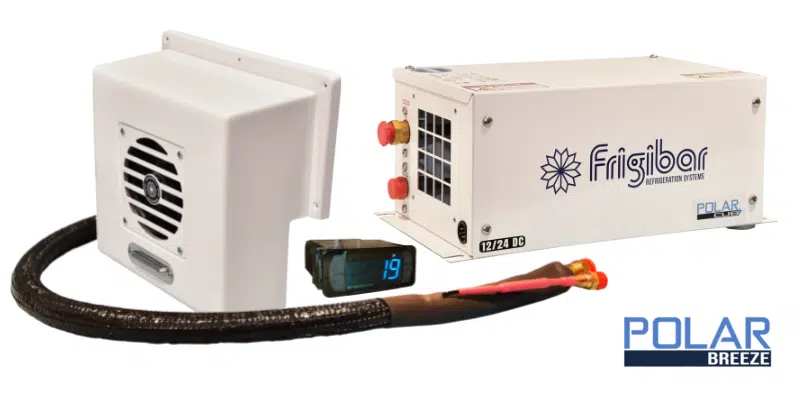 Frigibar Polar Breeze Marine Refrigeration System
The Polar Breeze Marine Refrigeration System is the first compact marine refrigeration product of its kind and easily converts any insulated icebox into a refrigerator. The ultra-compact refrigeration system does not require evaporator plates to operate, and the plug-and-play application comes pre-charged with refrigerant and can be installed without a refrigeration technician. The Polar Breeze system comprises three parts: the evaporator, condensing unit, and digital thermostat. The enclosed evaporator installs quickly inside any existing insulated box, and the digital thermostat allows for a temperature range from 20 degrees Fahrenheit to 50 degrees Fahrenheit. Flexible, braided, stainless steel refrigerant lines are insulated and fitted with resealable couplings, which makes feeding the refrigerant lines to the condensing unit's location easier than ever. frigibar.com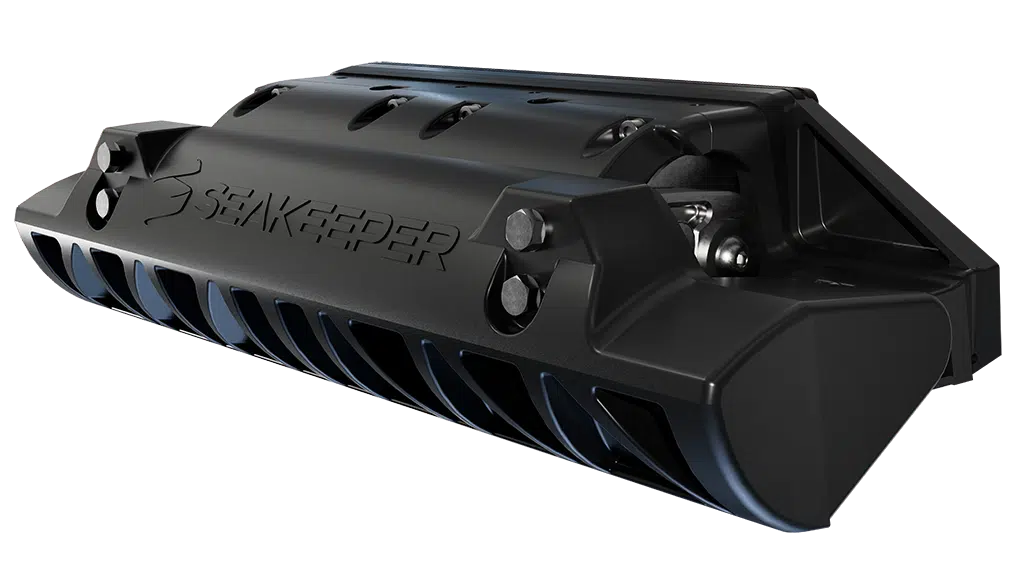 Seakeeper Ride
Seakeeper Ride is the first-of-its-kind Vessel Attitude Control System (VACS) that eliminates up to 70 percent of underway pitch and roll motions that often cause uncomfortable pounding or slamming. The elimination of these motions contributes to increased safety and provides comfort, control, and confidence to all on board. Seakeeper Ride controllers are mounted to your boat's transom below the waterline and use custom, proprietary inertial sensing hardware and software to understand how the boat is behaving in all three axes. The system reacts and commands deployment of the rotary blades at a rate of up to 300 mm/second to counteract pitch, roll, and yaw. In just one second, Seakeeper Ride's sensors take 1,000 measurements, driving its proprietary, rapid-deployment rotary blades to make 100 adjustments to combat wave motions. ride.seakeeper.com
ELECTRICAL SYSTEMS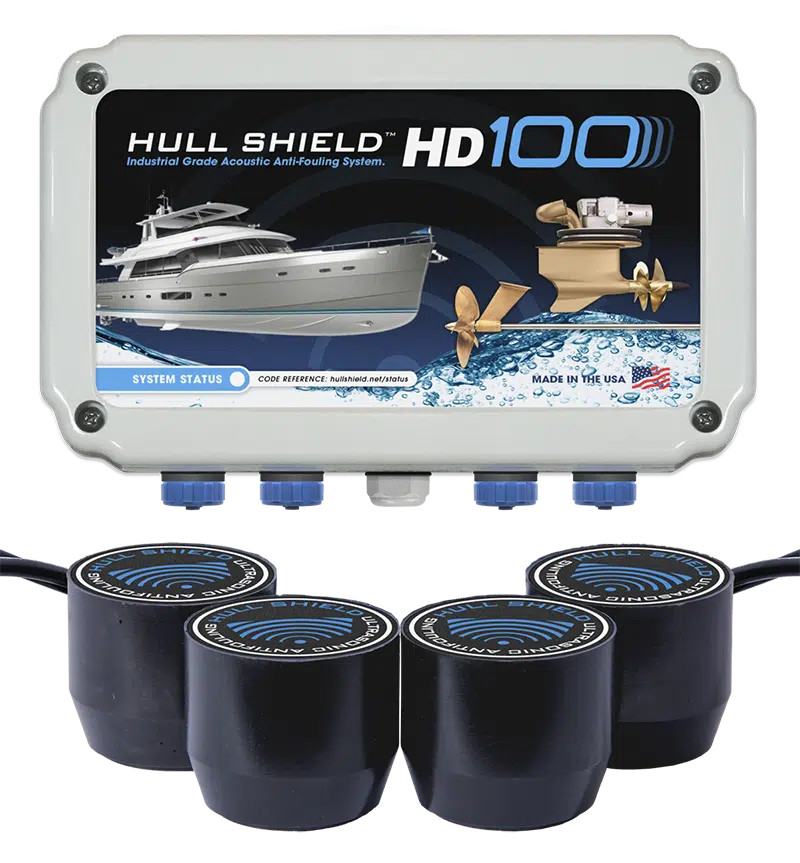 Hull Shield
Hull Shield has introduced the most advanced ultrasonic antifouling technology available. The Hull Shield system consists of digital power units that operate 24/7 to prevent fouling from attaching to hulls and stern gear. Different frequencies affect marine fouling in different ways. Ultrasounds between 20kHz and 40kHz produce a high-pressure, microscopic barrier that is only a few microns thick along a surface. Small organisms cannot occupy this high-pressure space and are prevented from attaching to the surface. Above 40kHz, the cellular structure of fouling organisms that have already attached are affected. Systems are available for vessels of any length or hull type. hullshield.net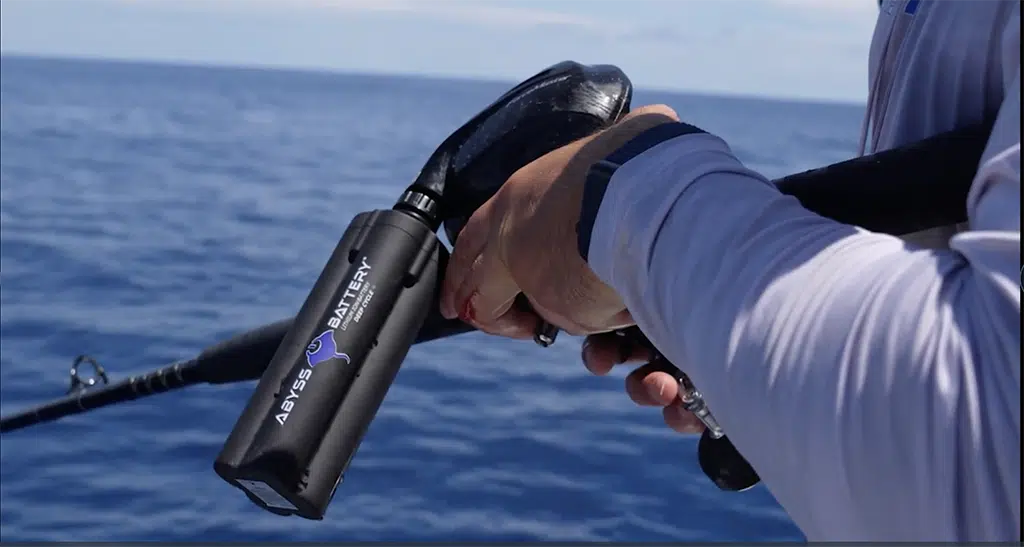 ABYSS Deep-Drop Electric Fishing Reel Battery
The revolutionary ABYSS Deep-Drop Electric Reel Battery is a lithium battery that plugs directly into any electric reel, giving fishermen the capability to fish longer without having excess wires laying on the deck of the boat and goes where you go around the boat. Fishing can be an intense and physically demanding hobby, but fishing with ABYSS' nano-tech battery ensures that focus can stay in one place: reeling in that next big catch. abyssbattery.com
DECK EQUIPMENT AND HARDWARE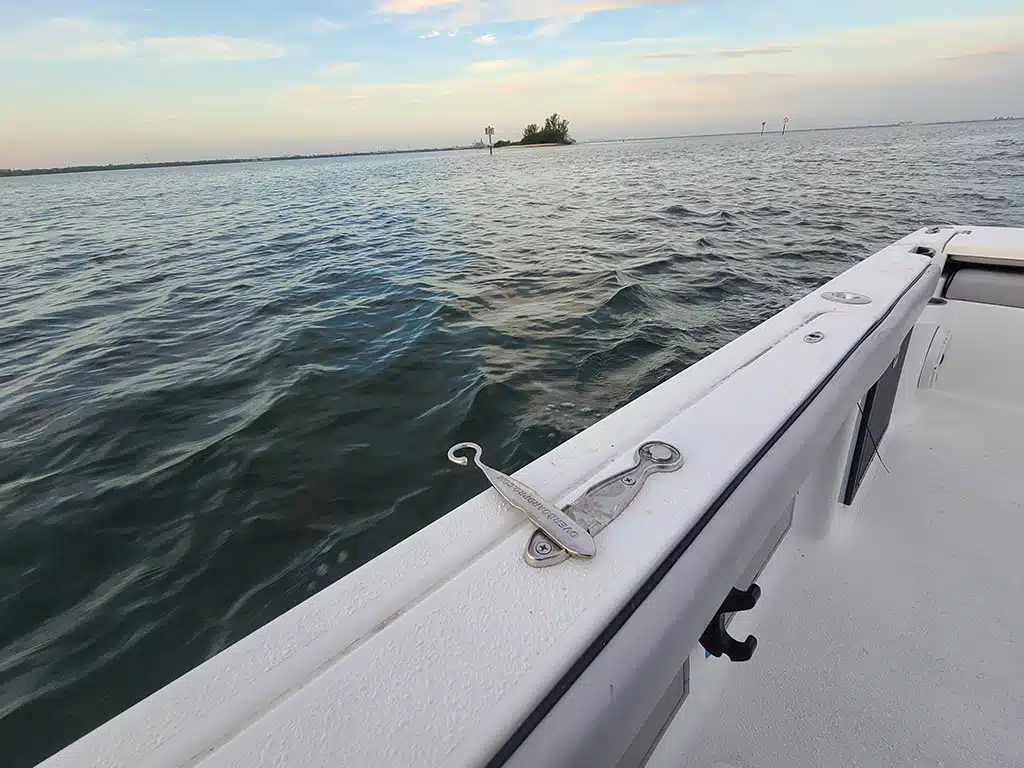 Overboard Fish Dehooker
The "Hands Free" Fish Dehooker can easily mount on the boat or dock and be deployed in either direction for keeping or releasing fish. The revolutionary design allows for complete hands-free removal of fish from almost all standard hooks and most single hook lures without having to put your rod down. The design is so easy to use that even small children can remove a fish from their hook. The patented design is intended to catch the hook after releasing a fish to avoid free-swinging hooks. When done, it folds away neatly. All other current dehookers on the market are handheld and require you to put your rod down to use, or another person to assist. overboardpro.com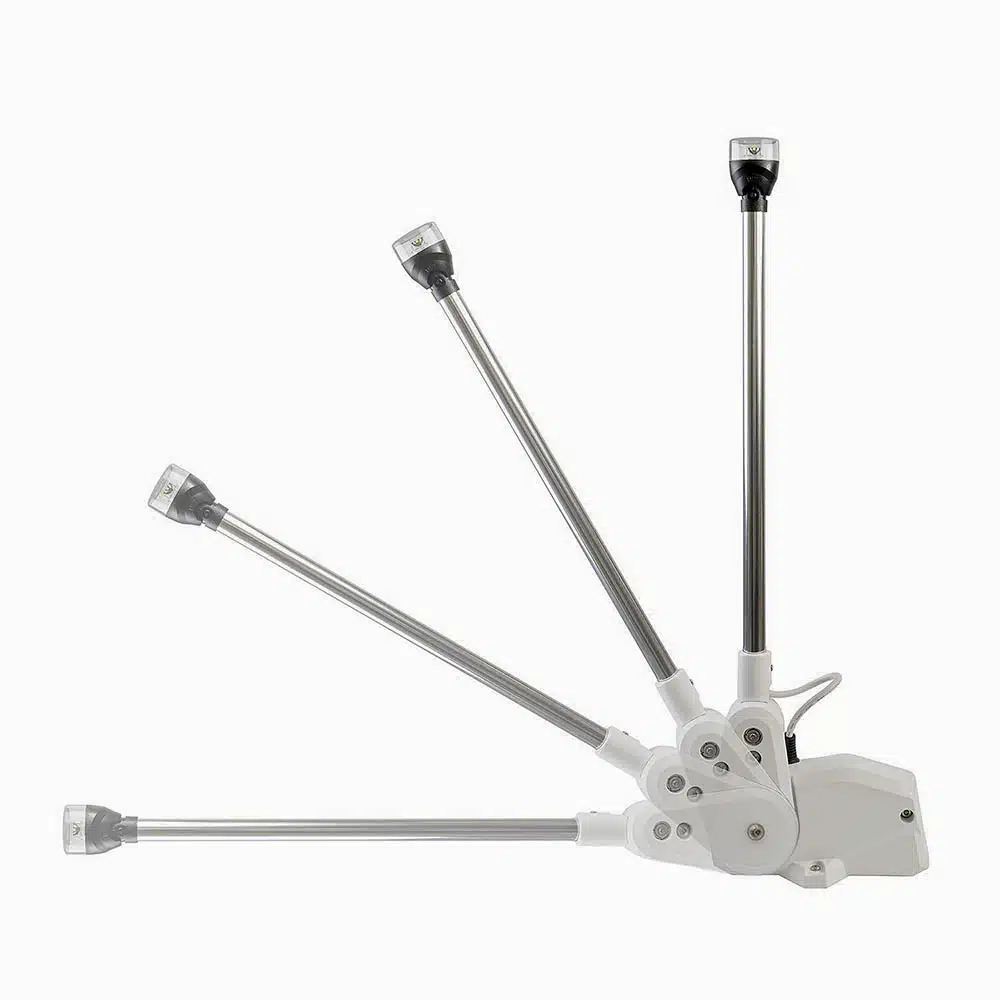 Navico PowerBase
The Navico Group's new PowerBase has a powered fold-down light/antenna base that seamlessly stows and deploys lights and antennas from the helm with the push of a button. No more climbing up seats, ladders, or gunwales to do so. A SafeGuard Breakaway function releases the antenna/navigation light in the event of an impact with a bridge or branch, and if there is a blocked deployment, the PowerBase automatically reverses the light/antenna back to its starting position and alerts the user. A manual override function ensures boaters can always deploy lights in the event of a system failure. The PowerBase has a 180-degree range of motion and can mount so that the light/antenna folds toward a boat's stern or bow. navico.com
SAFETY EQUIPMENT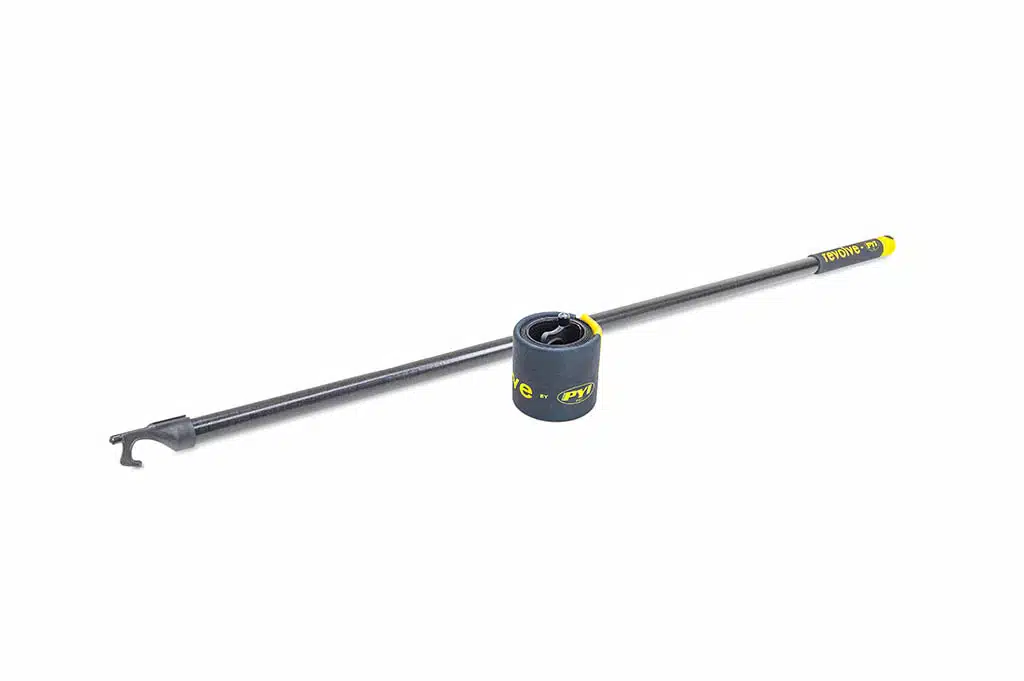 PYI Revolve Boat Hook
Revolve by PYI is the world's first rollable boat hook. In its stored position, it takes up the same amount of space as a coffee mug and weighs about the same at just under one pound. With the flick of your wrist, the Boat Hook rolls into action, and within seconds, the hook is attached and ready for use. The Boat Hook is one of the simplest yet necessary pieces of equipment found on nearly every boat, space permitting. The Revolve Boat Hook now enables all vessels, big and small, to contain the same utility without sacrifice. The six-foot-long, composite and non-corrosive pole and hook has a 66-pound working load for both pushing and pulling and additional attachments are available. pyiinc.com
OEM ELECTRONICS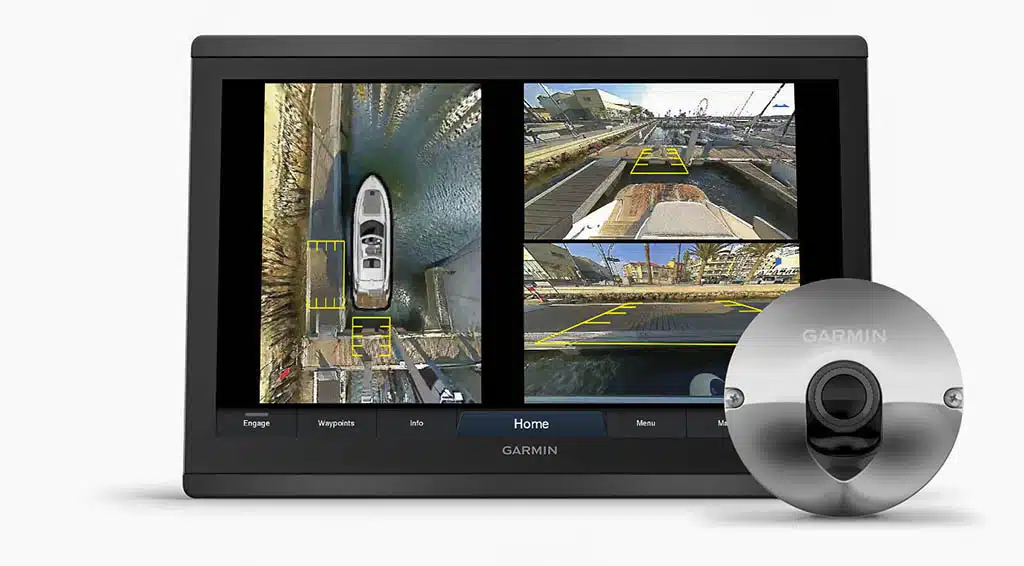 Garmin Surround View Camera System
The Garmin Surround View Camera System is the industry's first fully integrated system of cameras to offer live bird's-eye view video monitoring for 360-degree visibility around the boat from the helm. It utilizes six 1080p thru-hull mounted cameras that act like multiple sets of eyes: a forward-view camera at the bow, a rear-view camera on the aft, and two side-view cameras, port and starboard. When the system is engaged, it displays a full overhead stitched image with 360-degree real-time video views from around the vessel directly to compatible Garmin chartplotters or MFD helm displays. This is a vantage point that can reduce the stress of docking and navigating marinas, narrow causeways, and busy channels. garmin.com
-by Steve Davis