Yamaha 425-hp XTO
Yamaha's 425-hp XTO ushers in a new era of power for outboards.
More than a dozen years ago, when two-stroke 150-hp and 250-hp outboards were kings, the large center console boats of that era—with lengths measuring in the mid-30-foot  range—had room for two, maybe even three high-output engines on the transom. Owners
who prized speed over economy were more than happy with the results, even then suspecting that the engine companies were on the cusp of introducing larger, and more fuel-efficient, four-strokes for the transoms of their next boats. The Yamaha's 425-hp XTO would have been a figment of their imagination.
Fast forward to 2019. Boat and engine manufacturers answer the call from owners who make outboards that are larger and heavier than ever before their power of choice. Introduced at boat shows around the nation in the fall of 2018, Yamaha's XTO Offshore blends new thinking and innovative technologies in a direct-injected, naturally aspirated
V8 powerhouse that was designed from scratch with fresh ideas about the outboard and its related systems to suit every owner's need for performance and reliability.
The Yamaha 425-hp XTO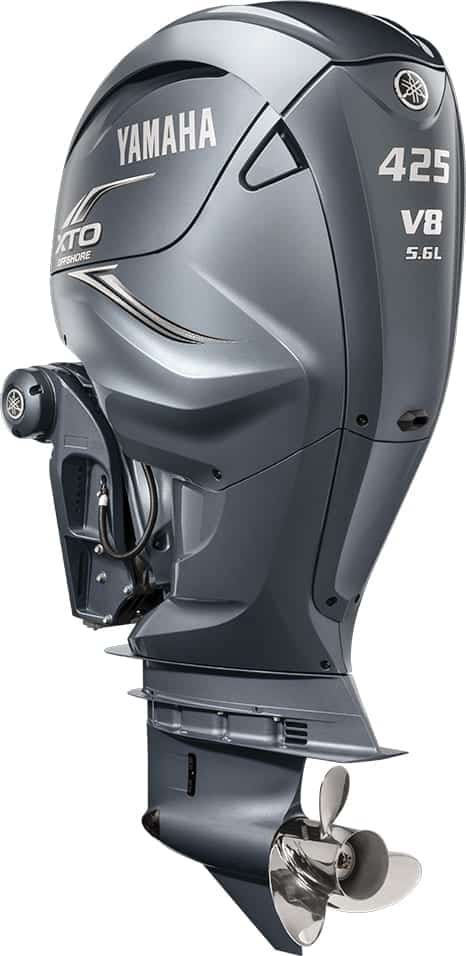 "The V8 XTO Offshore provides extreme performance for the heaviest offshore boats and yachts," says Ben Speciale, Yamaha Marine Group president. "This is an integrated
outboard system with 5.6 liters of displacement producing 425 horsepower and tremendous thrust. Combine it with the latest generation of Yamaha's trademark Helm Master and CL7 Display, and you have benefits offered nowhere else."

Extreme performance starts under the cowling with the innovative use of direct injection into each of the V8 cylinders, a first for a four-stroke outboard. Compared to spraying fuel into a common rack feeding the intake valves, direct injection into the combustion chamber allows a precisely measured and timed delivery that atomizes and burns more completely for optimal efficiency and power across a wide performance band.
Every engine must breathe freely, but high-output engines demand precise air supply delivery, especially at high RPM. The XTO Offshore features intake tracks on both sides of the powerhead for optimal airflow that allow more space for routing exhaust gasses to the lower unit where it will normally flow out through the propeller hub. But a remarkably
ingenious bypass lets exhaust gasses exit through vents above the cavitation plate at engine speeds less than 2,500 rpm, which means the prop blades will turn in undisturbed water for better grip in backing down or docking situations.
Getting it Right
Fuel travels through a no-float vapor separator tank that features an integral fuel cooler to prevent vapor lock on even the hottest days. The XTO Offshore is equipped with five fuel pumps. They run by engine control unit (ECU) which monitors RPM and load and produces up to 2,900 PSI—a unique system for precise fuel flow and atomization.
To ensure that the XTO Offshore gets the timing right, there are dual overhead camshafts on each cylinder bank driven by an oil-bath immersed, self-tensioning chain for long life and accurate timing of each cylinder's four valves. Carbon-coated and shimless, bucket-type valve lifters minimize friction and increase durability for the valve train.
Cylinder walls are finished using the plasma fusion process to create a wall surface that is lighter, harder for reduced friction and much thinner than using conventional steel liners. From a design and engineering standpoint, displacement is optimized without the liners as well which contributes to increased power and fuel economy.
Yamaha's engineers gave the XTO Offshore a two-stage water pump with a steel impeller and a massive rubber impeller to ensure proper cooling water pressure flow all across the RPM band. A side benefit is if there is ever a problem with the rubber impeller, the steel impeller will be constantly online to protect against engine damage. A dual-chamber oil pump provides consistent lubricity at any given speed. Engine and oil temperatures are regulated by two thermostats in each cylinder bank.
Efficient Machine
The Yamaha 425-hp XTO is highly efficient. She sports a 12.2:1 compression ratio, the highest found in any production outboard. Iridium-tipped spark plugs complete combustion and adds power and throttle response, and lengthens service life. During recent testing at a Yamaha-sponsored event on Chesapeake Bay waters, a Pursuit S408 Sport with triple XTO Offshore outboards leaped onto plane in less than five seconds, achieved 30 mph in just over 10 seconds and topped out at 6,100 rpm and 54.6 mph at 0.5 mpg.
With the throttles pulled back to 3,500 rpm, this yacht and its motors achieved its best efficiency turning 3,500 rpms at 27.5 mph and 0.84 mpg. Those are impressive numbers for a boat that weighs 22,685 pounds dry, plus a full load of fuel and a few marine journalists on board.
Handling was a breeze at any speed thanks to Yamaha's integrated electric steering system, another industry first in outboard motors. There are no hydraulics of any kind—
no lines or reservoir to worry about. The mechanism, contained in a leak-free cylinder beneath the front of the engine cowling, is an innovative piece of equipment. Engines swing 31 degrees from center in either direction and swing precisely with input from the electronic steering mechanism at the helm or independently from Yamaha's Helm Master joystick for easier
low-speed maneuvering.
Part of the integrated functionality includes upgrades to the Helm Master and the CL7  engine display that add convenience. The new SetPoint suite of functions lets the owner direct the engine operation to automatically adjust the boat and motors for set and drift or to hold position. Continuing the theme of convenience, Yamaha has incorporated an in-water gear lube service system to drain and replace lower unit lubricant while the boat is
in the water and avoid expensive haulouts.
Show Stopper
Yamaha's engineers have also given the XTO Offshore two methods for flushing the outboard when putting the boat to bed and numerous other important features that make the new XTO Offshore a force not to ignore.
Available in the company's traditional gray or white coatings or unpainted for custom paint-matching applications, the Yamaha XTO Offshore comes in 25-inch, 30-inch and 35-inch shaft lengths with right- or left-hand rotation. They sport specifically designed three-blade stainless steel props ranging from 16-inch to 17 1/8-inch in diameter with a variety of pitch measurements that are oversized to extract maximum thrust. The new XTO  Offshore may be just the solution for your next boat.
By John Wooldridge, Southern Boating July 2019