Mercury Debuts 400 HP Outboard
A storied history and a technological future lead Mercury Marine to introduce two equally exciting outboards on each end of the power spectrum.
Historic Lake X
Hidden somewhere in central Florida is a 1,400-acre private lake surrounded by 17 square miles of land and swamp that was used as a top-secret testing facility in the 1950s.  Through the day and the cover of night, Kiekhaefer Mercury Company developed and tested their new inline 6-cylinder, 60-cubic-inch, 60-hp outboard engine. A high-speed
version was also developed that produced 90 horsepower from the 60 cubic inch
setup.
https://www.youtube.com/watch?v=ZUrhOwIet-A
Wanting to quell the competitors' "it's fast, but it won't last" campaign, Mr. Kiekhaefer designed a 25,000-mile endurance run to prove the new engine wasn't a fluke, and at 30 mph for 35 days,  the engines ran nonstop to set a world endurance record. To ensure the engine's quality and might, they were run another 25,000 miles (the Earth's circumference) at an average speed of 30.3 mph, and yes, the boats were refueled while underway.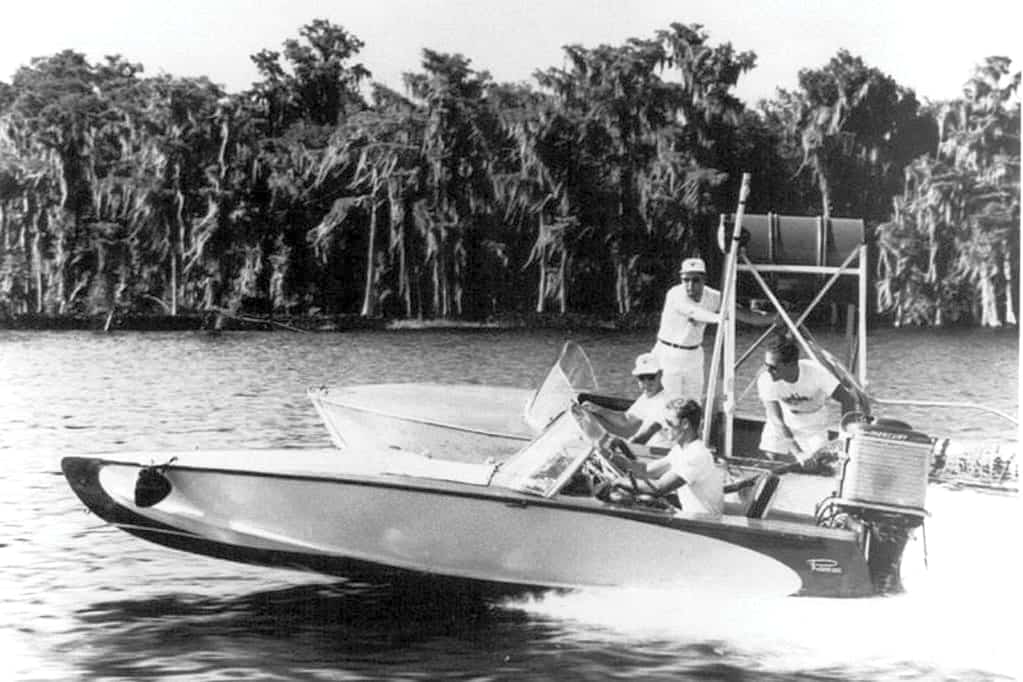 Today, Lake X (Lake Conlin) isn't so secret. It's still private, but the lake and the facility now show up on Google Maps. Mercury has grown significantly since then, and in 2018 the company introduced the largest product launch in its history with 25 new engines in the V6 and V8 platforms.
Supercharged
Mercury celebrates its 80th anniversary this year, and at the 2019 Miami International
Boat Show they introduced its latest, the 400 Verado, the largest horsepower outboard that gaps the range from the 350-hp Verado and the specialized Mercury Racing 400R introduced last year.
"We can take the two-point six-liter powerhead, the inline six-cylinder engine, supercharged and give it all the attributes of a Verado just like the three-fifty and
bring four things to market," says Mercury Marine President, John Pfeifer. "It's a four hundred that's going to deliver perfect sound with no vibration whatsoever, has the best power to weight ratio by far than any engine of this size (a four-hundred horsepower that weighs sixty percent of a competitive engine), is a lighter engine that is better for fuel economy, and gives all the state-of-the-art prop to helm control systems from joysticks to digital throttle and shift. It also comes in four colors. The days of black engines are over."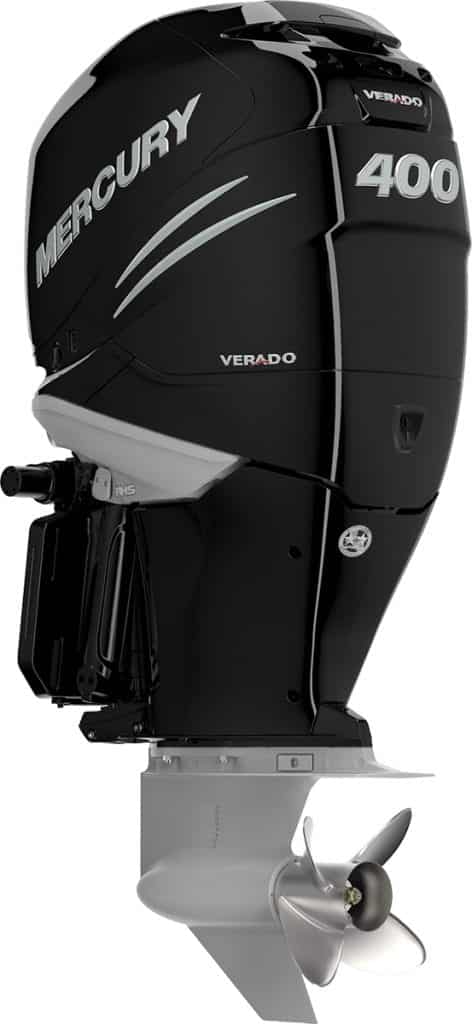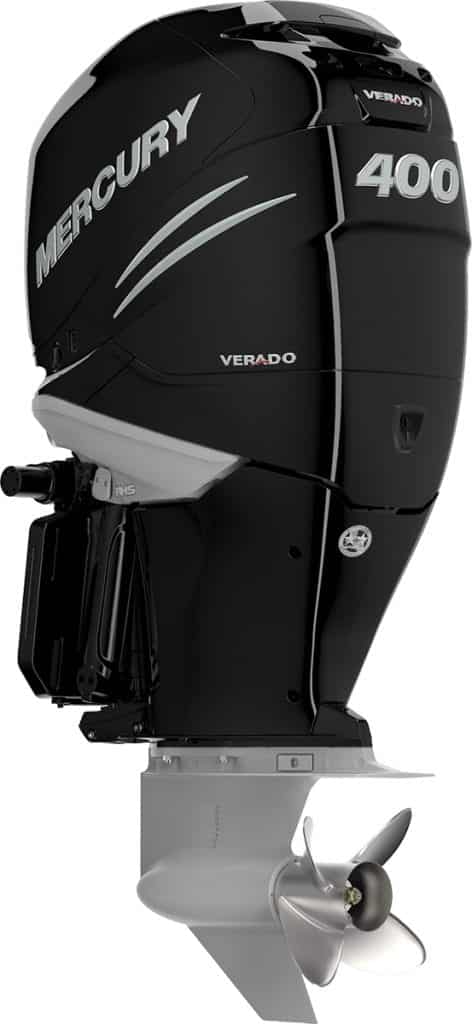 The 400 is set up for comfort and with Mercury's new Noise, Vibration, Harshness  Technical Center, engineers can ensure the outboard's quality and quiet operation with
the noise- and vibration-mitigating Advanced MidSection. (Another innovation shown in Miami is the Flo-Torq SSR, a revolutionary product that eliminates prop shaft shift clunk and prop rattle to provide a completely quiet engine.)
"The calibration for the four-hundred mainline product is sixty-eight hundred max rpm," says Tim Reid, vice president of product development and design. "That gives the engine the ability to make more power but also helps with acceleration. What we're seeing between the three-fifty and four hundred on white boats is three and six miles per hour increase in top speed, and the acceleration on the four-hundred is blistering because for the most part, you're staying with the same propeller and with that additional rpm, the boats really jump out of the hole."
The outboard is designed with a cold-air intake system that has a larger, straighter airflow path to pull outside air directly to the supercharger, which is also cooled through the engine's cooling system and helps to increase its efficiency and durability. Because of the engine's ability for higher speeds, optimized guide plates provide greater control, and a smart feature of the Verado engines is the ability to automatically increase idle rpm so the alternator gives more output to recharge low batteries. The 400 Verado can be set
up in multiple configurations and when you add the Joystick Piloting for Outboards, SmartCraft Digital Throttle & Shift, Skyhook digital anchor, Integrated Autopilot, VesselView displays, and Active Trim, Mercury has created one integrated system from the helm to the engine.
Safe and Clean
On the other end of the power spectrum, Mercury has introduced its new 5-hp propane outboard. Developed for ease of use (just pull the propane tank from your barbecue or camp stove) and as an alternative fuel engine, it runs cleaner, there are no ethanol issues, the carburetor doesn't gum up so it starts more reliably, and it offers environmental (no evaporative emissions) and safety benefits (no combustible fuel on board).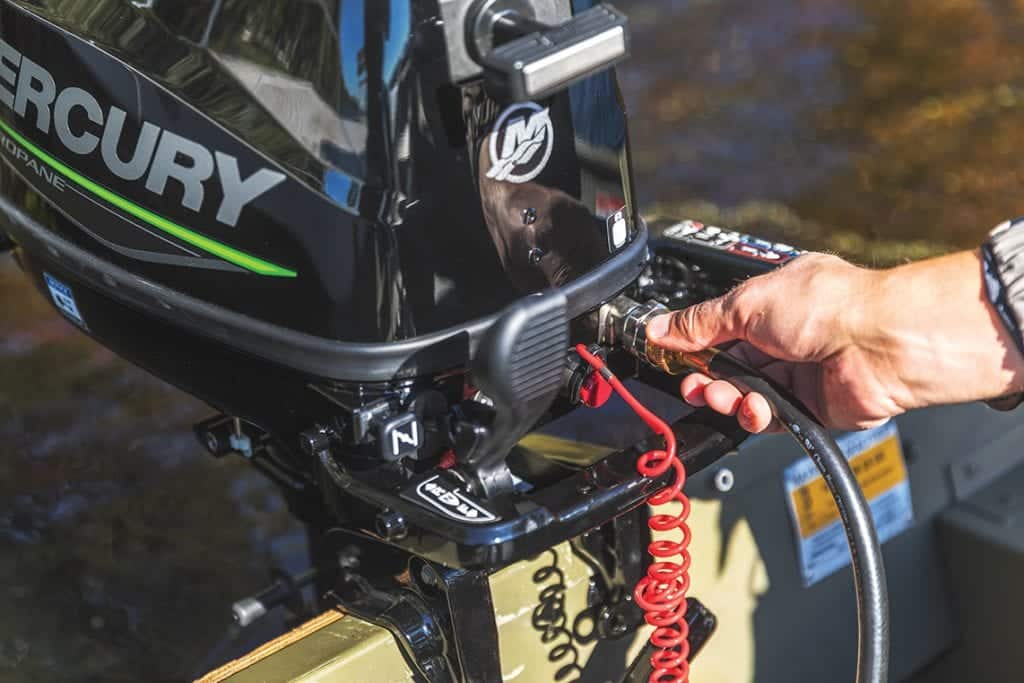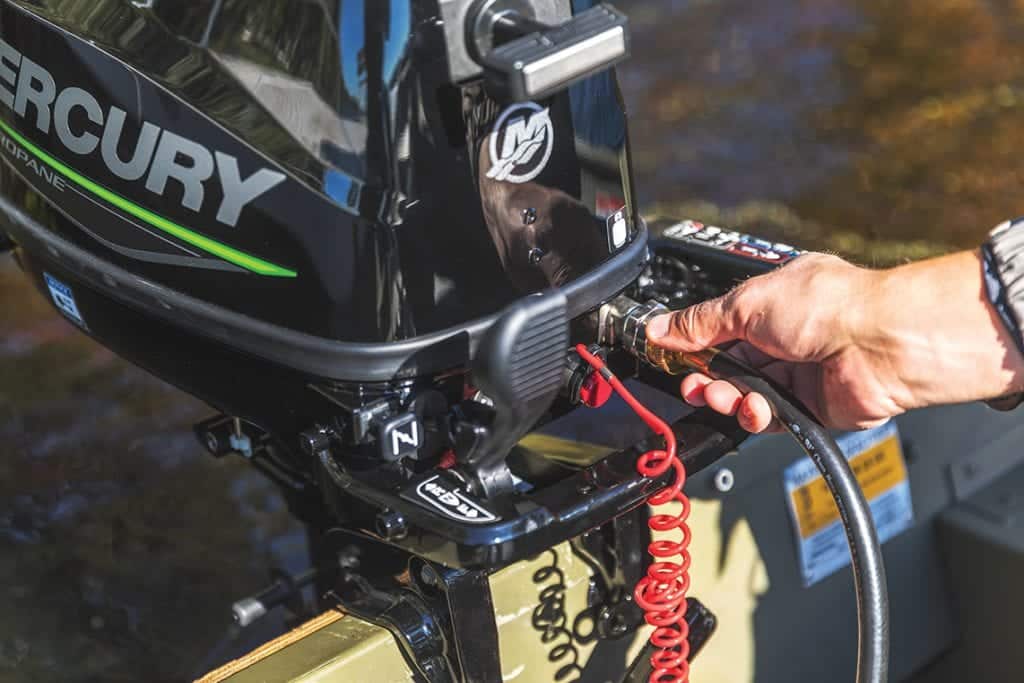 Co-engineered with Tohatsu, the propane engine goes through Mercury's full validation schedule to meet their strict requirements to ensure the engine lives up to Mercury's
standards of quality and reliability. Designed for dinghies, small boats and sailboats, the outboard weighs around 59 pounds, has 30 percent lower exhaust emissions compared
to gasoline, and comes standard with an auto shut-off valve.
The 75-cubic-inch displacement delivers true 5-hp power, and with a 5-gallon tank, the engine can run approximately 10 hours at full throttle. It's the little engine that can.
By Steve Davis, Southern Boating March 2019