Full Speed Ahead
Check out the new power products were aplenty at this year's Fort Lauderdale International Boat Show.
Fall is the time to start thinking of all the game-changing technology that you should spec on a new vessel or add to your existing boat, and there's no better place to learn about new power products than at the 2017 Fort Lauderdale International Boat Show. Introductions include powerful but fuel-sipping engines, battery chargers, watermakers,
climate control products, and other products that make cruising comfortable, safe and
fun. So, when you tear yourself away from the docks and the hundreds of shiny boats, check out the cutting-edge equipment that makes them so amazing.
PROPULSION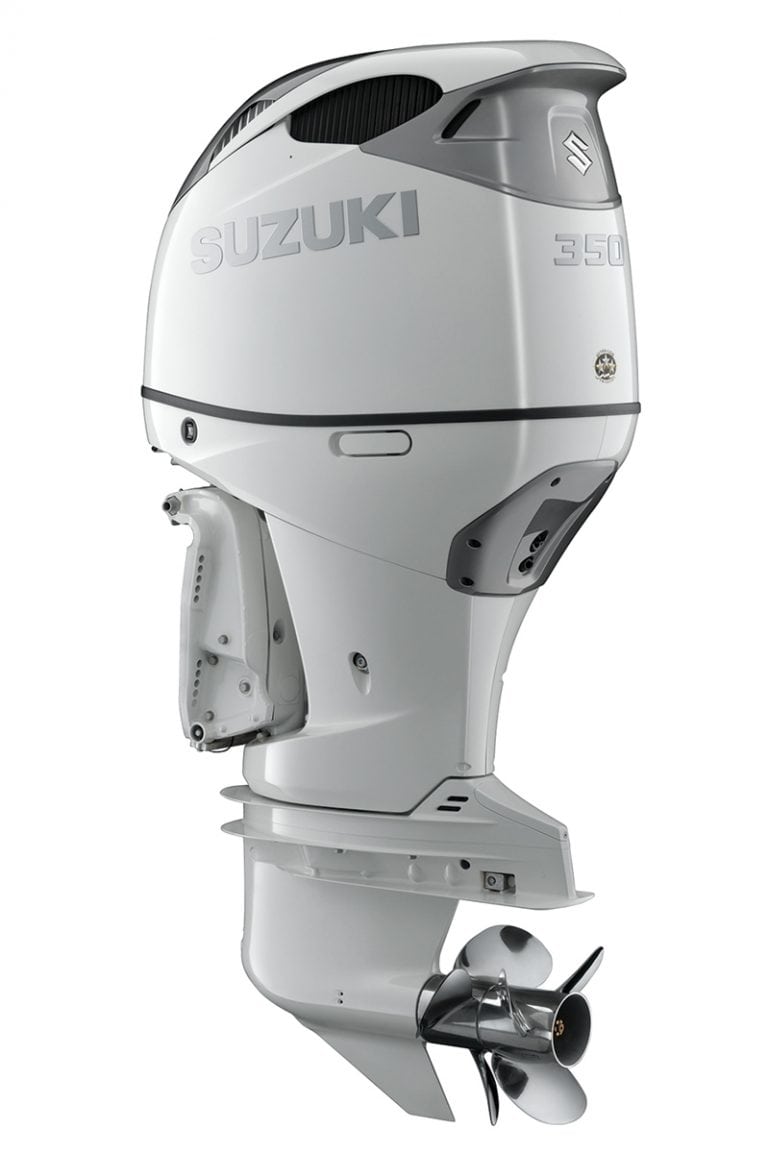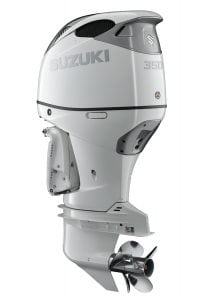 Suzuki showcases its new DF350A, a naturally aspirated 55º V6 DOHC 4-stroke engine with 4.4-liter displacement. Largest among 350-hp V6 outboards, this engine's high-performance 12.0:1 compression ratio delivers 80-hp per liter of displacement. Dual fuel injectors per cylinder allow for precise placement of the fuel in the center of the combustion chamber, minimizing engine knock. Power and torque come from the Suzuki-designed lower unit and contra-rotating dual prop system. Water flows around the new hydro-dynamically-shaped gear case with minimal turbulence so the twin props can dig in to clean water, which improves holeshot and acceleration. suzukimarine.com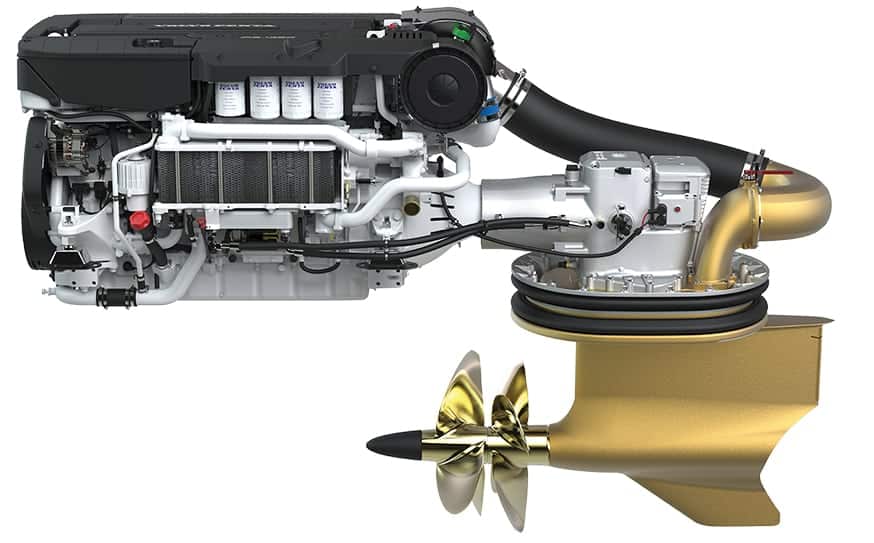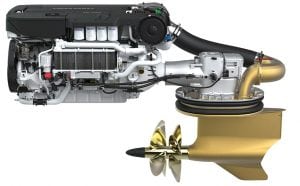 VOLVO PENTA moves into the 1,000-hp engine market for the first time with its new 13-liter engine, the D13-1000, targeting yachts up to 120 feet. This landmark product touts highly efficient injectors and an improved cooling system that combine for an 11 percent increase in power. The optimized power-to-weight ratio and low-end torque provide exceptional performance on demand. Expect this light engine to use nearly a third less fuel but offer faster acceleration, a higher top speed and lower noise and vibration. In
addition, Volvo Penta matches the new engine with an upgraded IPS pod drive, the D13-1350 that gives the equivalent power of a 1,350-hp engine. volvopenta.com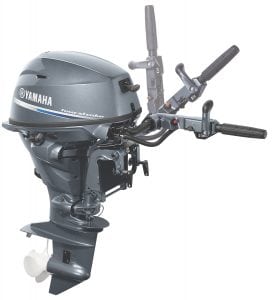 YAMAHA offers the new F25C 25-hp outboard. The model weighs in at only 126 pounds,
which makes it the lightest power-to-weight ratio outboard on the market today. The electronic multi-point fuel injection does not require a battery so there's less weight in the boat, but an electric starter can be added aftermarket. Eight models are available including a short and long shaft, with tiller or remote drive. The Sub-idle Variable Trolling
Speed (VTS) feature holds below idle speed for proper trolling and a 16-amp alternator can run more electronics than ever. Foldaway carry handles, resting pads and a three-sided oil retention system are built-in for easy transport and storage. yamahaoutboards.com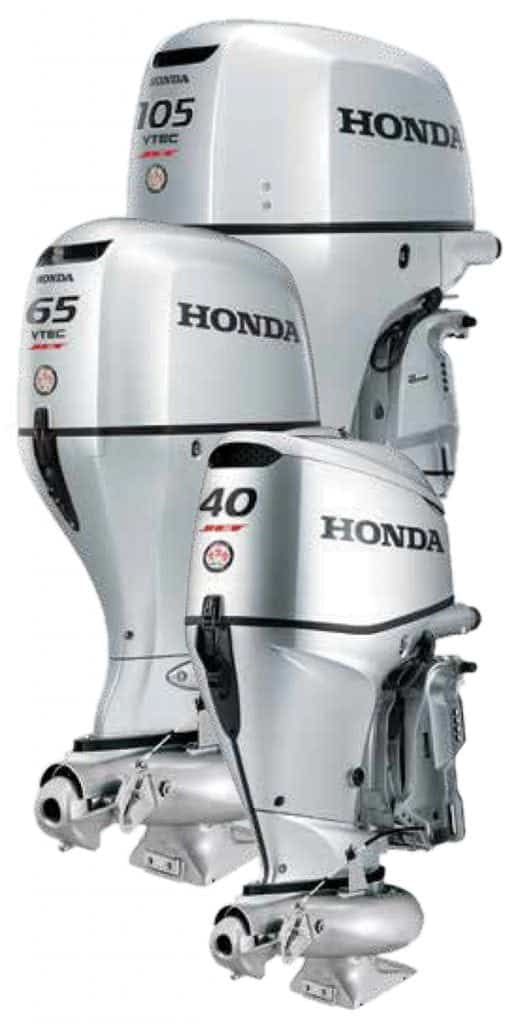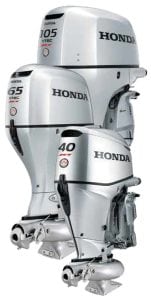 Honda Marine debuts three new outboard jet models: the 40, 65 and 105. The lineup of
durable jet-propelled motors combines Honda powerheads with jet drives that can venture into ultra-shallow waters. These models are as quiet and fuel-efficient as Honda's BF Series of propeller-driven models and have excellent maneuverability, but they can go where prop-driven outboards can't operate such as river rapids and skinny waters with lots of sandbars. The new motors are covered by the transferrable Honda True five-year non-declining warranty. marine.honda.com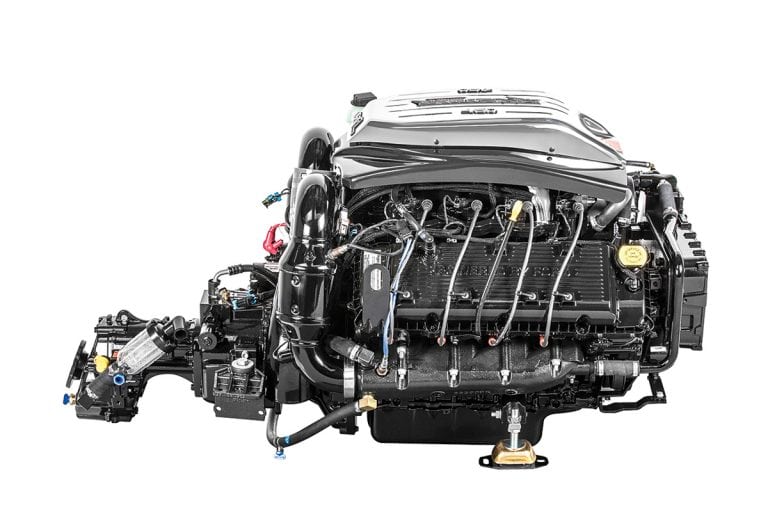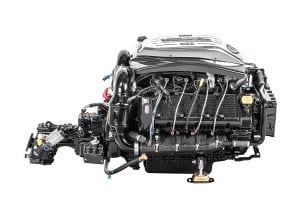 Indmar Marine introduces the Raptor 460 aimed at watersports and aluminum jet boats. The new 6.2L engine makes 453 foot-pounds of maximum torque and produces 410 horsepower for big block power in a small block package. It's based on the proven Ford 6.2L 16-valve V8 engine with a dual-equal variable cam. The closed-cooled, catalyzed engine features a high torque intake manifold and a high-horsepower throttle body, as well as a 5-inch exhaust and an inline spiral flow muffler. This powerful package won Boating Industry's 2017 Top Products Award in May. indmar.com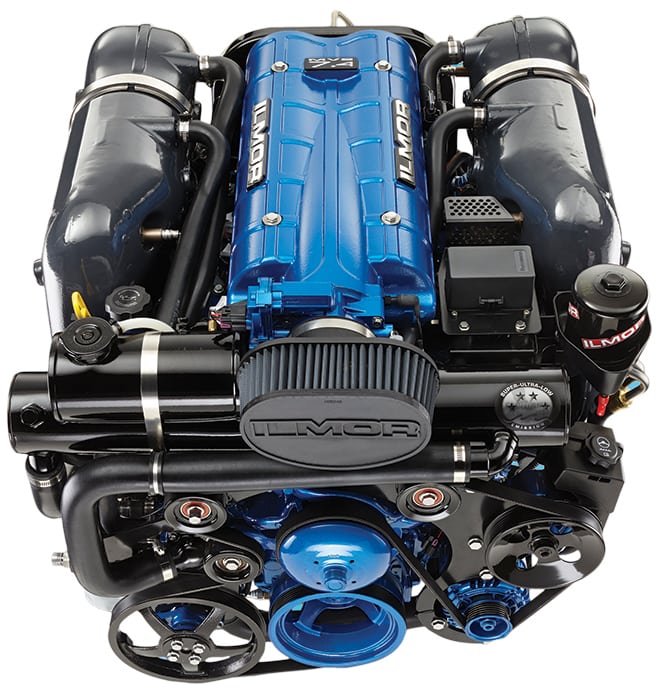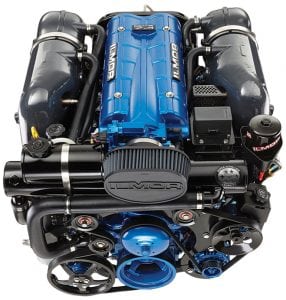 ILMOR MARINE launches its MV8 7.4L 483-hp engine proven to withstand both low-end torque loads as well as high-speed running conditions. This compact and lightweight (890 pounds) engine fills a gap in the gasoline sterndrive segment between 430- and 520-hp products. The 7.4L comes standard with an electric throttle, is octane-87 gas compatible and is designed with easy access to service points. Extended service intervals are expected after the break-in period—every 75 hours (or annually, whichever comes first)—and that allows more time on the water. It comes with Ilmor's 5-year/500-hour factory-backed limited warranty. ilmor.com
POSITION CONTROL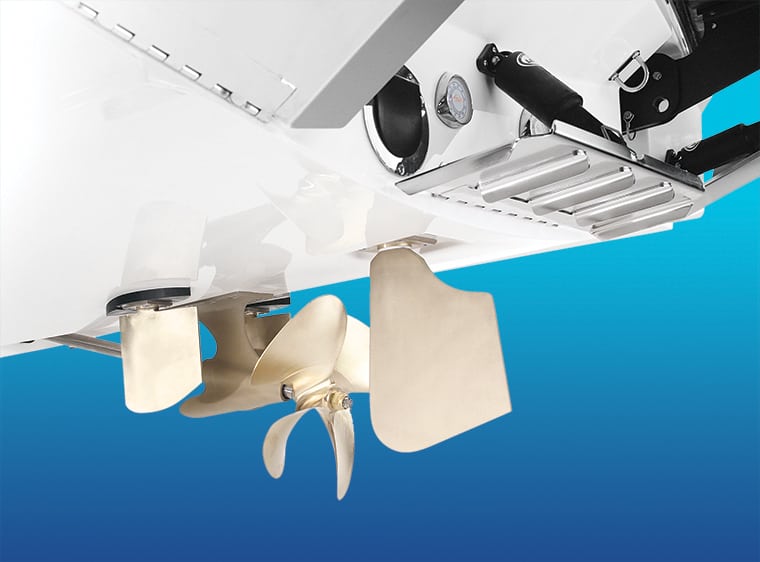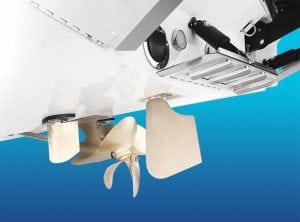 Mastercraft will be showing its DockStar handling system that won the 2017 NMMA Innovation Award for making docking easier. DockStar delivers control with a system of additional rudders that deflect prop wash beneath the boat. The result is precise steering
while reversing to both port and starboard, making an inboard a snap to drive. Despite the added control, surfing, wakeboarding, and skiing aren't affected by these rudders, which will be available on most 2018 MasterCraft models. mastercraft.com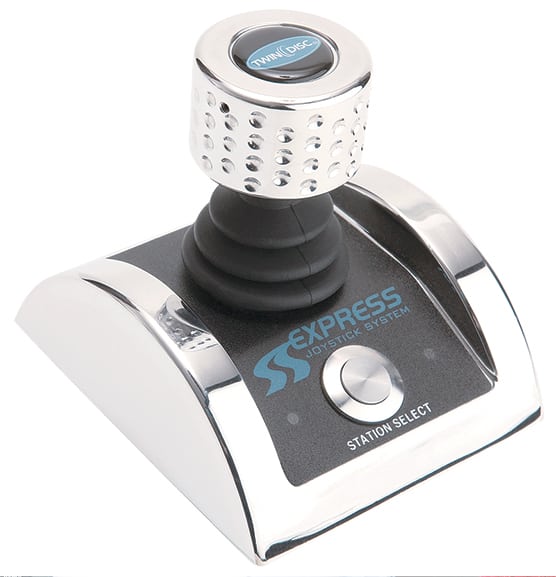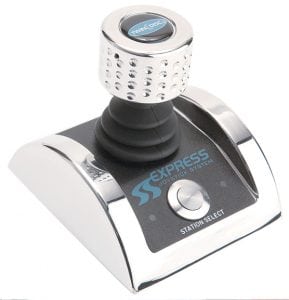 TWIN DISC is implementing a Variable Idle Mode for its Express Joystick System (EJS) and Express Positioning System (EPS) for GPS-based station-keeping. Instead of the traditional high idle-only option, this new system provides responsive props and thrusters
when needed, making station-keeping smoother. With reduced fuel consumption and noise when slow maneuvering in calm conditions, this system increases only when higher prop and thruster speeds are demanded by the joystick in greater wind and sea states. Quiet operation and less fuel use is a vast improvement and a major step forward in inboard engine dynamic positioning systems. twindisc.com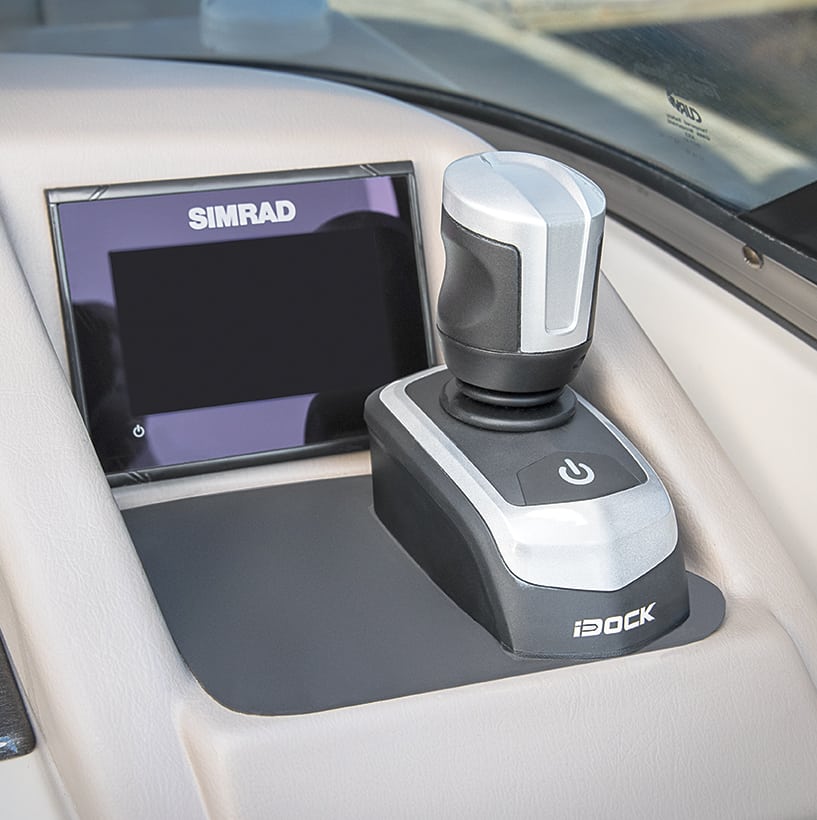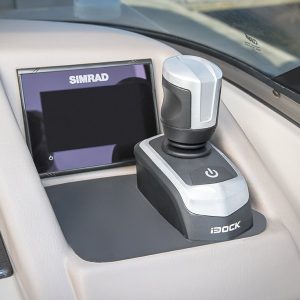 EVINRUDE releases the iDock joystick piloting system now available on boats with twin
Evinrude E-TEC G2 150-hp or 300-hp engines. Advanced aircraft gyroscope sensor
technology makes iDock more intuitive by automatically compensating for wind and current. It also connects with the existing internal hydraulic steering feature of E-TEC
G2 engines, reducing the cost of parts, removing clutter on the transom and freeing
up storage space, and it requires less than an hour of setup time. When docking is easy, confidence grows and although outboard joystick maneuverability is not new, the MSRP of $5,999 is, and that makes it accessible to a new group of boaters. evinrude.com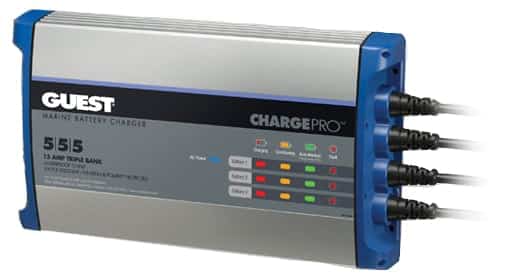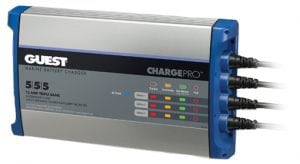 Marinco is set to launch its Guest On-Board ChargePro battery chargers for 12-, 24-, 36-, and 48-volt systems. These chargers are up to 40 percent lighter and easier to install, and have easy-to-read graphics that show the status of each bank throughout the
charging process. ChargePro's low profile, flangeless extruded aluminum housing is sealed by gaskets with heavy duty end caps for waterproof performance to IP67 standard. With fully automatic five-stage performance charging, individual battery sensing and auto maintain energy saver mode, these chargers are available for lead acid and sealed AGM batteries. marinco.com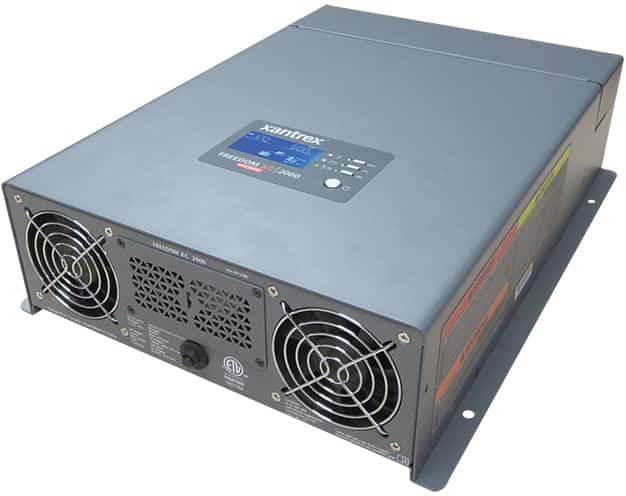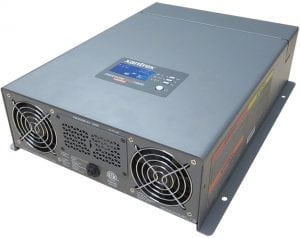 XANTREX has expanded its Freedom series with the launch of four new sine wave
inverters and inverter/chargers. Called the Freedom X, the new series has features like
an extended surge for motor loads, a faster transfer time for a quick transition from shore to battery power, a huge wiring bay with quick connect AC terminals for fast and easy wiring, and an LED display. The models are lightweight and durable and have improved climate protection so they will survive the elements and provide full output in temperatures ranging from -4 to 104 degrees Fahrenheit. All models include an internal
30-amp transfer switch and can be hardwired or installed with the optional GFCI outlet. xantrex.com
MASTERVOLT announces the ChargeMaster Plus Series, an all-in-one solution for faster and safer charging that also reduces complexity and cost. This system integrates multiple functions into a single device, replacing auxiliary chargers, battery isolators and VSR. It charges virtually any combination of three batteries at high speed, works anywhere in the world and automatically revives even fully depleted batteries. The ChargeMaster Plus lets you combine lithium ion, gel or AGM batteries in large or small 12/24V banks on a single charger and without additional components. It also redirects available power to the lowest battery for faster charging. mastervolt.com
CLIMATE CONTROL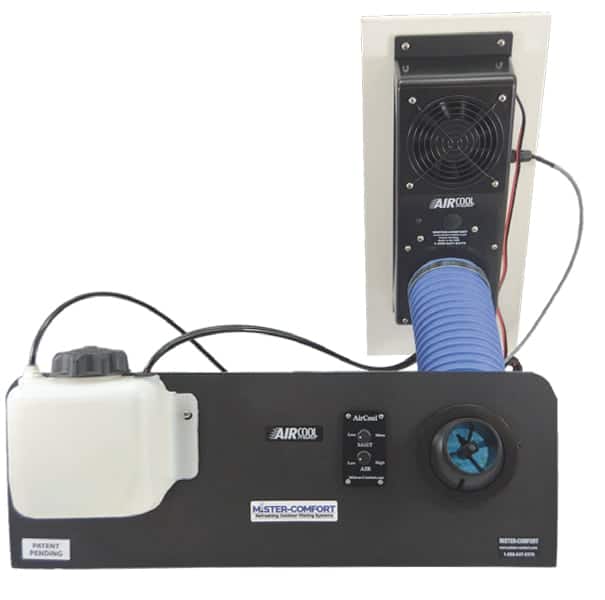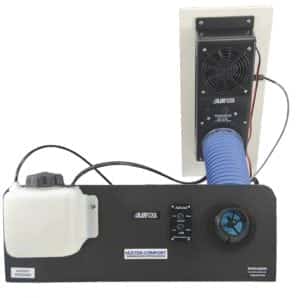 Mister-Comfort launches the AirCool Marine Misting System, a patent-pending design that provides a cool and dryish mist that drops the temperature in the immediate area up to 20 degrees. This system adjusts for both fan and mist levels and can be installed at the helm of center console boats. It can T into the boat's existing water tank and comes with fan speed control and a directional nozzle. mist-er-comfort.com
BOAT PERFORMANCE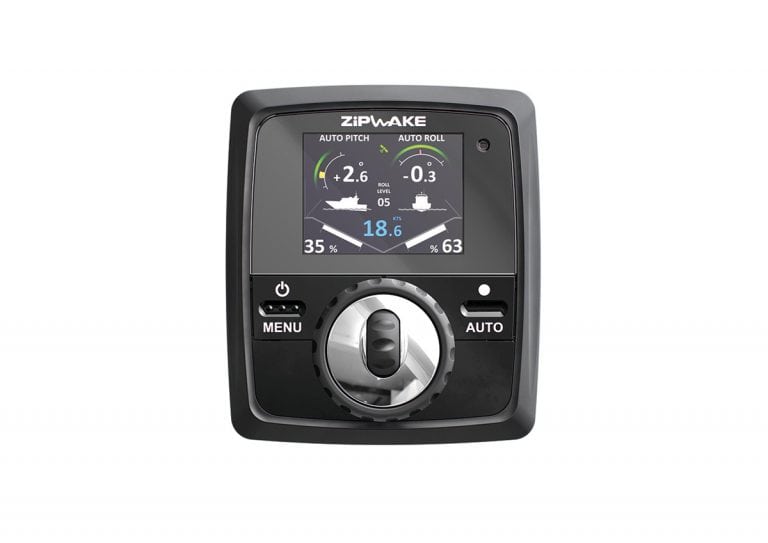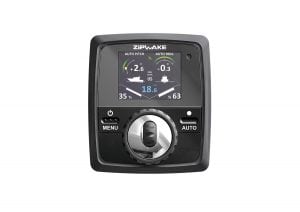 Imtra debuts the Zipwake Dynamic Trim Control system with advanced, intuitive 3D controls. The new system delivers a more comfortable ride, better performance and improved fuel consumption for any boat from 20 to 60 feet. It incorporates patented, durable fast-acting interceptors that provide efficient lift. Installation of the modular unit is simple with four different-sized blades allowing a near full-beam arrangement. Because the blades extend just 30 mm, they create less drag, and the design allows for full blade deployment in only 1.5 seconds, which is five times faster than conventional trim tabs. A base installation has a total of six interceptors without the need for additional connectors or power supplies. imtra.com
WATERMAKERS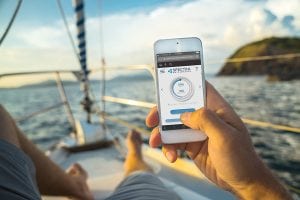 Spectra Watermakers introduces the new Spectra Connect controller that lets you connect to your boat's watermaker at any time from any place via your phone, tablet
or computer. The new One-Touch Fill feature runs the watermaker until the tanks are full, shuts the watermaker off, does a freshwater flush, and transitions into Auto- Store mode, keeping the watermaker ready for the next cycle. Suggested maintenance intervals remind the user when to change filters, replace a pump or perform routine preventive
maintenance, and a data-logging capability allows technicians to troubleshoot from anywhere, giving access to historical operating data, trends and alarm faults. spectrawatermakers.com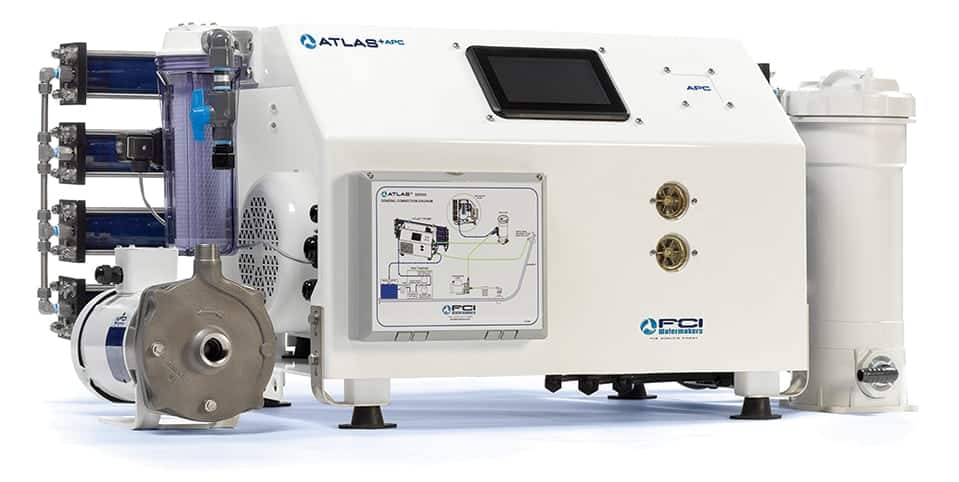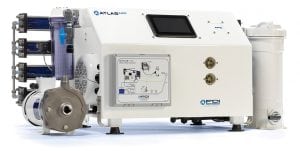 FCI WATERMAKERS will be showing its Atlas+APC ultra-compact watermaker that produces 1,400-3,600 gallons of water per day. Targeted at large yachts, this robust and efficient watermaker is built for extended run times and to commercial standards for reliability. Simple to configure using its state-of-the-art V4 controller, the Atlas+APC has an intuitive menu on a 7-inch touchscreen that makes it easy to program. Its one-piece powder-coated aluminum frame is open to provide access for maintenance and inspection, and the unit is quiet and vibration-free, thanks to its dual shock mounting system.
fciwatermakers.com
AIR HANDLERS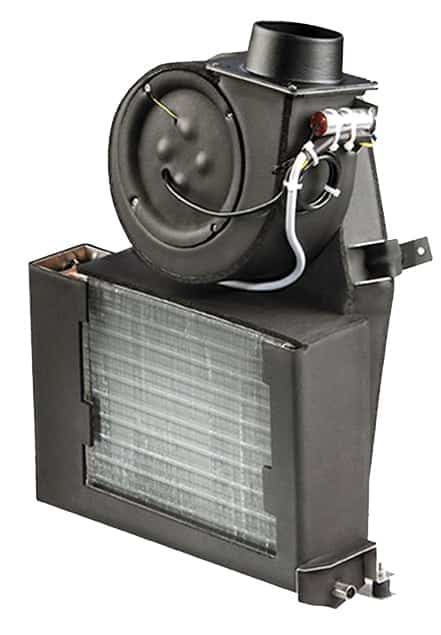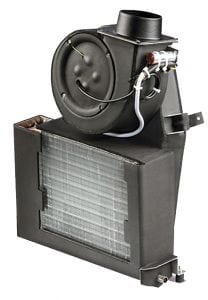 Webasto introduces the BlueCool A-Series Air Handlers for climate control with cooling capacities from 4 to 36 kBTU/h. This compact, high-performance, modular design has a
unique condensation management system and is highly customizable with three form factors: Compact, Slimline and Low Profile. Components are plug and play, and there are lateral water diverter plates on the heat exchangers that prevent the condensate
from dripping down the sides. Heeling even at inclinations of up to 30 degrees is no longer a problem. webasto.co
By Zuzana Prochazka, Southern Boating November 2017