Cheaper CHIRP
See below more clearly with improved and less-expensive fishfinders.
By Doug Thompson, Southern Boating June 2020
Okay, so you enjoy fishing and you're researching the latest in fish-finding sonar technology. But "latest" and "technology" evoke lots of dollar signs.
Usually your penny-pinching detector would be correct; however, there are affordable fishfinders. Today, CHIRP (Compressed High-Intensity Radar Pulse) sonar fish-finding systems from manufacturers such as Furuno, Garmin, Lowrance, and Simrad range from $179 to $1,500—and much more. Install it yourself or add a few hours of service time and before long, you can be viewing fish and bottom features you never imagined.
"If fishing is your game, CHIRP technology is an eye-opener to the world below," says Craig Cushman, director of marketing for Airmar Technology Corporation, a leading transducer company. "A CHIRP fishfinder connected to an Airmar CHIRP-ready transducer delivers amazing details of baitfish, game fish, and the seabed. Choose from high-, medium-, or low-frequency bands (or use them all) to match the depth and species you're targeting. CHIRP is a game changer."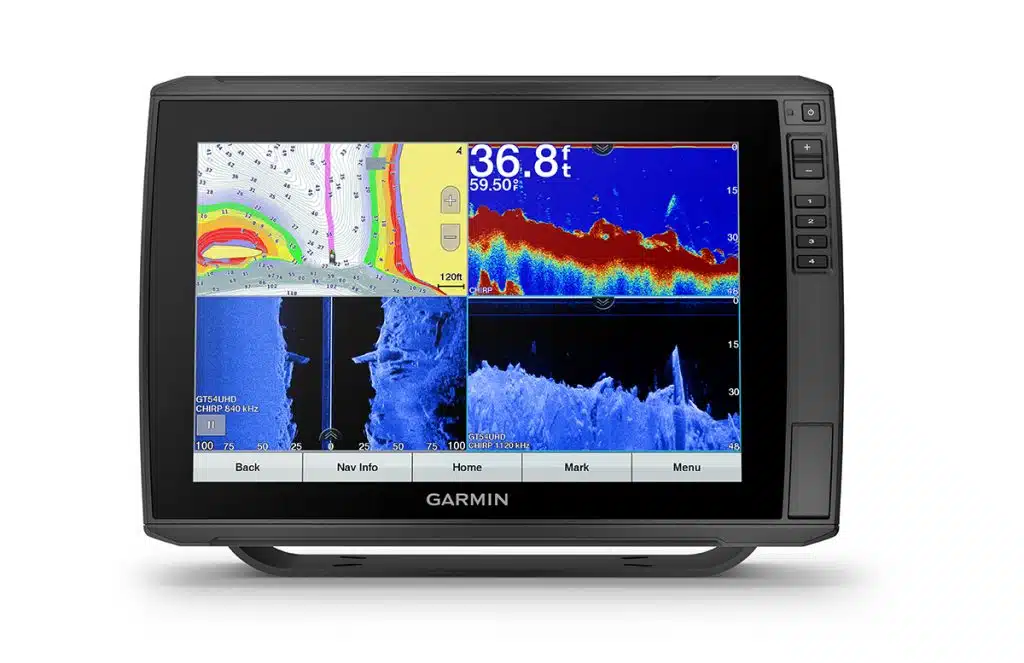 Conventional sonar is transmitted on single discrete frequencies, such as 200 kHz or 50 kHz. CHIRP enables pulses across a broad band of frequencies; upward of 100 different ones, and varying beam widths to interrogate a target from just a single transducer.
"A fisherman getting into CHIRP for the first time should do his homework to make sure what he gets matches his needs," says Scott Heffernan, vice president of sales at The GPS Store. "A serious offshore angler who has a two-kilowatt traditional sonar on his boat isn't going to be satisfied by adding a three hundred-dollar CHIRP unit. At the same time, that unit might be an eye-opening breakthrough for an angler who spends his time fishing inshore wrecks or coastal patch reefs."
Because The GPS Store offers robust online sales worldwide, the staff is adept at working with customers remotely. The staff can coach anglers via email or phone to find the best match for their type of boat, their needs, and their budget.
"Our Furuno GP1871 chartplotter with CHIRP and a TM150M transom-mount transducer is a great entry-level setup," says Eric Kunz, Furuno senior product manager. Online research showed the combo can be purchased for less than $1,000. "Make sure you have the placement right on the boat. That can make or break the performance of the system. If you don't get it properly placed on the transom the screen will just wipe out. That's true with any echo sounder product. Once you do that, you can just about count individual fish."
Lower production costs for the manufacturer has allowed CHIRP technology to become nearly a standard feature.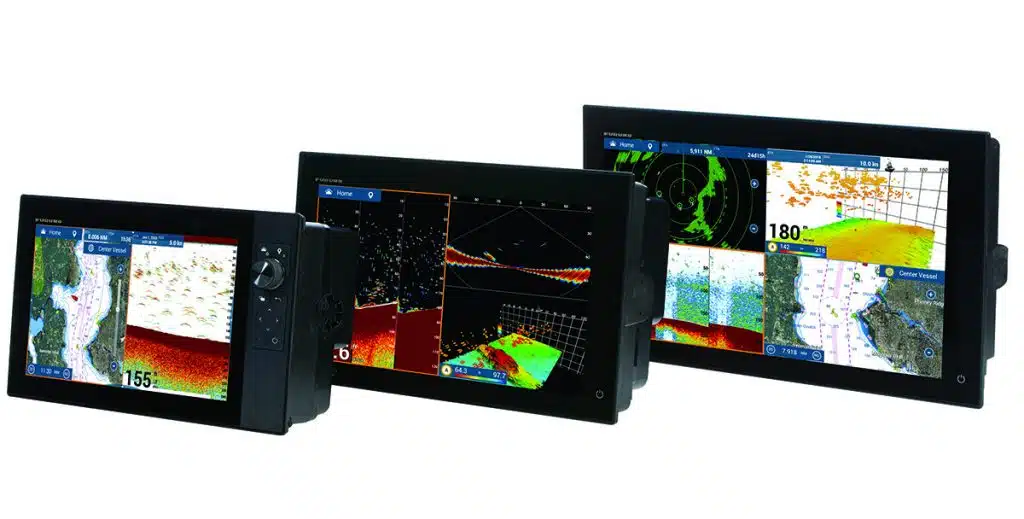 "The biggest change we have seen since CHIRP's introduction is the spread of this technology into almost every product that we make with a sonar," says Jeremiah Clark, sonar product director at Navico, the parent company of Lowrance and Simrad. "When we first launched CHIRP, it was in a select group of products, and now every 'conventional' sonar display we sell, with the exception of the entry-level HOOK2 4x and HOOK2 4x GPS, has CHIRP functionality built right in."
As with any other sonar, one of the most important things, regardless if you spend a few hundred dollars or a few thousand dollars on gear, is that the sonar can only be as good as the transducer installation. If you are well versed in installing a transducer, or if you can easily replace an existing transducer that has provided steady performance, then this can be a do-it-yourself project.
"If you are not well versed, or not putting in a direct replacement, it might be best to get help from a pro installer," explains Clark. "Transducer location, depth, mounting angle…these can all have dramatic negative impacts on sonar performance. Any cavitation (air bubbles under the face of the transducer) will cause a poor to no image. Sonar is great when transmitting/receiving through uninterrupted water flow, but sonar (regardless of price) is terrible at reading through air."
In a price range from $700 to $1,500, a coastal ocean boater could add the Lowrance Elite Ti2 or Simrad GO series with a seven-inch display screen. Select a larger display screen or better transducer and the price will go up.
"For a user with a bit more budget and wanting a great performer without going all the way up to the top performance tier, I think a better choice would be the Lowrance HDS LIVE or Simrad NSS Evo3 product lines," Clark says. "A user can get a good setup in this range (seven-inch displays screen as a minimum) for around one thousand, two hundred dollars to two thousand dollars or more, depending on the type of transducer they choose to fit their needs."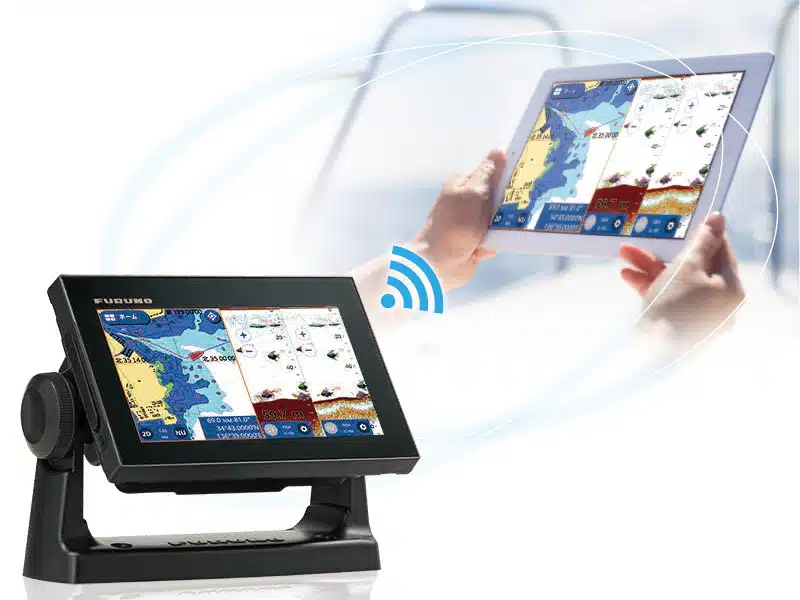 Still, adding CHIRP is almost inevitable because it comes standard on most sonar and fish-finding systems today.
"You can get CHIRP sonar for as little as one hundred and seventy-nine dollars and ninety-nine cents," says Dave Dunn, Garmin's director of marine sales. "The price really depends on the size of screen the user wants and if they want a combo unit (GPS+Sonar) or a stand-alone fishfinder. Screen sizes range from four inches all the way up to sixteen inches. There is a unit and price point for every boater and every budget."
CHIRP's top three benefits are target resolution, versatility, and sensitivity. Because CHIRP is transmitting over a broad band of frequencies, it has a tremendous advantage over traditional 50/200 frequency transducers.
"The ability to have fifty to one hundred different frequencies interrogate targets in the water and reflecting back energy from targets gives the software the ability to compress the signals into clearly defined targets on the fishfinder display," says Cushman. "A school of baitfish can look like many small targets versus a blob. What used to look like a blob down deep can now be defined as a school of game fish. Versatility comes in the form of multiple frequency bands in the same transducer, so an angler can have a low band for deep water fishing and a high-frequency band for shallow water. Both are the right tool for a specific fishing opportunity and can be used together or individually.
"The sensitivity aspect is important when you realize that specific frequencies can reflect off certain species better than others," Cushman continues. "The air bladders in fish vary by species, and CHIRP can send a whole band of different frequencies into the water column. Some of these frequencies reflect off fish species better than others and increase your chance of seeing more under the boat. Tuna fisherman like the upper sixty kHz frequencies. Others like higher frequencies for species like snapper and smaller fish. With CHIRP, you're covered across a broader spectrum of frequencies."