Vesper Marine's WatchMate Vision2 alerts captain and crew to imminent danger.
Resting easy at 3 AM can be a challenge when you're at anchor and it's pitch black, but with Vesper Marine's WatchMate Vision2, you just might sleep better. That's because the unit's Anchor Watch feature clearly displays a history of the vessel's position on a smartphone (Apple or Android). If the boat swings in wind or tide, a quick visual check of your phone will tell if the anchor is set. And, if things go awry, an audible alarm alerts you.
"Our WatchMate Vision2 is the most advanced AIS transponder on the market," says Jeff Robbins, CEO of Vesper Marine based in New Zealand. "Already packed with life-saving features like smartAIS alarms, DSC calling and faster GPS, we have enhanced the user experience with an easy-to-use touchscreen, faster Wi-Fi, more Wi-Fi connections, and a brighter display."
How to Use
Southern Boating readers love to cruise with family and friends, so how might the captain of a 50-foot motoryacht use Vesper's new AIS transponder with his able-bodied wife and two adult guests as crew? Robbins explains that with WatchMate Vision2, a captain can be anywhere on the boat and be aware of AIS information. "Use the built-in Vision2 display at the helm, or use your smartphone, tablet or smartwatch if you are elsewhere like the cabin, the bow or somewhere on deck," he says.

The WatchMate Vision2 can connect up to eight devices simultaneously via the Wi-Fi network. This ensures that the captain be aware of potential collisions, anchor drag or man overboard (MOB) situations. An audible alarm on the transponder as well as alarms on the smartphone or tablet will sound. "The captain's guests can also connect on the transponder's Wi-Fi network to access the AIS information available to the captain as well as be alerted of any alarms," Robbins says. "Any of the crew can do navigation watch if the captain is busy."
Advanced Technology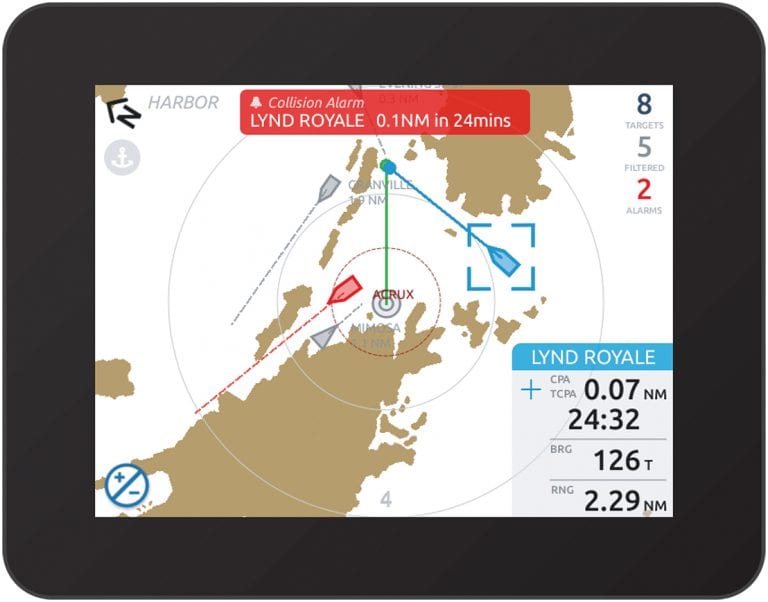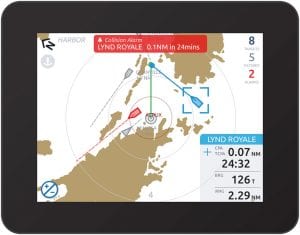 In addition, with autopilot apps, the captain can send messages to the autopilot from his mobile device over Wi-Fi to change course or other necessary navigation requirements using the Vision2's NMEA Gateway. In the case of a man overboard, the alarm sounds when a crew member activates an MOB on any manufacturer's model. With the unique MOB labeling feature of Vision2, the captain or yacht manager will see the name of the MOB as well as the position when the MOB was first detected and continuous MOB positions.
The unit's touchscreen is very intuitive and easy to scroll through the menu, zoom in and out, see vessel details and navigation data, change alarm settings, and more with the most gentle of touches," says Robbins. "All the latest software and features are preloaded on the WatchMate Vision2. These features are also available on the original Vision WatchMate by updating its firmware directly from a mobile device using the WatchMate App."
Vesper Marine also has an option for existing Vision customers to upgrade their Vision hardware to the Vision2 hardware. The factory upgrade will include a 12-month warranty from the date of the upgrade at an attractive price. Existing Vision customers can extend the life of their investment even further.
WatchMate Vision2's features
DSC calling
This feature helps you communicate with a vessel by directly tapping the vessel on your screen. If networked to an ICOM VHF radio, a VHF call can be placed directly to the selected vessel without the need to input lengthy MMSI numbers.
Compatibility with all brands of MFDs and chartplotter
WatchMate Vision2 and XB- 8000 are the world's only smart AIS transponders that alarm you in case of danger, such as potential collisions, MOB or anchor drag. They are compatible with all brands of AIS-enabled MFDs and chartplotters. Some owners choose the same brand as their other equipment because they perceive an advantage of compatibility but end up sacrificing the proactive alarm feature of Vesper Marine smartAIS transponders that are just as compatible. The alarm feature means that if all other equipment, including MFDs, is off when power is low, the Vision2 will alert you.
Galvanically isolated ports
If you've owned a boat for any length of time, you probably know that electrical systems on boats can result in faults. Voltage differences between battery banks and the inverter, genset or shore supply can result in stray currents. This may severely damage connected equipment. Galvanic isolation means isolating the electrical circuits within your equipment by ensuring there is no conductive electrical path between the two. Achieve connectivity via a different medium, such as light or high-frequency electromagnetics.
By Don Minikus, Southern Boating October 2018