Personal Locator Beacons for Boaters
ACR Electronics introduces the next generation personal locator beacons
Personal locator beacons (PLB) have reached a point of sophistication and cost value that anyone who ventures out into the wilderness of the oceans, mountains or forests can afford to play it safe and carry one. Unfortunately, cell phones don't always get reception. If you experience an emergency and need help, use a PLB as a distress radio beacon that transmits your location through satellites to search and rescue personnel so they can find you anywhere in the world.
Survivor Feedback
With the help of survivor feedback, ACR Electronics has developed the safer and more user-friendly PLB 400 series. Redundancy is a key design feature of the new ResQLink  400 and ResQLink View PLBs. "We design products that have to work the first time, every time," says Mikele D'Arcangelo, vice president of global marketing and product management.
"With the new ResQLink series, we have incorporated a new multi-constellation GPS/Galileo receiver which acquires your location coordinates from two different satellite systems. All of our PLBs incorporate an LED strobe light, but the ResQLink 400 and ResQLink View are the first to incorporate both a white LED strobe and an all-new infrared (IR) strobe light to better aid rescuers wearing night vision goggles."
The PLBs are made in the U.S. and are approved by the FCC for sale. They operate on the three Cospas-Sarsat satellite systems, including the next generation Medium-Earth Orbit (MEOSAR) satellites. They ensure near instantaneous signal detection and transmission with more accuracy through GPS positioning, a powerful 406 MHz signal and 121.5 MHz homing capability. Anyone activating a ResQLink PLB can expect their beacon to be located within 100 meters (328 feet) 95 percent of the time and within 5 minutes of the distress signal.
Galileo, Figaro, magnifico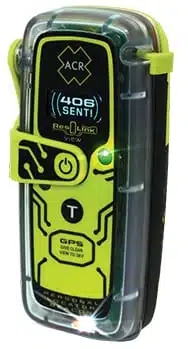 The new ResQLink series also incorporates a multi-constellation receiver that utilizes both the Galileo Global Navigation Satellite System (GNSS) and the GPS Satellite network for faster location and improved accuracy.
The units are compact (4.52 x 2.03 x 1.49 inches), lightweight (5 ounces) and easy to carry with multiple mounting options. "We enhanced our personal locator beacons to improve the wearability to encourage boaters to wear one while they are boating, fishing, or really on any outdoor adventure," says D'Arcangelo. "The rugged belt clip keeps the PLB attached to you yet out of the way, and the oral inflation clip was designed to mount your PLB inside your inflatable life jacket securely."
Besides wearability, members of the ACR Electronics SurvivorClub, who shared their stories to help fellow adventurers (and received a new beacon for it) also helped redesign the antenna to make deployment with a single hand quick and easy. The activation button is now protected by a cover attached to the antenna and is located away from the test button. "We moved the activation and testing buttons to the front to make the unit easier to operate by a novice user," says D'Arcangelo.
Just for Boaters
The ResQLink 400 and ResQLink View incorporate ACR Electronic's built-in buoyancy feature. The unit floats if dropped in the water and one valuable benefit, "no subscription required for use." The ResQLink View also brings ACR's unique digital display capabilities through optical display technology to show all the beacon's operational activities live, including GPS coordinates, operating instructions, usage tips, transmission bursts, and battery power.
Both PLBs reusable, but replace the battery after each use. ACR also introduced new ResQLink Skins for the ResQLink View, another customer request. Personalize your PLB with different styles, including a camouflage version.
"A Personal Locator Beacon is a vital part of any safety kit for boaters, hikers, climbers, hunters, snowmobilers, and all outdoor enthusiasts," says D'Arcangelo. "As safety and survival specialists, ACR Electronics has been at the forefront of beacon technology and we will continue to innovate and listen to feedback so that our customers can always rely on our devices in an emergency."
The ACR ResQLink 400 PLB is available for $299.99, and the ResQLink View is available for $349.99.
By Steve Davis, Southern Boating May 2019