FUSION Entertainment debuts their top-of-the-line series that takes audio entertainment to the next level.
When it comes to the knowledge spectrum of technology as it pertains to music sound systems, I'm closer to the technophobe than the technogeek end of the continuum. I know the difference between bass and treble, and I can tell when the volume level distorts the quality. That being said, I do love blasting high-energy music—think ZZ Top or Aerosmith—right before it reaches that level. So, when I was invited to experience FUSION Entertainment's newest product line a couple of days before Star Wars Day—May the 4th be with you—I couldn't resist sharing my Pandora playlist. I gotta say, cruising on a Jupiter with the Star Wars theme song cranked up and absolutely no distortion was simply stellar.
Based in New Zealand, FUSION Entertainment entered the marine market more than a decade ago. Garmin bought FUSION four years ago, and the electronics powerhouse significantly invested in their technology resources. Since then, the size of their engineering team has more than doubled. The debut of the Apollo Series marine audio entertainment system is evidence that the investment has paid off not only for the company but especially for boaters who love music.
Meet Apollo
The Apollo Series—named for the NASA space program's advanced technology that landed humans on the moon as well as the Greek god of music—sets a new standard in the industry according to Chris Baird, managing director of FUSION Entertainment. "For many years, our head units have defined marine audio entertainment. While there has always been an ability to add features, no one has created a paradigm shift in this space, until now. After listening to our customers and closely examining trends and innovations in other industries like touchscreen and glass helm systems, we knew it was time to change everything." The first two Apollo products—the RA770 and SRX400—do, indeed, exhibit that change in many different ways.

Design and functionality
The flagship FUSION RA770 (4.3-inch display) is designed specifically for the marine environment. It includes a one-piece glass touchscreen display, built-in Wi-Fi streaming, Digital Signal Processing Technology (DSP) and PartyBus capabilities. The full-color LCD display and one-piece glass touchscreen eliminates searching for the appropriate button on a bumpy boat. Instead, users just use the finger motions they already use on their phones. Tap the screen to start the music or pause, swipe right or left to forward through a playlist or to repeat a favorite song. The display blends perfectly with modern glass helms and is an attractive addition to any steering station. The FUSION Apollo Series SRX400 (2.7-inch display) offers a more compact product for smaller vessels that includes Wi-Fi streaming, DSP, and PartyBus functionality.
Sound quality
Users will notice a difference in the sound quality of the Apollo Series as compared with competitors' products. FUSION DSP provides optimized audio delivery to all speakers on board in any environment. FUSION goes a step further and provides an easy-to-use FUSION-Link app to set up users' DSP profiles. The process is simple, quick and involves relatively few steps. The end result is supreme audio quality at every volume level. Whether you want to crank out some heavy metal or enjoy soothing symphonic melodies as background music, you'll be satisfied. The FUSION-Link app also enables users to download software updates right from their phone—no awkward and time-consuming procedures required.
Music choice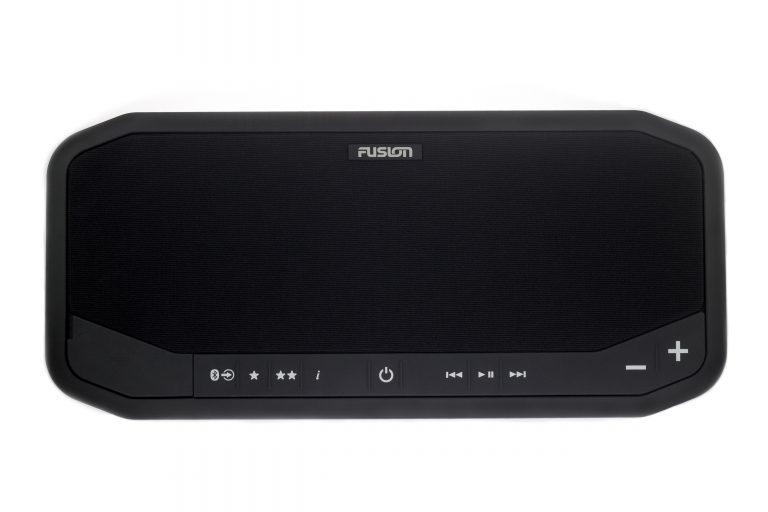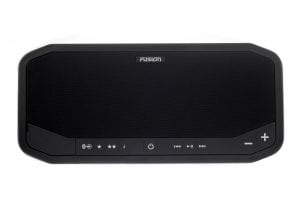 FUSION'S PartyBus lets users choose the music on the entire boat or in a specified location on the boat, such as a cabin or stateroom. Users can add additional PartyBus-enabled stereos to their onboard entertainment system. This provides the option to join Party Mode and play the same perfectly synched audio source through the entire vessel. Personal Mode enables other available audio sources from the stereo in their zone without disrupting Party Mode in other areas. The Apollo RA770 offers users a number of audio soundtrack source options. That includes Bluetooth, Optical Audio (TV), Advanced SiriusXM features (USA only), DAB+ ready (available in Europe and Australia only), AM/FM radio, AUX, and USB. Stream music from a mobile device via Universal Plug and Play (UPnP). With built-in Wi-Fi, the Apollo series wirelessly connects multiple Apollo stereos without cables.
Additional features
If correctly installed, the FUSION Apollo RA770 and SRX400 are IPx7 are rated for dust and water protection. It also includes an internal Class-D amplifier. The RA770 includes two RCA auxiliary inputs, one SPDIF port for TV audio output, one Ethernet port, one USB 2.0 port for phone charging and media playback, one SiriusXM port, one Motorola antenna connector port, and is DAB+ ready. The SRX400 has one Ethernet port and one Motorola antenna connector port. Both models offer multi-language support and settings for English, French, German, Spanish, Dutch, and Italian.
You'll see FUSION Apollo Series products on a number of models from boat builders. Those builders include Bavaria, Boston Whaler, Grady-White, Regal, and all Sea Ray production models. Stay tuned for additional product developments in the Apollo Series including speakers and amplifiers planned for a 2019 release.
By Liz Pasch, Southern Boating August 2018