Electric boat technology strives to keep up with the auto industry.
Chevy's Bolt EV just won Car of the Year at the Detroit Auto Show, and luxury auto maker Tesla reports sales figures for the Q4 of 2016 up an impressive 27 percent. What's taking so long for the technology to trickle down to the electric boat category? "We are not converting the message as a group," Phil Purcell, CEO and Executive Director of the Marine Industries Association of South Florida stated rather bluntly as the opening keynote speaker at this year's Electric and Hybrid Marine World Expo in Tampa. "I drive a Tesla, own a Duffy Electric Boat, have a Torqeedo motor for my dinghy… Electric is not a fad, but the battery makers are all in competition for a small slice of pie, and they need to be working together."
Torqeedo, in collaboration with BMW, is making the very latest automotive battery engineering available for boats. Adapted to work with Torqeedo's 40- or 80-hp Deep Blue systems, the BMWi3 technology is based on prismatic cell design allowing for efficient cooling and even temperature distribution within the battery, all in a compact form and tucked neatly into an extremely rugged structure with external power and data connectors.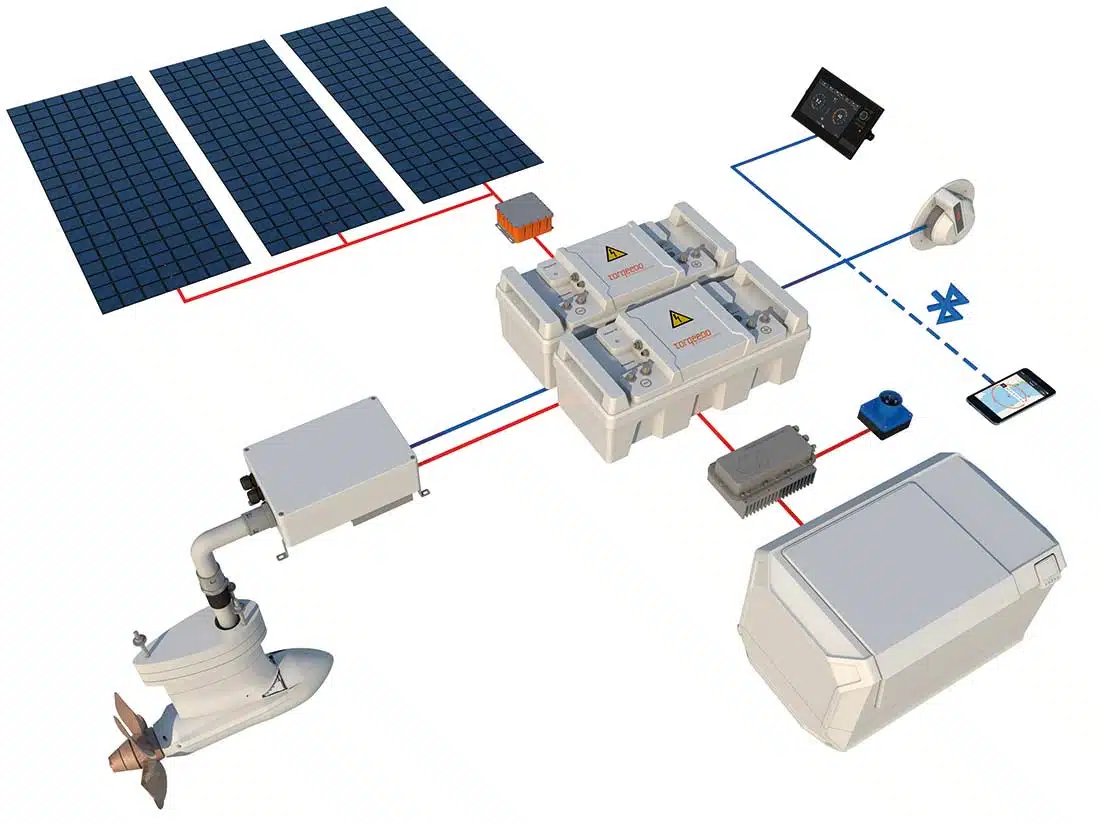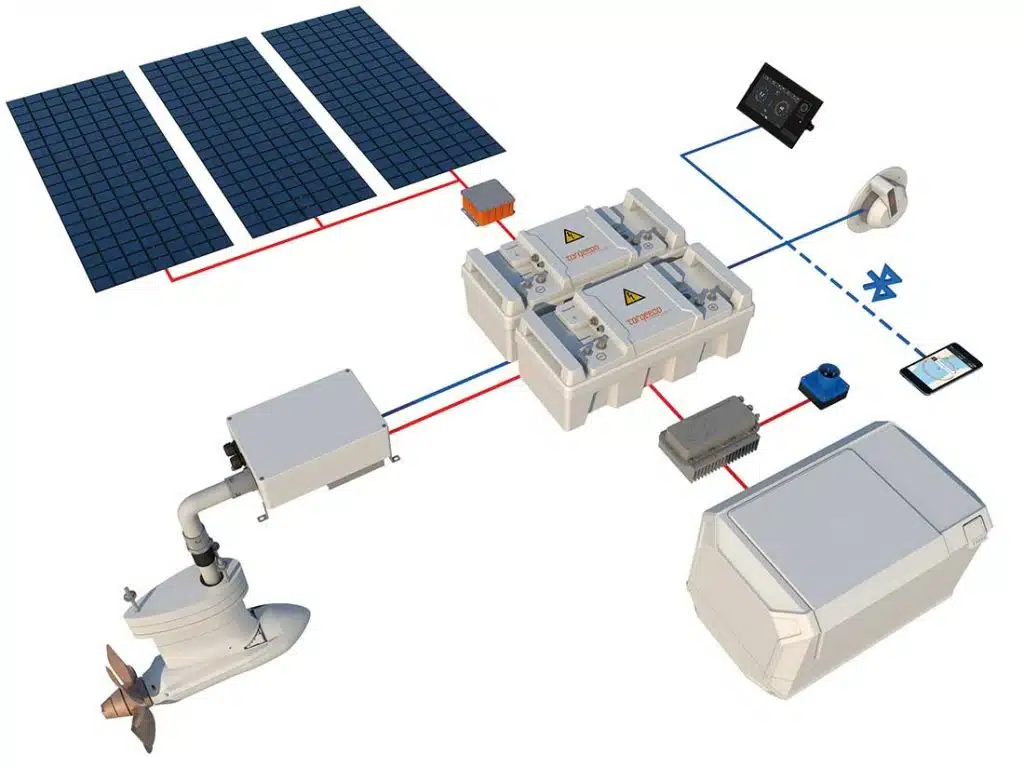 Prismatic cells require precision assembly in a robust frame to achieve a long service life. Early adopters of electric technology have discovered that charging and discharging over time leads to cell expansion and collapsing, hastening the aging process. Boat applications place high demands on shock resistance and the BMW/Torqeedo design addresses those concerns.
The battery is waterproof to IP67 standards and has laser-welded cell connections over a larger surface, suggesting a stronger and more powerful design than conventional spot-welded cell connections. Should a particular cell fail, interchangeable access points and modules allow for upgrades.
BMW's battery management system detects a replacement module and adjusts for that cell accordingly, while still providing appropriate recharging levels for older modules.
Torqeedo debuted a 25kW Range Extender for the Deep Blue system that is the first inverter generator capable of supplying electricity for yachts and supporting serial hybrid systems. With a promise of reduced pollutants, less vibration and a longer life for the combustion engine, the system does not require a separate starter. Instead, it uses the electric motor included in the genset.
Sailboaters also seem enamored with Torqeedo's Cruise Fixed Pod motor as an alternative to an inboard diesel engine. Winner of the 2016 DAME Design Award, this year's upgrades include new electronic throttles, a dedicated high-resolution marine display and an easy-to-understand user interface. The pod can be charged from shore power, solar, a generator, and even hydro-generation while underway. torqeedo.com
On the commercial side, BAE Systems introduced HybriDrive marine solutions that work in concert with leading marine diesel engines to provide efficient propulsion and auxiliary power systems. HybriGen Power & Propulsion eliminates conventional main engines and is targeted for passenger ferries, research vessels and expedition yachts. Hybrid Assist uses various components to drive a vessel electrically at low speeds and assist the main engine when high-end boost is required. Aimed at the tug market, BAE says there is a fuel cost savings and main engine hours savings of up to 50 percent. Their third product, HybriGen Zero, eliminates the need for conventional diesel generators with a focus on towboats and fishing fleets. baesystems.com
Several battery makers addressed thermal runaway—think Galaxy Note 7, hoverboards and Boeing Dreamliner battery fires—with proprietary heat dissipation design. AllCell Technologies, a Chicago lithium-ion assembler, offered a breakthrough honeycomb design that prevents the spread of thermal runaway. Scott Novack explained how their patented phase change composite, a mix of wax and graphite, keeps the battery in a constant cooling state and avoids "the domino effect prevalent in thermal runaway."
allcelltech.com
While big names like Valence, Spear Power Systems and Rolls Royce were on hand touting their progress, there was also room for the garage entrepreneur. Seattle-based PureWatercraft debuted an all-electric engine resembling the outdrive of a stern-powered outdrive. "The difference is we built all the parts, including a more efficient propeller," notes founder Andy Rebele. The Pure Outboard replaces a 9.9- to 40-hp engine, connects to standard steering cables and weighs under 100 lbs. With two modestly sized battery packs that charge from a standard 120V system, it delivers 35 minutes at wide open throttle or an entire day of typical tournament fishing on a lake. Rebele and his team of inventors are in the manufacturing stage with delivery expected this spring. "Quiet is what people pay for," quips the former rowing coach. purewatercraft.com
— By Alan Wendt, Southern Boating Magazine March 2017