Making a Connection
Lake Champlain offers some of the best boating from New York to Vermont.
Magic and mystery are daily elements of cruising Lake Champlain. Maybe it's looking east spotting the Green Mountains of Vermont rimming the horizon and looking west to the Adirondack Mountains of New York standing at attention. Or could it be anchoring in Button Bay that creates a mood? The site of a critical naval battle during the Revolutionary War, this bay is the final resting place for defeated American warships deliberately sunk as they fled the British. A special feeling also arises knowing that the lake provides one stretch of two tantalizing North American loop cruises, both of which traverse the St. Lawrence Seaway. The Triangle Loop meanders west to Lake Erie and north into Canada. The Down East Loop flows through Canadian cities, three provinces, and pours into the North Atlantic in Nova Scotia.
Holding its own as a destination, Lake Champlain provides serene anchorages, beautiful vistas, numerous state parks, fjord-like fingers, comfortable temperatures, and a host of small towns to explore. Museums abound to chronicle the numerous locally fought naval battles critical to the founding of the United States. Even the non-history buff will soak up appreciation of the fight for liberty occurring here. With control of Lake Champlain, the British intended to gain advantage by cutting off the northeastern states from the rest of the U.S. The patriots fought back. Lake Champlain also hosted battles during the French and Indian War and the War of 1812 as its strategic location was key to controlling inland access.
Measuring 125 miles long and 12 miles wide, Lake Champlain is named for explorer Samuel de Champlain, who founded Quebec in 1608 and sailed into what would become his namesake lake in 1609. Serving as the border for New York and Vermont, Lake Champlain connects Canada through the Chambly Canal winding north toward the St. Lawrence Seaway and New York via the Champlain Canal flowing south to the Hudson River. Either access point provides an exhilarating tour of largely rural areas beaded together by a series of historic canals and natural rivers. The entire lake runs north to south, reaches depths of 400 feet, and contains more than 70 islands. Some isles, like historically significant Valcour Island, are part of the New York State Park System. Others are privately owned, providing scenic anchorages, but no shore access.


Inland Sea
Not to be missed is the Inland Sea, the eastern part of Lake Champlain north of Burlington. Threading its way 25 miles north to south, this body of water is accessed through two navigable cuts: The Gut on the southern end and Alburgh Passage to the north. The latter is narrow, but free of shallow depths and heavy weeds that can clog The Gut in the summer. Numerous remote anchorages dot the Inland Sea, which seems Tolkienesque in name and mood. Big draws include Burton Island State Park, the No. 1-rated park in Vermont in 2019-2020 and home to a small marina, and St. Albans, featuring a quaint town square and lush farmers market. St. Albans requires a bike or a ride three miles uphill from the friendly folks at Bay Harbor Marina. Meandering between the Inland Sea's many islands, one can travel 20 miles passing only a single channel marker due to sufficient depths.

Museums
For history immersion and boatbuilding inspiration, visit the Lake Champlain Maritime Museum in Vergennes. Mooring balls are available at North Harbor, adjacent to
the property. Philadelphia II, a replica of the Revolutionary War gunboat lost at the battle of Valcour Island, is on-site, along with countless other locally built vessels. There are programs for kayak-building and longboat-building created by collaborations with local schools.
Other museums to consider include the Shelburne Museum and the Ethan Allen Homestead Museum near Burlington, and Fort Ticonderoga on the southern end. Dominating a strategic point on the narrow end of the lake, Fort Ticonderoga hums with history. Tales of the bold nighttime-forced surrender by the British whistle in the wind behind the massive fortress walls.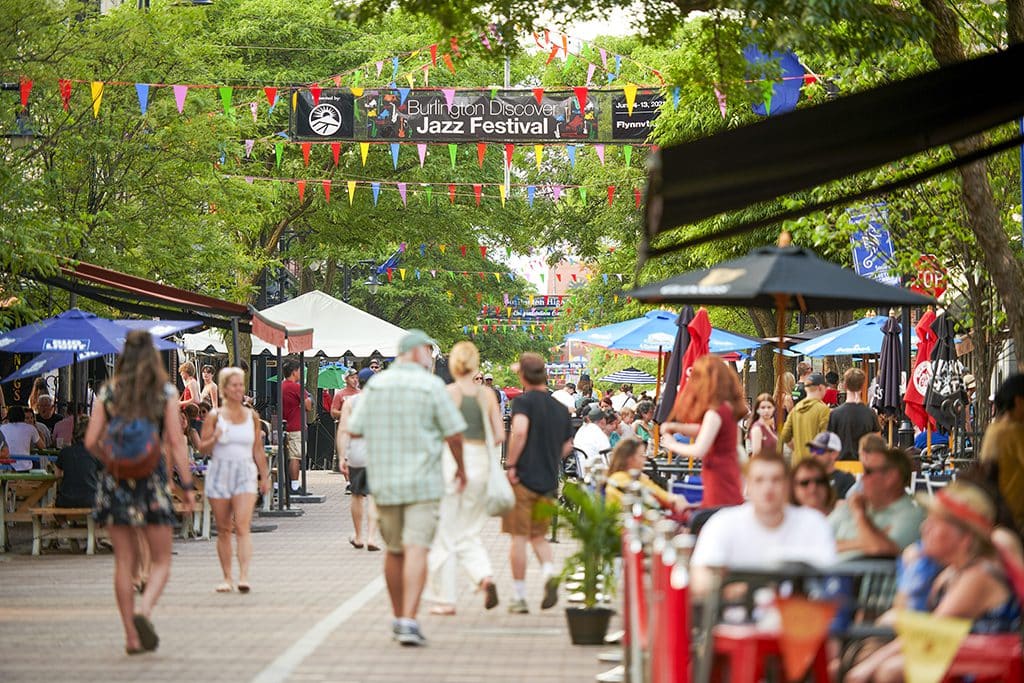 Cruise Around
A stunning anchorage lies just south of the point and is guaranteed to conjure up echoes of cannon fire. Nearby, a ferry dock provides dinghy tie-up for the walk uphill to the fort.
While most cruisers will bring their own boats, there is one Burlington company that offers bareboat charters. Cruisers can visit a section of the lake in a weekend crisscrossing from the Vermont to the New York side. In a week, the lake can be traversed visiting four or five different locations, but two weeks allow time for immersion. Prioritize Valcour Island, Deep Bay, and Burton Island for hiking. All three offer secure anchorages and access to maintained hiking trails. Willsboro Bay on the New York side provides anchorage and marina options including a sunset-oriented restaurant, The Upper Deck.
A seven-mile winding trip up Otter Creek in Vermont leads to Vergennes. A free dock greets cruisers along with the famous waterfall illuminated at night. For boats with draft under four feet, the light show along with a popular restaurant makes the trip enticing.
Essex, New York, an entire hamlet listed on the National Register of Historic Places, oozes charm. Also on the New York side is Plattsburgh, with a large marina and ships store, on-site restaurant, and provisioning options.
As the region's largest city, Burlington is a fun visit. Highlights include marinas, extraordinary restaurants, a "flight" of breweries each appealing to specific tastes like all ales or all sours, and abundant shopping and provisioning. Ice cream fanatics happily line up at Ben and Jerry's, whose first location was in Burlington in 1978. Featured scoops include tantalizing flavors that will not make it to local grocery stores. For cyclists, there is a 13.4-mile, well-groomed bike trail stretching from the vibrant, scenic waterfront to the shallow southern entrance to the Inland Sea. Burlington spills down a steep hill to the lake. As the sun sets offering a breathtaking view from just about anywhere in the city, sounds of music drift out of many open doors. After all, it is the home of the band Phish.
Pay Attention to the Conditions
For the adventurous, cruising uncrowded Lake Champlain also serves up a wonderful variety of water sports. Kayaking in quiet coves, SCUBA diving wrecks, kite surfing when the wind is up, paddleboarding, fishing (walleye, pike, and bass), and swimming are all available. Averaging 73 degrees Fahrenheit in August, the water is refreshing. Spotting boaters sudsing up on their swim platform followed by a rinse in the clean lake water illustrates its appeal. Rarely in the summer, algae blooms may occur, which cause beaches to close for a few days. 
Regarding navigation, pay attention to water depth as some places are too deep to anchor. No flooding occurs, although Otter Creek can rise during rare heavy rain. Vigilance is required to track ferries that traverse from Vermont to New York and back in the three areas. Two large car ferries can often be seen simultaneously heading in different directions. Fog or misty conditions call for situational awareness and use of radar. Anchoring in depths more than 15 feet is recommended to avoid tangling one's rode in dense vegetation that grows in shallow areas. 
Boaters from outside of Vermont, New York, and Canada run the gamut of canals and locks to get into Lake Champlain. Reading about safe lock practices and height and depth restrictions is wise. Proper length lines, sturdy boat hooks, fat fenders, and waterproof gloves will make this smoother. Additional Lake Champlain preparation would include disabling any overboard sanitation system. Closing a seacock is insufficient. Both New York and Vermont require hose removal and plugging any thru-hull.
The best weather occurs late June to early September, with a 79-degree average high in July and 61-degree average low. August and September have the fewest rainy days. Like many maritime environments, the weather can change several times during the day so layers and rain gear are suggested (flannel shirts are high fashion). While generally calm with less than two-foot waves, a cold front can whip up a frothy mess with short stacked waves of four feet or more.
If lack of tides and currents, delightful temperatures, a combination of remote open land, granite cliffs plunging to depths more than 300 feet, and a small village vibe excite you, consider this unspoiled, uncrowded inland lake. "Champ," the legendary local sea monster, will welcome you. 
-by Maria Brown