Our planet offers seemingly endless boating destinations, each of which provides a different experience. Consequently, I prefer to visit new places just once. The few times I've taken repeat trips, the experience never quite compares with the first. Perhaps the marina, resort or nearby town has become rundown, or the exact opposite has happened and became overdeveloped.
Maybe the owners of my favorite, quaint coffee shop or eating spot succumbed to the lure of big money offered by the big chains in big cities. Or maybe it's just that no repeat experience can compare with the first one; sometimes memories have a way of doing that. But, if the scenery is completely different from your
home port and has a stunningly grand landscape that changes with the seasons, repeat visits at different times of year offer colorful layers to your initial experience. These are the kinds of experiences that motivate people to uproot from their current lives and move across the country. Park City, Utah, is one such place with the capacity to do just that.
Each season in Park City offers its own set of larger-than-life outdoor experiences, all of which benefit from the Wasatch Mountain Range as a backdrop. Here's a list of what
to do, see, eat, and drink in every season. The list is far from complete, however, because we want to leave something for you to discover on your own!

What to Do
Boat, fish, wakeboard, and waterski on reservoirs, including Jordanelle, Rockport and Deer Creek; boat rentals are available.
stateparks.utah.gov/parks
Ride a bobsled at the Utah Olympic Park; 3419 Olympic Parkway utaholympiclegacy.org/product/winterbobsled-experience
(435) 658-4200
Take advantage of the free Park City transit system buses and Main Street Trolley service; schedules change seasonally.
parkcitytransit.org
(435) 615-5350
Ski with an Olympian at Deer Valley Resort;
(435) 649-5766
skiwithchamps@deervalley.com
deervalley.com/WhatToDo/Winter/SkiWithAChampion
Unwind, recover and get pampered at The Spa at Stein Eriksen Lodge
steinlodge.com/spa.html
(435) 645-6475
Snowboard America's largest ski and snowboard resort at Park City Mountain
parkcitymountain.com
(435) 658-9457
Mountain bike and hike more than 400 miles of trails
mountainbikingparkcity.com
Buy a piece of art, memento or souvenir t-shirt at the dozens of shops and boutiques on Main Street
historicparkcityutah.com/shop
Ride a zip line at any of the multiple locations in the Park City area
visitparkcity.com
Listen to local musicians playing and singing along Main Street and in bars
and taverns.
What to See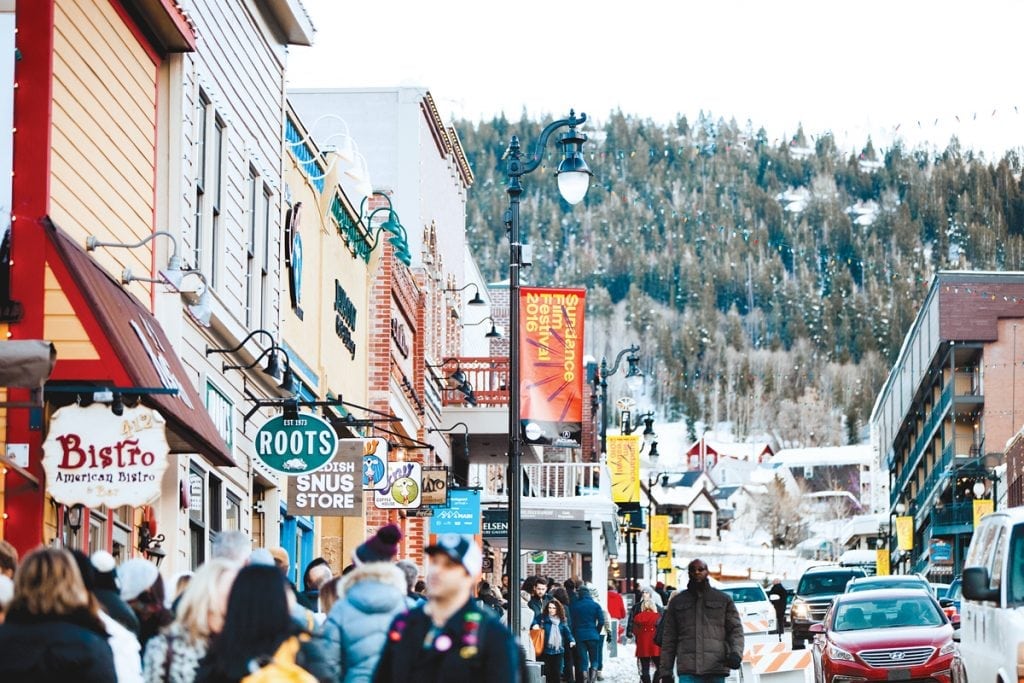 Movie stars, directors, and producers like Robert Redford at the Sundance Film Festival on Main Street every January.
sundance.org/festivals/sundance-filmfestival
Olympic ski and snowboard athletes train and do flips into a swimming pool at Utah
Olympic Park.
utaholympiclegacy.org
Centurion 2018 World Wake Surfing Championship presented by GM Marine
on Pineview Reservoir September 6-8.
centurionboats.com/2018-centurionworld- wake-surfing-championship-held-near-salt-lake-city-sept-6-8
The sunrise and sunset over the mountains to imprint in your memory. A panoramic view at 9,000 feet of the Jordanelle Reservoir from Deer Valley's Sultan Express chairlift.
deervalley.com
The museums at Utah Olympic Park showcasing winter Olympic athletes. utaholympiclegacy.org/activity/museums-at-utah-olympic-park
What to Eat
Dinner cooked over a 14-foot-long wood stove at Park City's hottest new restaurant, FIREWOOD.Tip:  request a window table by the kitchen
(435) 252-9900
firewoodonmain.com
Sustainably raised, farm-to-table fare at THE FARM, a favorite among Park City locals and visitors. Editor's Choice: Local Charcuterie Board with a selection of artisan cured meats and cheeses 4000 Canyons Resort Drive in Canyons Village
(435) 615-8080
parkcitymountain.com
Breakfast dishes with Australian flair at FIVE5EEDS, whose name was inspired by the owners' five children.
Share the family style: Shakshouka, Steel Cut Oatmeal (with fixings), Breakfast Panna Cotta, and Hotcakes with mixed berries and lemon infused mascarpone
(435) 901-8242;
five5eeds.com
Authentic Bavarian lunch at GOLDENER HIRSCH INN located slope side in Deer Valley's Silver Lake Village. Tip: Take advantage of their courtesy slippers while dining to rest
your ski-boot-weary feet. Editor's Choice: Goldener Hirsch Four Cheese Fondue with apples, baguette, broccoli, grapes, and cornichons
(435) 649-7770;
goldenerhirschinn.com
What to Drink
Hydrate aprés ski/bike/hike on the deck at the UMBRELLA BAR. Editor's Choice: Hot chocolate for kids, IPA of choice for adults
Base of the Red Pine Gondola, Canyons Village;
(435) 615-3307
parkcitymountain.com
Craft beer on tap at WASATCH BREWPUB. The brewery was started by a Midwesterner in the early '80s and became one of the first craft brewers in the country.
Editor's Choice: Polygamy Nitro Porter 250 Main Street (top of the hill, so take the trolley if you wish)
(435) 649-0900
wasatchbeers.com
Alpine Distilling whiskey in a "shotski" with your friends at THE SPUR BAR & GRILL on a Dueling Pianos night.
Editor's Choice: Lafayette Spiced Bourbon Whiskey
(435) 615-1618
thespurbarandgrill.com
Handcrafted cocktails at RED TAIL GRILL. Editor's Choice: High West Double Rye Old Fashioned; High West was Utah's first legal distillery since 1870.
4000 Canyons Resort Drive; in Grand Summit Lodge;
(435) 615-8068
parkcitymountain.com
By Liz Pasch, Southern Boating March 2018