Henderson Beach Resort
At Henderson Beach Resort, located on Florida's Emerald Coast, lie legendary white-sand beaches next to emerald-green water,and a bounty of seafood waits to be caught and prepared by a world-class Michelin chef.
There was a time when going on a fishing trip translated to camping in smelly canvas tents or roughing it in low-budget motels or old cabins. Although some still favor the nostalgia of reliving those experiences, the growing trend is to blend fishing getaways with a somewhat more comfortable or even a luxury experience— chef-prepared gourmet menus, spa treatments, high thread count linens in climate-controlled guest rooms complete with in-room Nespresso machines, fluffy robes, and room service—such as you'll find at The Henderson Beach Resort in Destin, Florida.
Something Fishy
The Gulf of Mexico is well-known for its bounty of seafood. Commercial fishing operations are found in almost every port along the Florida Panhandle. Additionally, anglers enjoy recreational and competitive fishing both offshore and in the coastal bays and waterways.
On Florida's Emerald Coast—the state's northwest area named for its emerald green-colored water and favored for its fine white, sugary sand beaches—Destin began as a small fishing village with easy access to the sea's bounty. In the mid-1950s, following a particularly fortuitous fishing excursion during the annual Destin Fishing Rodeo (started in 1948), a former Florida governor labeled it "The World's Luckiest Fishing Village" after he caught a 29-pound king mackerel.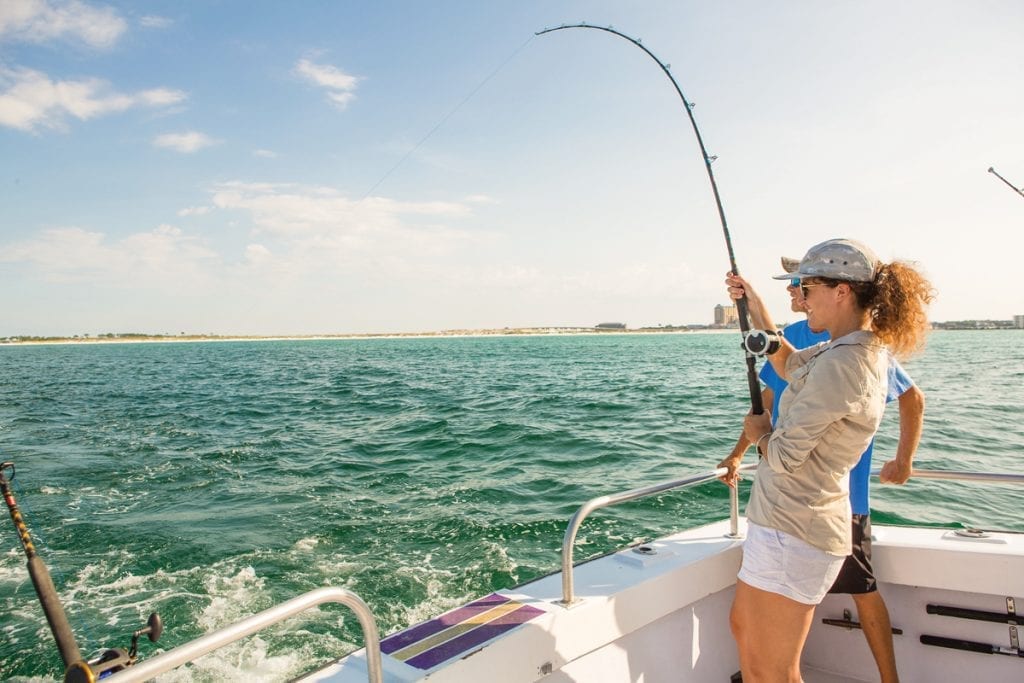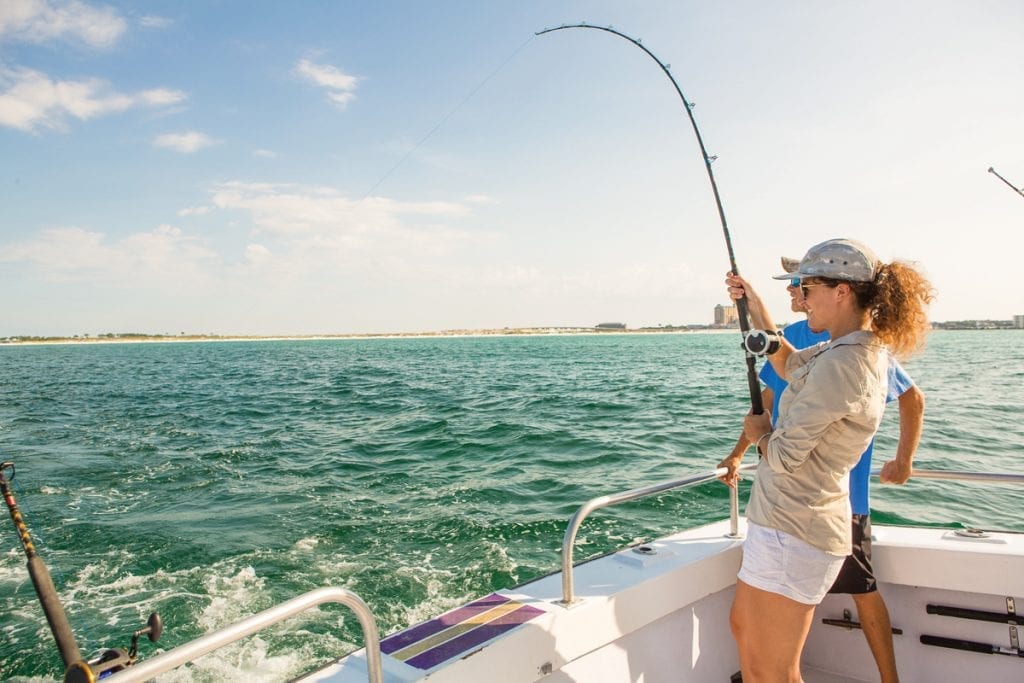 Legendary catches still occur today both offshore and near shore, which is perhaps why Destin Harbor is home to allegedly the largest charter fishing fleet in Florida. Just nine miles offshore in federal waters, anglers can troll in depths of up to 300 feet for marlin, dolphinfish, sailfish, tuna, and wahoo as well as grouper, triggerfish, amberjack, red snapper, and bonito.
But you don't have to go far in a large sportfishing yacht to feel the tug. A wide variety of fish species are closer to shore in 50 to 100 feet of water where light tackle is used for king mackerel, triggerfish and other species, and Choctawhatchee Bay has Spanish mackerel, cobia, speckled trout, flounder, black snapper, and pompano in less than 30 feet of water. Even non-anglers can enjoy the fishing excitement when the charter boats return to the dock and flaunt their day's catch. Parking is plentiful, and you can walk the dock for free.
See food is Seafood
Fresh Gulf-to-table menus are not only accessible and anticipated, but they're also celebrated. At The Henderson Beach Resort, gastronomic revelry is relished in a grand yet relaxed style all its own thanks to Executive Chef Gary Palm, whose culinary experience includes international luxury hotel brands in France, Monte Carlo, India, Korea, Indonesia, China, and a chef for foreign and U.S. presidents and other esteemed dignitaries.
Daily market fish is always on his menu at Primrose—The Henderson's signature restaurant named for a 1920s-era seine fishing boat that's restored and on display in the Destin History and Fishing Museum—but Chef Palm adds ever-changing flavors and local ingredients like Lemon Grass and White Wine Sauce or Blackened Grouper
with lobster essence, red radish and spring vegetables.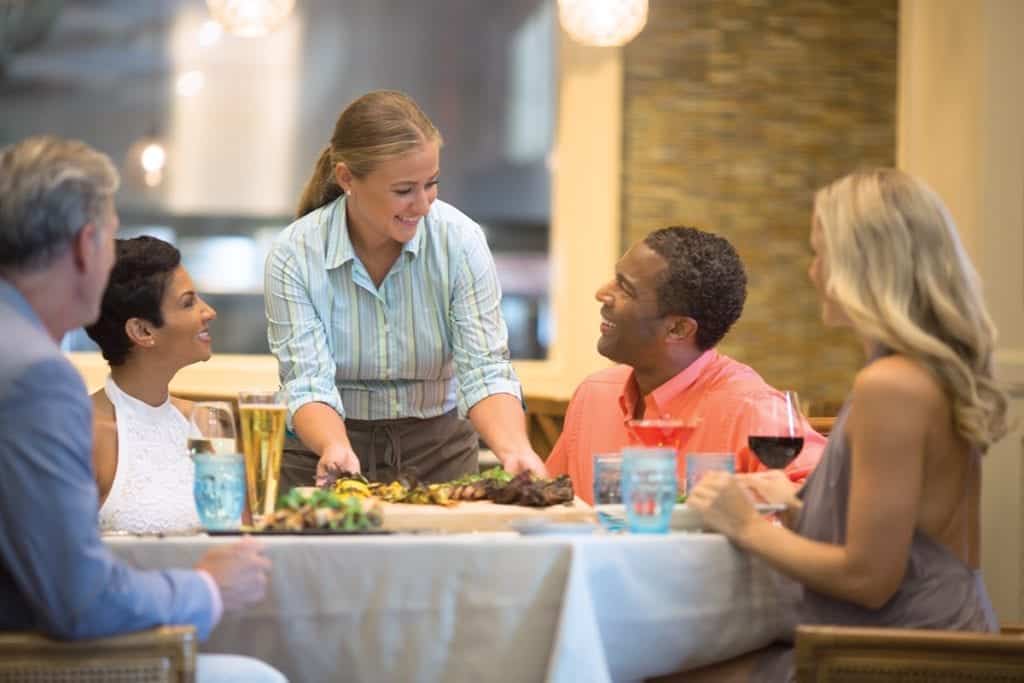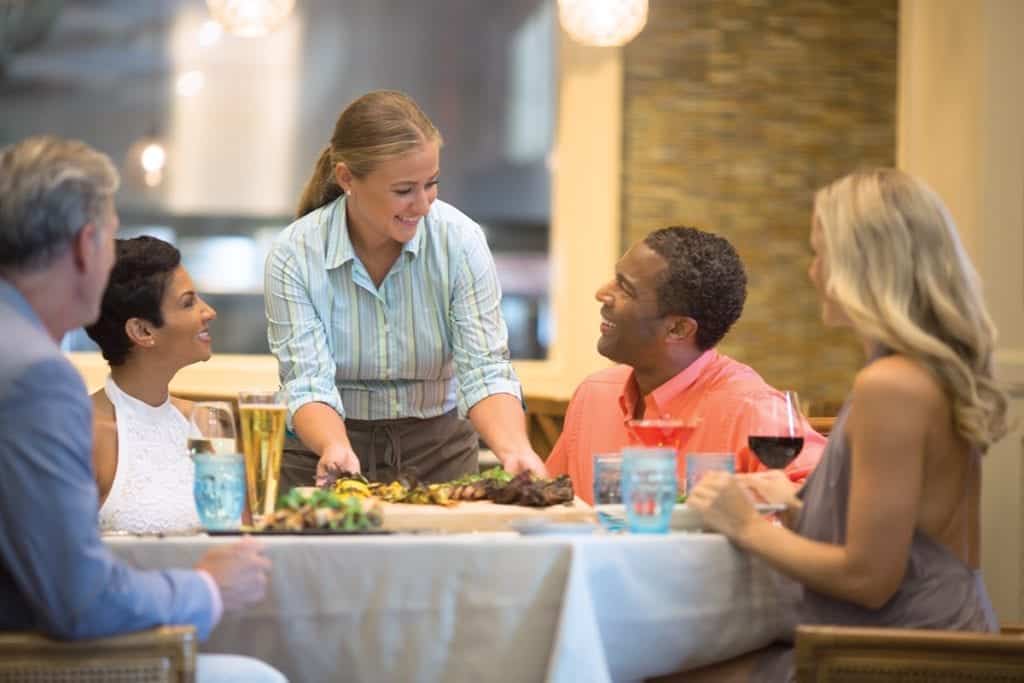 With such exquisite food, you may loosen your belt. Minimize bloat at the fitness center or engage in some of the many wellness offerings at The Henderson, including yoga, paddleboarding, bike adventures, kayaking, or a high-octane calorie-burner that was featured on Shark Tank called Surfset—imagine exercising on a wobbly surfboard that's on top of bouncy rubber balls and the goal is to keep your balance without falling off. Yep, you got it.
Spa Time
If all the fishing and eating and exercise has whetted your appetite for some serious spa time, you're in the right place. Just walk into the Salamander Spa and you'll feel some of
your tension ease. Backlit transparent tiles in hues of the emerald sea line the walls of the hallway and create a surreal, calming effect. Fluffy robes envelop your aching muscles and sand-colored sandals cushion your feet while you relax in the Lavender Room with a flute of champagne or chilled juice.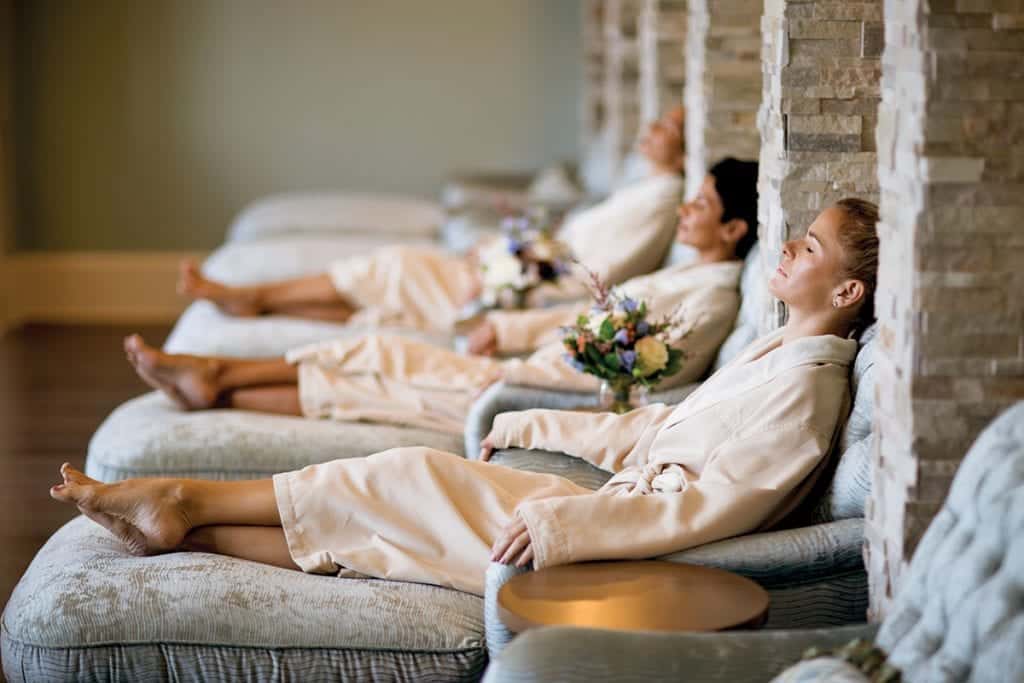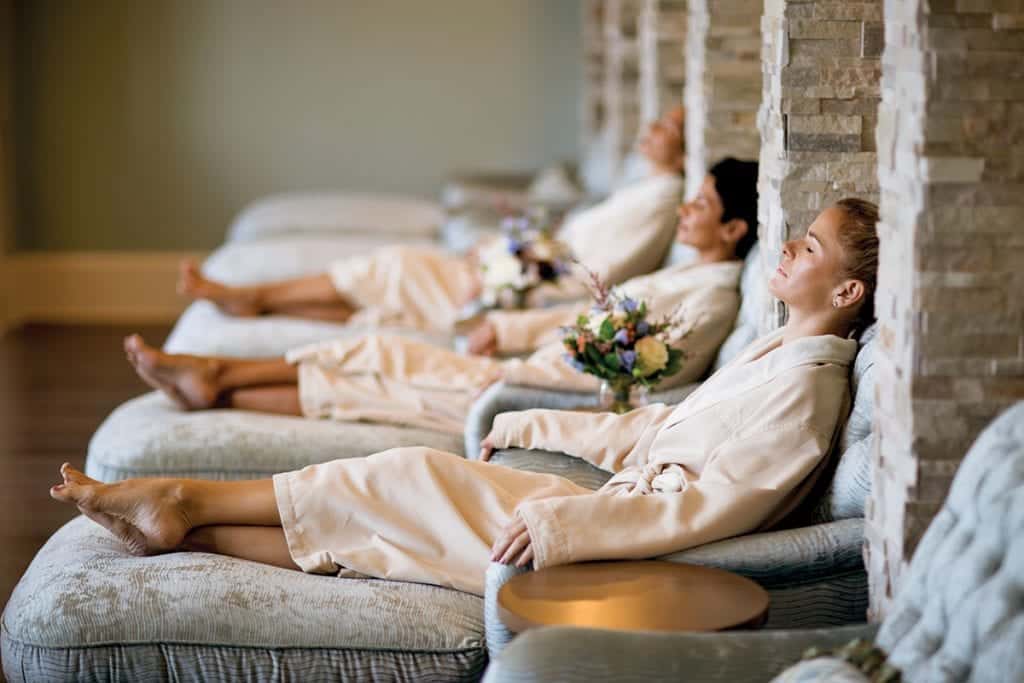 There's an extensive menu of treatment options, customized to address every physical concern: Himalayan Salt Suite for respiratory or skin conditions, Floatation Therapy for deep relaxation and Cryo-Therapy, a three-minute treatment to reduce inflammation and boost the immune system. Before, after or in-between treatments, treat yourself to the steam room, experiential shower or whirlpool tub with chilled cucumber slices placed on your eyelids.
Family Rules
Lest you assume The Henderson is primarily for adults, nothing could be further from the truth. Children and teens have their own customized menus at the restaurants and the
spa. The lazy river pool is a hit for all ages, and the white-sand beach invites hours of fun. Weekly activities include lip sync battles, swimming with a mermaid, family movie night,
and a fireside s'mores station for kids and grown-ups alike.
If the kids are missing Rover back home, The Henderson's Canine Ambassadors, Dune and Ranger, show up twice daily in the Living Room; just like in your home, it's the place
where people gather. For the artists in your group, The Henderson hosts local artists' painting classes for individuals and families and Shardworx workshops for making art with glass.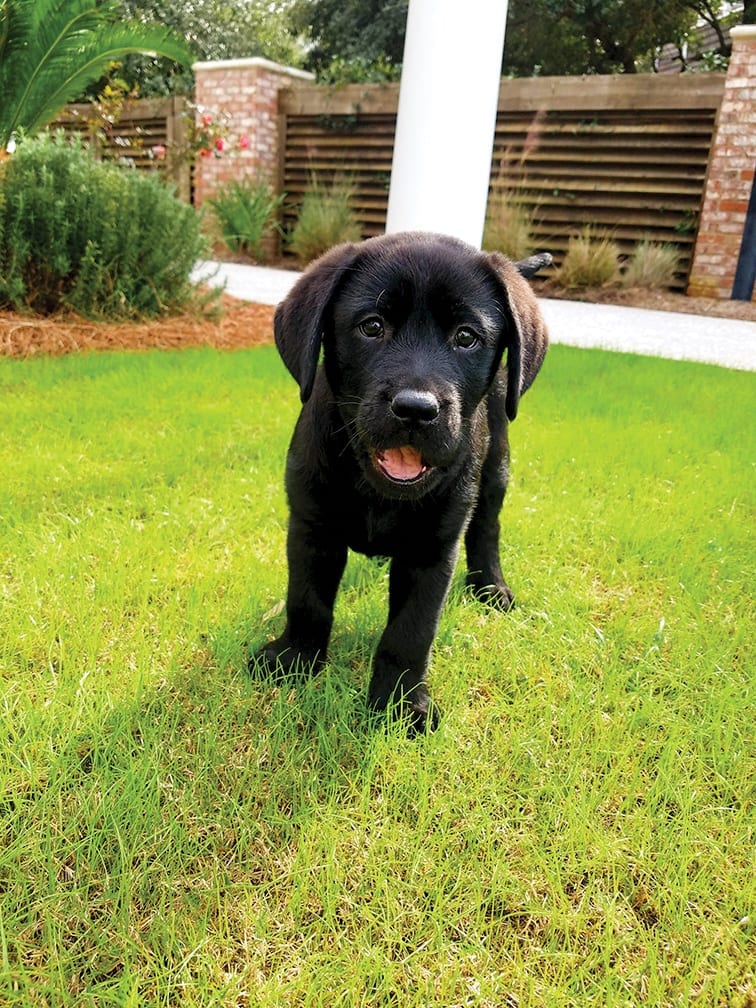 When you stroll through The Henderson, the influence of the local art community is obvious but natural. Thirteen local artists created custom pieces to reflect the beauty of the surroundings and bring both calm and inspiration to all who enter. Displayed in the Historical Hallway and guest room corridors, historical photographs taken by the late Arturo Mennillo depict scenes in and around Destin of people sportfishing and enjoying the beach and emerald water.
Here, old images blend with new art, conversations mingle with children's laughter, and fresh seafood fuses with imaginative and local flavors. Even if you live hundreds of miles away, this will somehow feel familiar, a place where you can just be and breathe in the salt air.
BRINGING YOUR BOAT?
Destin marinas are small but have transient docking, some with full service and others without. Call ahead for available space.
Destin Marina
Up to 30 feet, no services.
(850) 837-2470
HarborWalk Marina
Fuel, water, electric, pump-out, waterfront shopping and dining at HarborWalk Village, fishing charters, convenience store, and gift shop.
(850) 650-2400; harborwalkmarina.net
Legendary Marina
ValvTect fuel, pump-out,
service and parts, sales.
(850) 337-8200; legendarymarina.com
The Ships Chandler
Boats to 110 feet (based on space available), power and water only, boat rentals, sales, service, chandlery, no pump-out, no facilities.
(850) 837-2262; theshipschandler.com
By Liz Pasch, Southern Boating June 2019