Jersey Shore Cruising: a wide variety of activities and entertainment along the 100-plus miles of popular Atlantic coastline.
Doo Wop, diners, and deuces. Bluefish, beaches, and Bruce. If you look hard enough, you can find just about anything if you go Jersey Shore cruising. Long linked to casinos, deep sea fishing, and reality shows, "down the shore" holds stellar surprises. For cruisers, there are a wide range of temptations for many appetites.
With 130 miles of Atlantic Ocean coastline and the Delaware Bay and Delaware River to the west, New Jersey is surrounded by water. The state has a high ratio of shoreline to land mass, making it a prime vacation destination. Anchoring the state's southern tip, Cape May claims to be the oldest resort community in America. Traveling up the coastline, Jersey Shore cruising reveals numerous small towns, Atlantic City glitz, famous inlets, and many state parks. Along the way, three wildly popular and safe harbors welcome cruisers.
Cape May: A Historic Experience
Sandwiched between the confluence of the Delaware Bay and the Atlantic Ocean, Cape May is accessible from three directions. The Cape May Inlet on the ocean side and the Cape May Canal on the western side offer safe entry under most circumstances. The ebb tide flows east
in both approaches. 

Cape May is the nation's only National Historic Landmark City as well as home to the U.S. Coast Guard Training Center. Dating back to the 17th century, Cape May boasts one of the largest collections of Victorian homes anywhere. A fire in the late 1800s led to major rebuilding during the peak of this style. Most homes are meticulously maintained and painted in the classic color combinations (at least four different hues) unique to the period.
Cape May is also considered the restaurant capital of New Jersey, named one of the 25 top food towns in America by a popular travel magazine. In addition to featuring "farm to fork" trends facilitated by New Jersey's plentiful produce farms, it also promotes "hook to cook," highlighting the commercial fishing fleet, the second largest on the East Coast. Scallops and Cape May Salts appear on most local menus.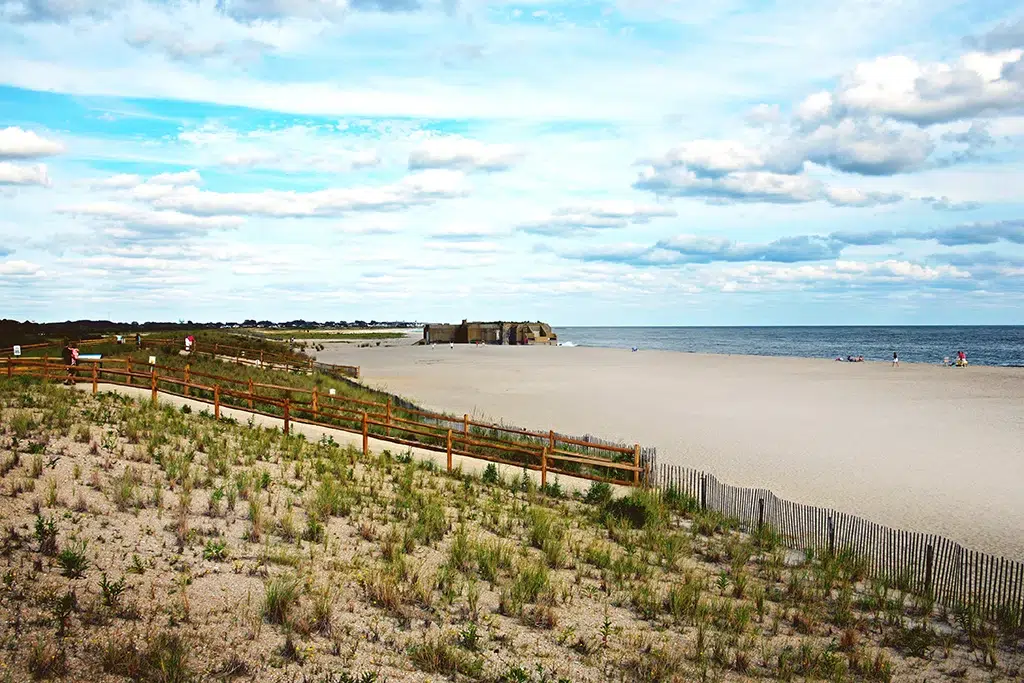 The Cape May Lighthouse is a fun visit. During the summer, the Cape May Stage hosts Tony Award-winning plays. Boaters get around via bikes, walking, shuttles from some marinas, a trolley, or ride sharing. Home to several large fishing tournaments, Cape May is the crux of offshore fishing in the state and also popular for inshore and beach fishing. Adjacent to Cape May and worth a visit, Wildwoods made pop culture history as the center of Doo Wop in the 1950s and 1960s. The Doo Wop Preservation League ensures the space-age architecture and kitschy vibes thrive.
Cape May has several marinas that get crowded during summer tournaments. Reservations are recommended at the larger marinas: Utsch's, South Jersey, and Canyon Club Resort. Two anchorages on the backside of the Coast Guard Station are well-known. Boaters dinghy to Fisherman's Wharf, tie up, and make the scenic stroll into town for shopping and sightseeing. The convenient Lobster House at Fisherman's Wharf is understandably popular. 
Heading north there are two navigational choices. The New Jersey Intracoastal Waterway (ICW) threads its way up to Manasquan. However, operating depths of three-and-a-half feet, and several 35-foot fixed bridges prohibit many boats from following it. Most cruisers head offshore when the weather is favorable. Running a course a few miles offshore, one spots land for the entire trip north. Depending on preferences and cruising speed, the 110-nautical mile coast can be covered in one day or split into two days with a stop after 34 nautical miles at Atlantic City, or three days with another stop in Manasquan. What's the rush?
Atlantic City: Entertainment Capital of the Shore
Jersey Shore cruising into Atlantic City? Absecon Inlet guides boaters into the heart of Atlantic City with the Golden Nugget Casino and Farley State Park Marina beckoning to port. With the famous rebuilt Ferris wheel, known as "The Wheel," visible five miles offshore, Atlantic City doesn't sneak up on you. Inlet entry is easy with favorable conditions, but the current might make you feel like you and your vessel are a pinball shot into a noisy, lit-up arcade game. Yes, there are casinos—currently, nine of them. Featured entertainers this summer include Keith Urban, Tina Fey and Amy Poehler, Kool and the Gang, and Santana. Fine dining is available. Check out the Anthony Bourdain Food Trail.
A major draw for more than 150 years, the Boardwalk is the backbone of the city. Built in 1870, it is the oldest in the U.S. Measuring five miles, the Boardwalk is the longest in the world. At 60 feet wide, it accommodates throngs of visitors who come to "walk the boards." Most casinos tower over it, and the Steel Pier amusement park secures the northern end. The Jitney, a free bus, runs loops between the casinos providing an easy way to move around. 
Additional draws include the Historic Gardner's Basin Aquarium, Absecon Lighthouse, and the annual Air Show featuring the Air Force Thunderbirds, scheduled for August 16th. Astounding acrobatics and 100 years of different planes perform along the beachfront. There's not a bad seat in the house. Pilots rehearse the day before, which is a great preview.
In addition to the large Farley State Park Marina, Historic Gardner's Basin at times offers inexpensive docking, and Kammerman's Marina, while smaller, provides full service. Boats drawing less than five feet can shimmy their way into a protected anchorage at Brigantine Bay. Mid-tide rising or high tide is recommended for those gutsy enough to shoot the narrow entrance channel. Charts note two other anchorages within Absecon Inlet, but both are prone to unsettling conditions.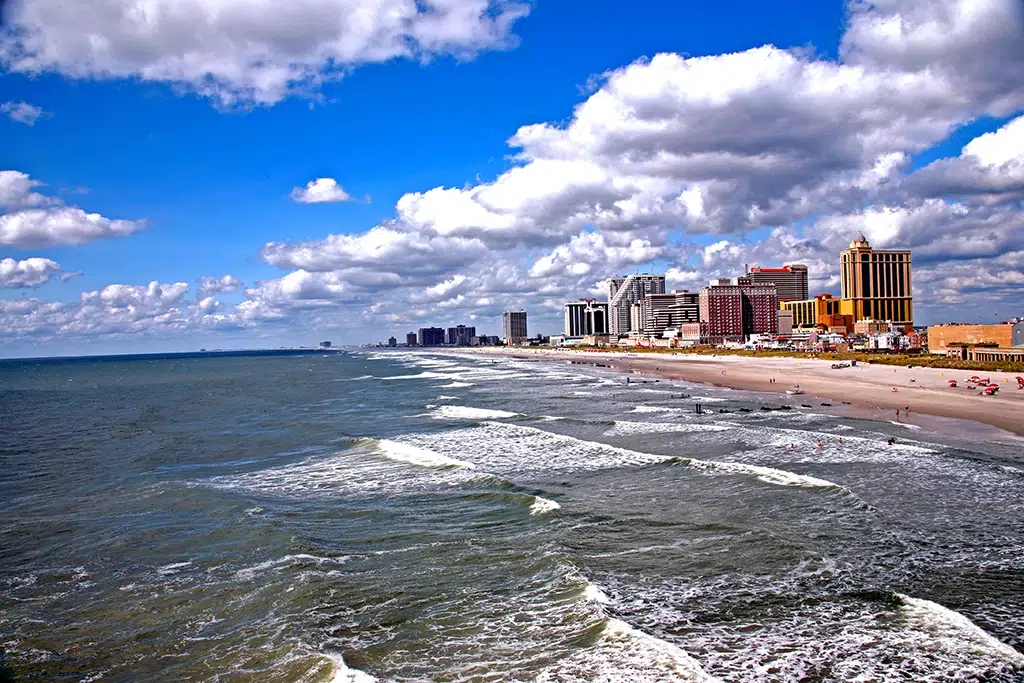 Manasquan & Point Pleasant: Unspoiled Beauty and Family Fun
A 50-nautical mile run north reaches the Manasquan Inlet, bordered by four communities. Jersey Shore cruising along the northern part leads to numerous unique towns alternating with gorgeous scenery at multiple state parks. From sea, observe long, white streaks of beach alternating with cottages and fewer high-rises. Considered one of the safest and widest inlets, Manasquan has well-maintained jetties and good depth. Maintain speed needed to control your vessel, and be aware that traffic is intense, especially on weekends and during fishing tournaments. 
This lively area has marinas, chandleries, boatbuilders, and repair yards. Prime marinas for those coming from offshore include two Hoffman's Marinas and the Brielle Yacht Club Marina. Some brokerages and boat yards may offer transient slips. Glimmer Glass up Crabtown Creek provides secure anchorage for shallow-draft boats. Cruisers flock to nearby restaurants. Point Pleasant to the south features a mile-long boardwalk and de rigueur rides, bars, and arcades. The beach at Point Pleasant is privately owned but accessed with a fee like public beaches. 
South of Manasquan is the beautiful, unspoiled Island Beach State Park. Rolling dunes and a forest are home to many animals and birds. This natural environment offers a relaxing vibe compared to the fast pace of nearby towns like Seaside Heights. The true Jersey Shore feel of a family-oriented resort town is on display with smaller, privately owned homes, amusement rides, diners serving traditional pork sandwiches and, as always, ice cream.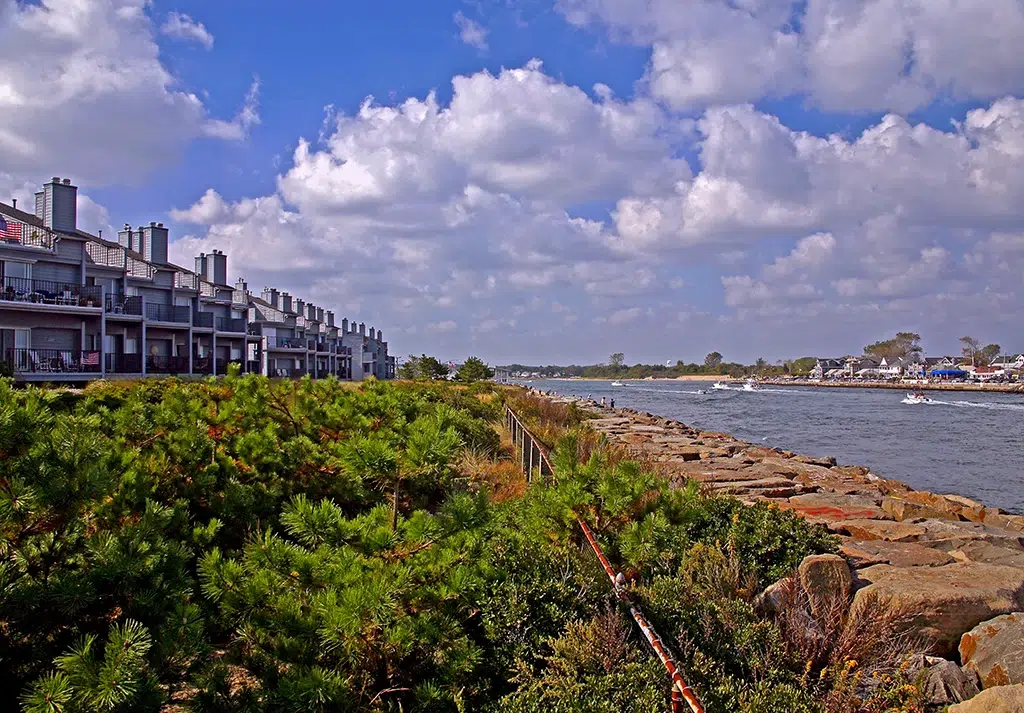 Along the Jersey Shore, surf fishing and offshore fishing are popular. The charter business booms with the inshore quest for flounder and blues and the offshore hunt for billfish. Numerous tournaments focus on wahoo, mahi, tuna, and marlin. 
Regarding navigation, review inlet safety and know your best speed for current conditions.  Avoid opposing wind and tide, which can steepen waves. Harbors usually have tidal ranges of four-and-a-half to five feet. Carry safety equipment, including radar needed for offshore runs, even if expecting short jaunts. Occasionally, fog settles offshore. Inlet buoys may be out of place early in the season due to ice movement. Checking NOAA offshore weather, as well as apps like Predict Wind and Windy, are crucial before venturing into the ocean. 
So bait a hook, place a bet, ride "The Wheel," or bust a move at a concert. Jersey Shore Cruising entertains like no other. visitnj.org 
-by Maria Brown