Tucked in New Jersey's Cape May Harbor, South Jersey Marina has easy access to the Atlantic Ocean, Delaware Bay and ICW, while providing ample protection from Mother Nature's outbursts. Among the closest marinas to the historic areas of Cape May, its quaint restaurants, beaches and parks, this full service marina—which earned marinalife Best Small Marina 2015—has been serving boaters for more than two decades. Its state of the art floating piers can accommodate vessels up to 150-foot LOA. Dockside services include local weather and fishing reports and the coordination of boat repairs through their sister facility, Canyon Club Resort Marina, also located on Cape May Harbor.
Let the marina's trained, uniformed dock attendants assist you in tying up and get situated while the operations staff gets you squared away with dinner arrangements, rental cars, historic tours, and more. The marina also offers a shuttle into town to stretch your sea legs in the streets visiting local breweries, playing a round of golf, or relaxing at a spa.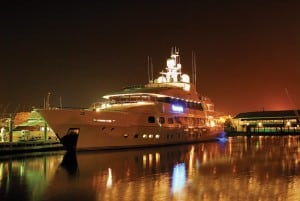 Serious about fishing, and located within some of the best deep fishing locations on the East Coast, the marina counts among New Jersey's largest charter and party boat fleet and some exciting tournaments such as the Mid-Atlantic $500,000 and the Viking/Ocean Showdown.
Amenities
• 75 slips
• Docking for boats UP to 150′ in length
• 800′ of side-to dockage in a sheltered basin
• Deep vessel access
• Experienced dock attendants
• High-speed in-slip fueling
• 100 amp electric service
• Laundry facility
• In-house concierge
• Taxi service
• Restaurant (breakfast/lunch)
Contact:
South Jersey Marina
1231 Route 109
Cape May, NJ 08204
southjerseymarina.com
By Nathalie Gouillou