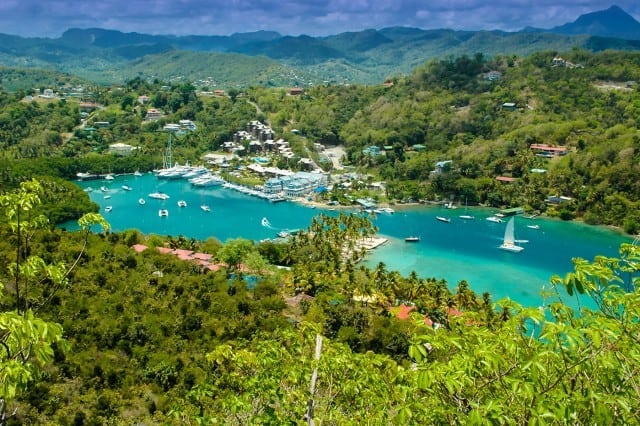 The Marina at Marigot Bay plans to become the Portofino of the Caribbean.
While most marinas must prepare for hurricanes, tropical storms, and other weather hazards, The Marina at Marigot Bay in St. Lucia does not.
Bob Hathaway, marina manager for 6 years, says not even "Christmas winds" affect them at Marigot Bay. "The level of wind shelter is extraordinary regardless of wind direction." It is a natural harbor that has never been dredged. In fact, Marigot Bay dredges itself. "The main entrance channel and berth approach has never been dredged," Hathaway explains. "And it maintains its depth even clearing away silt after heavy rainfall."
The reefs on either side of the marina's entrance—as well as the sand spit that protects the inner lagoon—protect it from swells and surges. "While other southern Caribbean marinas may have to clear out large boats if there is a storm warning, we do not," Hathaway says.
The Marina at Marigot Bay has deeper water than most other Caribbean marinas, with about 700 feet (218 meters) of the stern to dock. There are also some finger piers at the eastern end. The berthing allowances are as follows:
Max LOA: 250'
Max Draft: 15'
Max Beam: 44'
Marigot is said to be the original yachting base in Saint Lucia. The Canadian schooner, Captain Walter Boudreau, brought his 140-foot craft to Marigot in the late 1950s, which is when the industry started, according to Hathaway.
They are located only yards away from the Discover Hotel, which has their own dedicated entrance to the Hurricane Hole Bar, pools, spa, gym, and the Boudreau Restaurant, named after the Canadian schooner. (Marina guests have access to these facilities.) The Marina has its own dedicated Marina Village with a variety of shopping options, including a supermarket, bank and crew café. "Marigot Bay has all the facilities that any yacht can need. The setting, especially as viewed from the yacht, is completely unspoiled and is more reminiscent of a Pacific Island than the Caribbean," says Hathaway.
Provisions:
• Complimentary WiFi and high-speed Internet connection
• High-speed fueling: diesel and gasoline
• Garbage disposal
• Liquor and food provisioning supermarket in The Marina Village
• Floral arrangements
• High-end boutiques for shopping in The Marina Village
• Bank and ATM
• Business Centre: FedEx, car rental, travel agency
• Chandlery Shop
• CCTV surveillance and 24-hour security
• Airport transfers (Vigie – 25 mins & Hewanorra Int'l – 1 hour)
Shore Power:
Berths are supplied with single and three phase electricity:
• 380V 3 Phase (50Hz) (100, 125 or 200 amps per outlet)
• 220V / 110V Single Phase electricity (50/60 Hz) (30, 50 or 100 amps per outlet)
Information:
Marigot Bay
P.O. Box MG7230
Marigot Bay
Castries, Saint Lucia, WI
(758) 451-4275
manager@marigotbaymarina.com
marigotbaymarina.com
By Laura Dunn, Southern Exposure