White Sound and Lubbers Quarters Cay
Hope Town Harbour is one of the most popular destinations in the Abacos for cruisers and tourists. But the harbor and town are only the tip of the iceberg for a visit to Elbow Cay. White Sound is the small body of water near the mid-section of Elbow Cay, just two miles south of Hope Town, which nearly bisects the island. The well-marked entrance channel carries about six feet of water at low tide. Inside the channel there is limited dockage for meals at The Abaco Inn (abacoinn.com). The marked channel continues due south from the inn to Sea Spray Resort and Marina (seasprayresort.com). Both facilities have excellent food at their respective restaurants, along with many other amenities. There is little room to anchor inside White Sound, but in settled weather cruisers can anchor just outside and south of the White Sound channel and take the tender inside.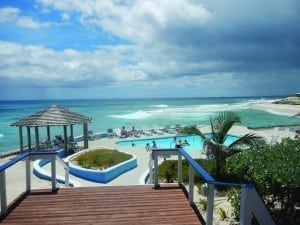 Continuing south from White Sound between Elbow Cay and Lubbers Quarters Cay to the west, the deepest water is narrow but passable for most cruising boats if you read the water and proceed carefully. As you approach the southern end of Elbow Cay, an excellent anchorage will open up to port of the channel, extending south to Tahiti Beach. Look for a sandy patch between the sea grasses to drop your hook. Tahiti Beach at the southern tip of Elbow Cay borders on Tilloo Cut and provides a reasonably good pass to the ocean. Plan your visit to Tahiti Beach for mid to low tide when the long white sandbar is exposed. Fish the edge of the cut from the beach where you're likely to spot fish, turtles, rays, and even a large shark patrolling Tilloo Cut. The beach is a popular picnic spot, and the eastern side offers good beachcombing and shelling.
The short dinghy ride from the Tahiti Beach anchorage to Lubbers Quarters Cay is well worth the trip to visit Cracker P's, one of the best beach bars and restaurants in The Bahamas. There is plenty of room here to tie up a large center console tender; drop a stern anchor and nose the bow up to the dock. Local legend has it that the place is named for Paul John "Cracker Pinder" Simmons, a fugitive from Georgia who settled here around 1915 and eked out a living from fishing and gardening. Today, you will find an elevated bar and deck with great views of Tahiti Beach and Tilloo Cut, volleyball and bocce courts, excellent food, monthly full moon parties and, perhaps, the longest rum list in the area. crackerps.com

Bahamas Yacht and Travel Show
The second annual Bahamas Yacht and Travel Show will be held June 22-25, 2017, at Bay Street Marina in Nassau, Bahamas. Sponsored by The Bahamas Tourist Office (bahamas.com) and Boat4ADay (boat4aday.com), the weekend event will showcase Bahamas-based luxury charter yachts, boutique hotels, private island villas, and travel experiences, plus handmade crafts, art and designer resort clothing. Boat4ADay specializes in day charters with online booking and can arrange yachts in The Bahamas and throughout the Caribbean. The organizers are planning a fun getaway for families with live music, activities and entertainment throughout the weekend.
bahamas-yacht-and-travel-show.com