Long-time resident of Governor's Harbour Katie Black Frost is the author of Eleuthera, a beautiful work about the island with photographs from Marc Coeffic and Harry Paungger.
Eleuthera has a long, fascinating history starting with the arrival of the Eleutheran Adventurers—a group of English Puritans and religious Independents—in the mid-17th century. The island is known for its livestock and agriculture—eat an Eleutheran pineapple in season, and you will not want to leave. With more than 200 miles of coast and miles of pink sand beaches, Eleuthera is a gift to fishermen and tourists. On her website, Frost invites readers to "Come immerse yourself in Eleuthera… lose yourself in her magic." The book is available online at eleutherabook.com, at the Haynes Library or at Tippy's/Pineapple Fields' gift shop in Governor's Harbour. Read the book and feel the magic of this island for yourself.
Birds of a feather
What better way for a birder to get around than by boat? Birding can be a family activity or a full-on academic profession, and The Bahamas is one of the world's great places to see birds.
The repopulation of the flamingos in Great Inagua is hailed as a conservation success story. Other birds like the Bahamas parrot have also been saved, and the effort continues. Birding is constantly growing in popularity throughout The Bahamas, and the National Audubon Society has recently trained 80 Bahamian bird guides.
The Bahamian government has designated The Jolters north of Andros as a protected area. Hundreds of migratory piping plovers are now seen there every winter. The Jolters has an anchorage that can be reached with a 4′ draft on the high tide. You can also anchor outside Morgan's Bluff and run out in your tender.
Birding tours are available throughout the islands and most have websites. Carolyn Wardle (bahamasoutdoors.com, 242-362-1574 or 457-0329) leads the Bahamas National Trust Bird Club, and her organization Bahamas Outdoors has run birding and nature tours for many years. Contact Wardle, who has worked throughout the islands and has innumerable contacts, for more information.
Yet you don't have to wait for a guide to get started. Just grab your binoculars, camera, bird book, and go for a walk or get in your dinghy to cruise the mangroves. A recent newcomer, Linda Cooper, in West End, Grand Bahama, identified more than 130 species in her first year alone.
Rum Cay, Crooked Island, Acklins
Electricity and communications have been reestablished in these islands that were devastated by Hurricane Joaquin, though rebuilding will continue for many months. The citizens of Rum Cay have scheduled their annual homecoming for February 26th—try and make it down there for the event to provide moral support and help the hurting local economy. To find out more information and how to help call Bobby Little at (242) 525-0184. Homecomings are great occasions for relatives and friends to reunite and an opportunity to welcome new friends.
Reach down to the anchorage north of Landrail Point from Rum Cay and if you need help with anything, go ashore and ask for Willie Gibson or Michael Carroll. Cruise east from Landrail to Lovely Bay, which has an anchorage inside the reef or go on to Atwood Harbour. This is a natural cruise track for boats headed for the Turks and Caicos, but it is easy enough to cruise to Crooked-Acklins and return downwind to Clarence Town, Long Island. The citizens of all these islands love visitors, and anything you can do to return the hospitality they have extended throughout the years will be much appreciated.
Little Harbour, Abaco
Little Harbour is a harbor with exceptional charm. The Johnston family, winter residents and yachtsmen provide alluring art, good fellowship and the must-go-to Pete's Pub Beach Bar. Those entertaining a visit would do well to read Randolph Johnson's autobiographical Artist on his Island: a Study in Self Reliance and check out petespub.com for general information.
There is now controversy over a proposed new marina in the harbor that could use up some of the limited mooring space, put added pressure on the environment and change the ambience. It's the age-old tension between developers, environmentalists and those who want to protect a way of life. Friends of the Environment is monitoring the process and will surely act if there is a serious threat of long term environmental impact, but change may well come to Little Harbour, so the time to visit is now.
Old Bahamas photos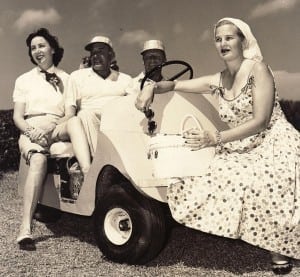 "Tee Time" courtesy of Bahamas Country Club Golf Tournament. Photo: oldbahamas.com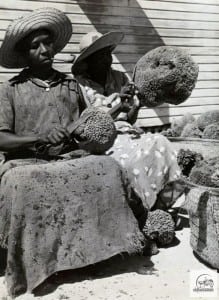 If Bahamian history piques your interest go to oldbahamas.com, where there's a large archive of historical Bahamian photographs. The images range from the sponge fishery to colonial architecture and the development of Grand Bahama in the 1950s. The website is instructive and a lot of fun.
Navigation notes:
Northwest Light has finally been replaced. This is an important aid to navigation for those cruising from Cat Cay and Bimini to Chub Cay and Nassau. The light, however, has been reported out, so don't depend on the marker at night—find it with your radar.
by Stephen Connett  – Southern Boating Magazine, February 2016