The Jenkins gave a whole new meaning to "taking delivery" when they took their new Aspen Powercat from Washington State to the Chesapeake Bay with a 10,000 Mile Tour.
There's nothing like stepping aboard your new boat. The imagination runs wild with visions of being anchored in a quiet, glassy cove or heading out on a day trip with the family. David and Sue Ellen Jenkins have shared similar moments on previous boats but wanted one that would take them farther. They did just that when they took delivery of their new Aspen Power Catamarans C120 directly from the factory in northwest Washington State and began a 10,000 mile adventure back to their home on the Chesapeake Bay.
From One Adventurer to Another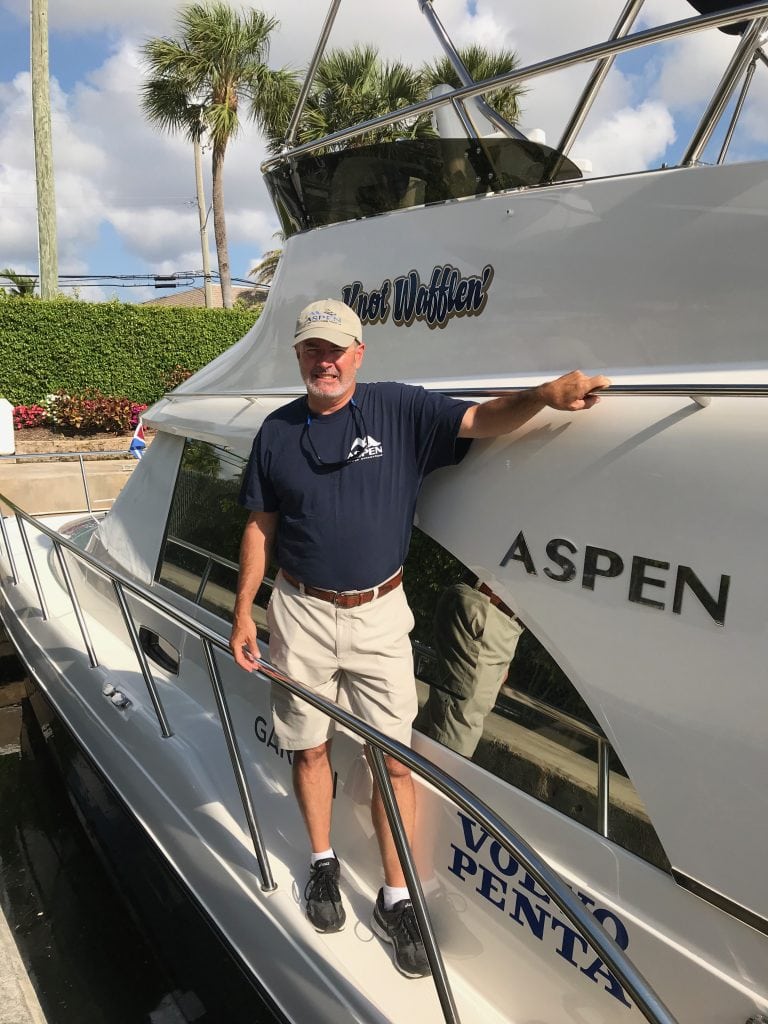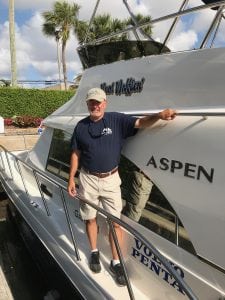 Larry Graf, founder and designer of Aspen Power Catamarans, enjoys proving the capabilities of his catamarans (including his previous Glacier Bay boats) on the open ocean. It was through these adventures that he developed a revolutionary hull design and drive system.
The Aspen catamaran hulls are asymmetrical. The starboard hull is 35 percent larger to accommodate the one engine that powers the vessel and includes the only shaft, prop and keel. The result is that it reduces overall drag by 20 percent compared to twin-engine cats. The patented Power Proa Hull is designed to compensate for the thrust and torque of the one engine to keep the boat on a straight track. Because of the reduced drag, fuel efficiency increases by as much as 70 percent over monohulls, and the design has 78 percent more roll stability.

Jenkins and his wife were joined by his brother-in-law, Capt. Blake Eder, who is a delivery captain in North Carolina. They were looking for a boat that had a stable platform and provided comfortable accommodations for long voyages but that could handle the Chesapeake Bay chop. Of course, it needed to have a good-looking profile on the water. Jenkins was intrigued with the Aspen design and headed to Seattle for a sea trial.
Seattle's car and passenger ferries provided large wakes to test the boat's stability. "The ferries were going at a pretty good clip. We were cutting right behind [them] to see what it's going to do in the wakes," says Jenkins. "There was none of this bouncing; we'd even go to the side of the wake to see how much roll there was, and so judging from that, before I bought the boat, I thought this is really what I want."
Explaining how the Chesapeake can knock a boat around and everyone in it, Jenkins says, "You don't have any of that with this boat. It just cuts through it like a knife…After the test drive, I was sold that this boat met my criteria."
On Tour
Jenkins, Eder, and Graf came up with the 10,000 Mile Tour idea that made the delivery to Maryland an adventure and provided the trip of a lifetime to those farther places. It also provided Graf and Aspen Catamarans a chance to promote the new C120 when the Jenkins family needed to be home.
Knot Wafflen' (named for Jenkin's former Carbon Golden Malted waffle business) began with a shakedown cruise through the San Juan Islands before heading north to Alaska. As the crew cruised their way to Glacier Bay, they learned how the boat handled. They worked out all the kinks during the first 2,100 nautical miles of their adventure.
The Gulf of California, including Cabo San Lucas and La Paz, Mexico, was another cruising ground on their list. Jenkins and Eder sailed the boat along the Pacific Coast and around the Baja Peninsula. After their Baja cruise, the owners went back home for business, and Graf stepped aboard to continue the voyage. Graf motored Knot Wafflen' over to Mexico's mainland and put it on a truck to Galveston, Texas. From there he sailed over to Lake Pontchartrain in New Orleans, Louisiana, where the Jenkins family met the boat and continued the delivery.
Florida
Nasty weather with strong winds prevented Knot Wafflen' from traveling around the Dry Tortugas and the Florida Keys. This gave Jenkins and Eder with an interesting alternative to get to Florida's east coast— through the Lake Okeechobee Waterway. They motored from Fort Myers up the Caloosahatchee River through three locks. Lake Okeechobee is a 35-mile, shallow water crossing, and they traveled alone. "No one else was going to cross the lake but us because the wind was coming from the east; it was dead on our nose," says Jenkins. "The waves were pushing all the way across the lake and building up because it's shallow. People would have been pounding their way across having to fight that wind."
(There is a perimeter canal that boats can take if necessary.) "We just powered up and shot across the tops of the waves. The best way I can describe it is like if you're in a flats boat and you get up on the [waves] and about the only thing that's in the water is the prop. That's exactly what happens with this boat when the waves are close together."
Back Home
Adventures like these last a lifetime, and in reflection, Jenkins shared three thoughts. For one, he felt the journey took too long and didn't think he'd do it again. "However, I found many places worth returning to," he says. "We'll charter in those areas, such as British Columbia, the San Juans or the Sea of Cortez. Everything from Annapolis to New Orleans we can reach in three weeks, weather permitting in the Atlantic and the Gulf."
Second, he reached his goal of becoming an expert on his own boat. Finally, the boat proved its sea-worthiness. Plus, the boat fit in standard marina slips.
"The bottom line is when we have to move at a good clip to enjoy a destination or to beat some weather or in [case of] an emergency, it can get us there quickly and safely!"
Knot Wafflen' will be on display at the United States Powerboat Show in Annapolis October 11-14, where you can hear the whole tale.
By Steve Davis, Southern Boating August 2018
Photos courtesy of Aspen Power Catamarans and David Jenkins