Luxurious, Comfortable, and Fast
Mystic Powerboats' M5200 Boat Review: A Marine Engineering Marvel
The story of our Mystic Powerboats' M5200 boat review starts with the founder. At the helm, racing along at more than 200 miles per hour, John Cosker was keenly aware of his surroundings: the way the boat handled, the sound of the engines. He knew the boat well, it was his design. He won the Lake of the Ozarks Shootout that day in his 51-foot Mystic American Ethanol, and Mystic Powerboats have set speed records reaching 244 mph. 
Cosker founded Mystic in 1996, and through his racing career, figured out how to make a boat go fast and be comfortable while doing so. He took that knowledge to the recreational boating market in 2015 and with Mercury outboard power, has designed and developed more than 100 boats that started with the M4200, Mystic's first performance center console. The latest in Mystic Powerboats' lineup is the M5200 that had its unveiling at the Lake of the Ozarks Shootout last August and its global launch at the 2022 Fort Lauderdale International Boat Show. It now graces Southern Boating's cover for the 2023 Annual Swimsuit Issue. 
Designing Comfort at High Speed: Inside the M5200
"The fifty-two is my forty-fourth stepped bottom design over a span of twenty years and by far my best," says Cosker. He does all the naval architecture and design work himself and because of the 14-foot beam, there are 11 seats with bolsters under the massive hardtop over the helm area, three huge lounge seats and wraparound seating in the bow area, and eight seats on the aft deck (four rear-facing lounges and four forward-facing seats), all upholstered with Sileather that's easy to clean and cool to touch in the sun. Cosker once noted that there were 18 on board and no one was stumbling over another. 

"We've got very deep gunwales on this boat," he continues. "We've got a big bow to get through big waves. This is a long-distance cruiser. It's comfortable, it's fast, and it's efficient. We have a Seakeeper six on board, so it's incredibly stable when you're sitting at rest as well as when you're running out in the ocean."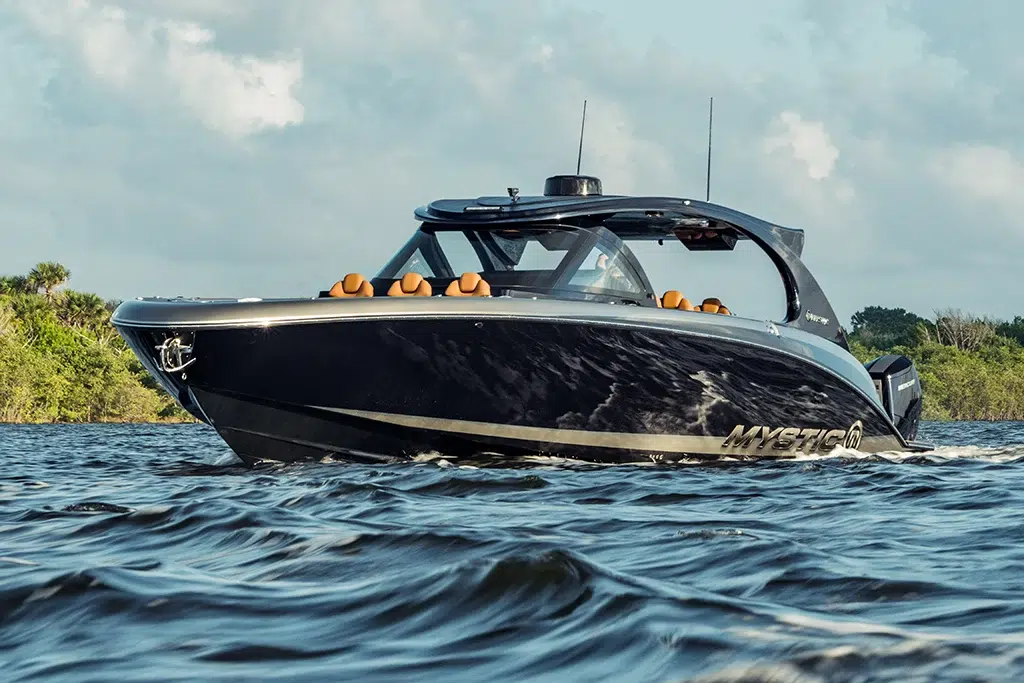 Unmatched Speed and Stability: M5200 Performance Review
Brandon Ferris, AllSports Productions' marketing manager, was piloting a drone this year at the photo shoot and got a chance to ride along on the M5200. "We were going sixty miles an hour, and I wasn't bumping up and down though the seas were a little choppy," he says. "It was a very smooth ride that cut through the water very easily. We reached eighty miles an hour with twelve people on board. I was in the bow and never felt like I was going to bounce out. I felt super secure." He adds that the only reason he knew they were going that fast was because of the unique placement of a touchscreen display in the forepeak coaming bolster pad.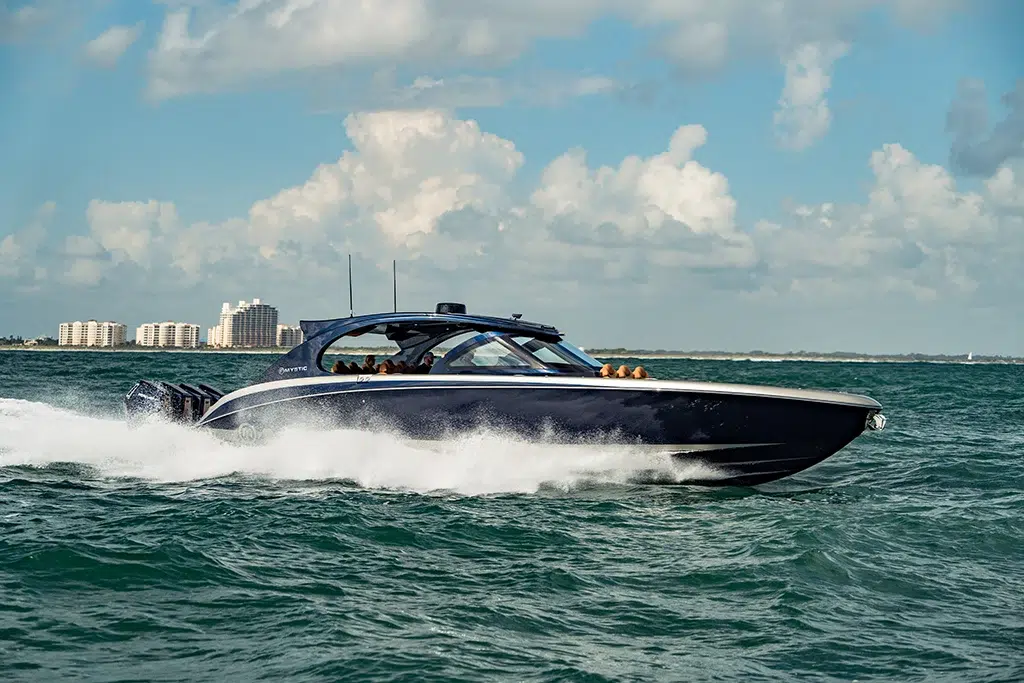 Experience the M5200: A Symphony of Luxury and Power
"We really opened the bow up quite a bit with the extra beam," says Cosker. "We actually have tables on the floor that will go up and down. They go up to a sunpad height, and we can fill the whole front area and make it into a great sunpad, or it can go up to dining height so you can actually have lunch, dinner, whatever you want."
"The sound system was amazing," adds Ferris. "Probably one of the most immersive experiences on a boat that I've been on. Everywhere you sat, it was like you were at a concert." Controls for the stereo system as well as mood lighting are in the coaming on each side, and phone chargers are incorporated into the lounge seating armrests.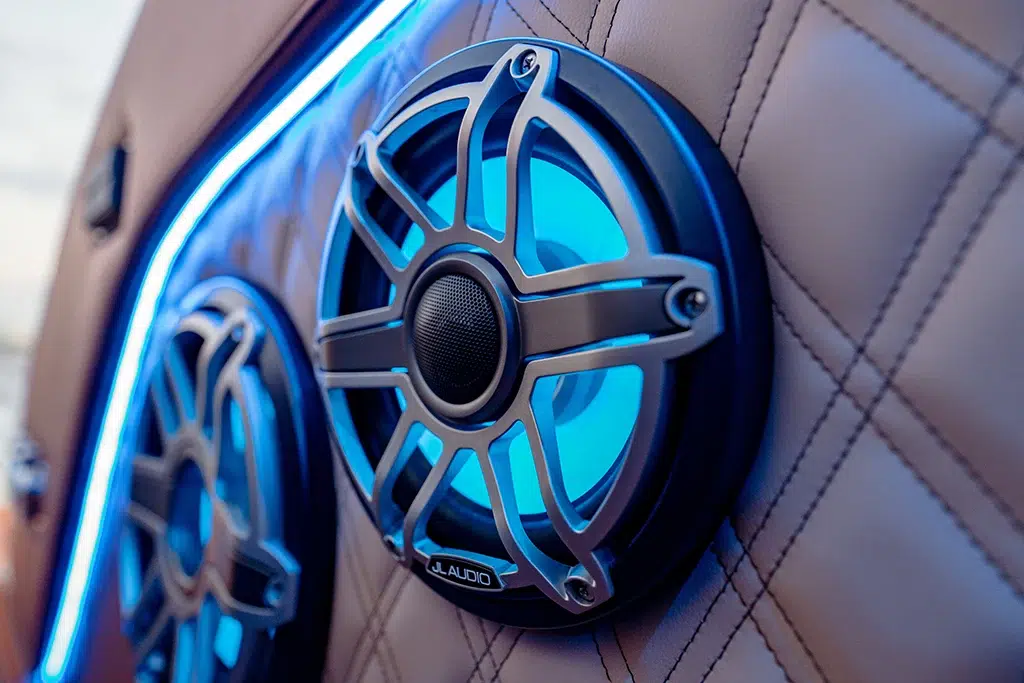 Speaking of lounging, the M5200 has a large cabin below with an aft section perfect for spending a long weekend aboard. The front berth converts into a nice bed, and the head and shower are separate (which keeps the head dry) for privacy. There's air conditioning below and an option to air condition the cockpit for extra comfort. "In our XLC version, the helm moves back four feet creating a much larger cabin with a walk-in aft suite," explains Cosker. "This gives us the option for a larger cockpit or larger cabin depending on the owner's use of the boat."
This M5200 had quad Mercury 600-hp V12s, although owners have the option for five or six Mercury Racing 450s, which could take speeds into the 90-mph range. "It is a deep deadrise boat with a deep forefoot for a really good ride and reversed chines and flam (as opposed to flare) in the topsides for a very dry ride," says Cosker. "It is a double-stepped hull with large steps for maximum lift and great weight-carrying capabilities. The design gets on plane quickly, turns beautifully, and has no transitions up to its top speed."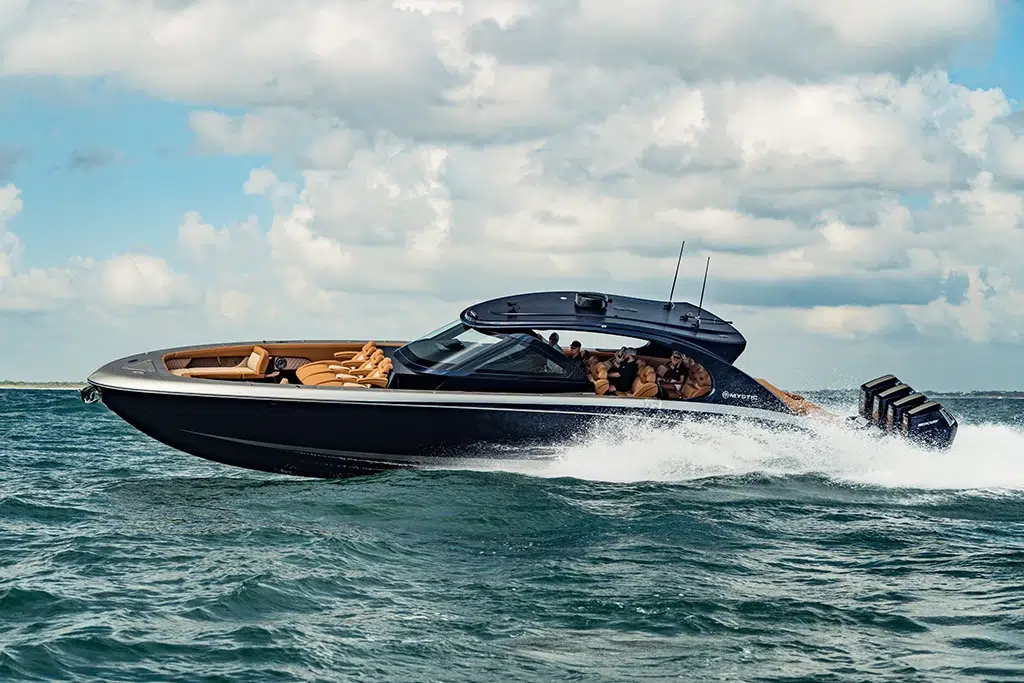 The M5200 Boat Review: Perfect for the Bahamas and Beyond
The boat is also a perfect Bahamas boat, not only because of speed getting from place to place, but because the draft is 3 feet, 2 inches, which worked out well to get in to the beach during Southern Boating's swimsuit shoot, not to mention the luxurious quality and detail of the interior and its sleek, powerful profile. The M5200 and M4200 were definitely stars in their own right.