Adventures in the Outback
The Outback 50 is a water sport adventurer's dream.
The plan was simple: Throw some provisions into the newly minted Outback 50 and make the run from Fort Lauderdale to the Everglades National Park to fish the backcountry for three days. Easy.
Well, not quite…but more on that later.
The Imagination
Hull No. 1 of the 56-foot Outback 50 premiered at the 2019 Fort Lauderdale International Boat Show. The concept resulted from conversations among three like-minded friends: Andrew Cilla, owner of Luke Brown Yachts, designer Jay Coyle, and Nick Vanoff, a successful businessman and highly experienced boater.
The brief was relatively straightforward: Design a contemporary, light-displacement, fuel-efficient cruiser that would provide a perfect base of operations for water sport-minded owners. As the dialogue progressed, Coyle suggested they talk to Michael Peters, the principal of Sarasota, Florida-based Michael Peters Yacht Design (MPYD), who told Coyle he had been working on a design for himself that embraced nearly everything Cilla wanted in his new boat.
For those unfamiliar with his work, Peters built his reputation in the highly competitive world of international offshore powerboat racing. He designed boats that won an impressive string of world championships over the years. That expertise—designing sturdy, lightweight structures with efficient hull forms—along with an award-winning flair for exterior styling, interior design, and remarkable attention to detail, has made his company one of the most sought-after design houses in the world.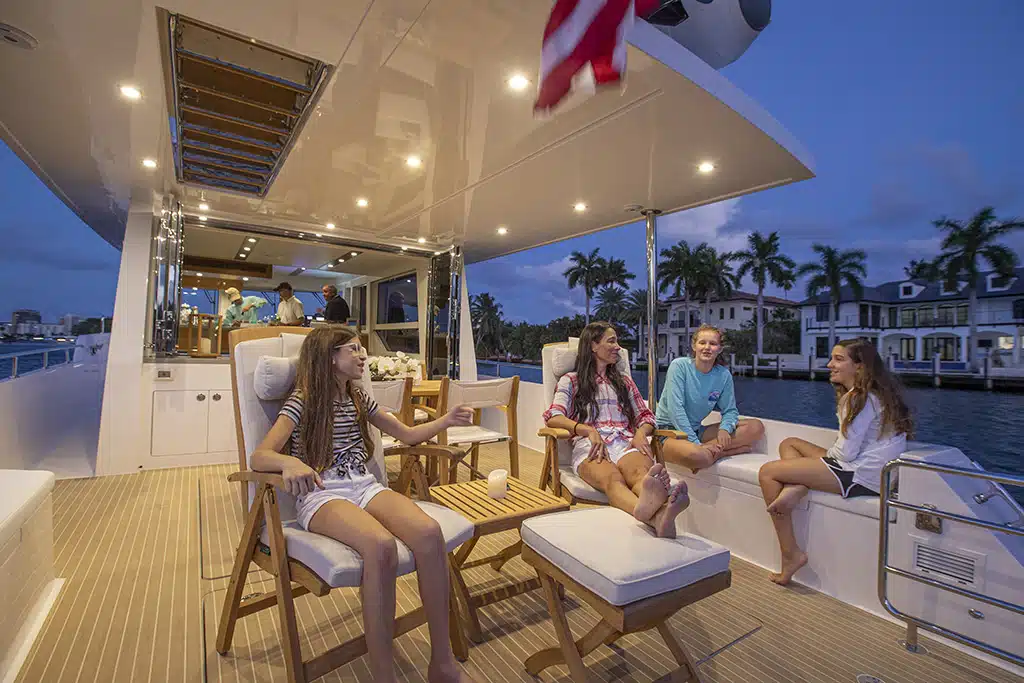 The Purpose
Anyone accustomed to cruising in the Florida outback, or in the shoal waters of the Keys, the Bahamas, or sounds that skirt the East and Gulf Coasts of the U.S., will know that a protected draft of three feet for a 56-foot inboard boat is a godsend to make gunkholing a delight rather than a nightmare. Anchoring in the small bays and pockets off the Little Shark River becomes the perfect getaway from a breezy day and allows the skiff to explore the miles of sheltered mangrove shoreline and channels that lead to Oyster and Whitewater Bays and beyond. To seaward, Florida Bay's crystal water, grass flats, and uninhabited beaches are minutes away—premium habitat for poling or wading for snook and redfish, among other popular species.
The careful monitoring of seagrass in the Everglades and Biscayne National Parks, as well as in the Florida Keys National Marine Sanctuary and other protected areas of the state, can make for a prohibitively expensive fine if the bottom is scarred by a careless or uneducated operator.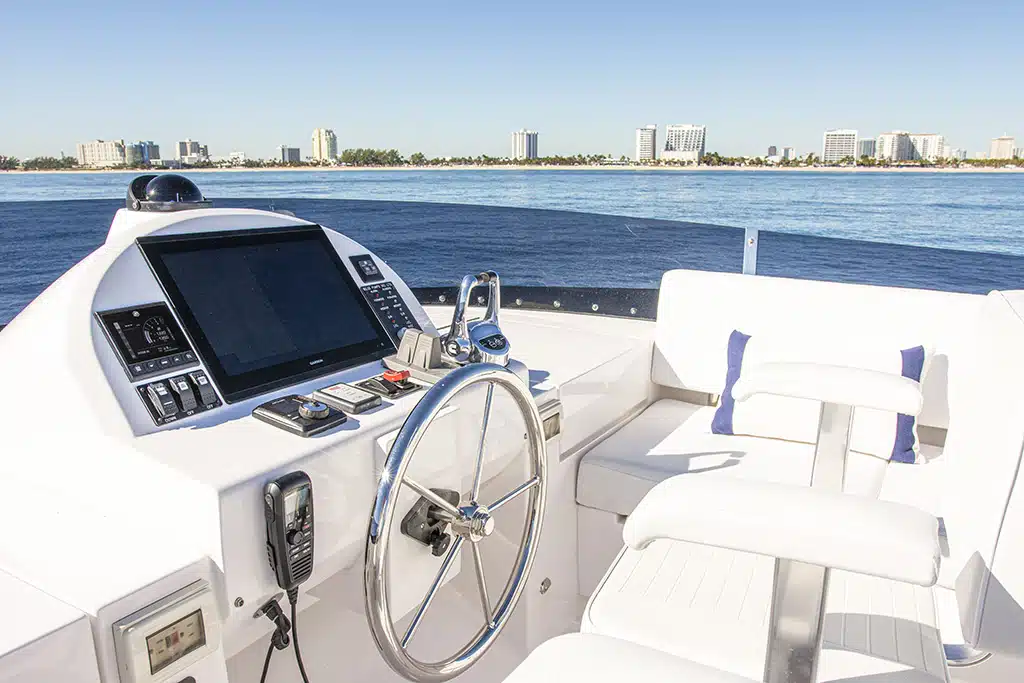 Keeping It Light
Interestingly, the Outback does not achieve her advantageous draft by being an ultra-light displacement design or by having a Spartan, race boat-style interior. In fact, the interior fit and finish is exemplary, showcasing MPYD's crisp, contemporary details in a fusion of satin teak joinery and flawless eggshell paintwork.
The boat's arrangement provides three double cabins: a master forward with an island queen berth and two guest staterooms with twin lowers. No need to squeeze into confining upper bunks here. The galley is located on the port side of the wheelhouse.
To provide unobstructed sightlines to the greatest extent possible, large expanses of glazing in the wheelhouse extend aft port and starboard, becoming deeper in the salon. The bulwarks on the side decks have been reduced in height and capped by handsome, beautifully executed stainless steel railings. This configuration increases the visibility for passengers seated inside while ensuring safety for occupants on deck.
Where many boats this size have a fixed aft bulkhead with a single or double passage door, the Outback has full-height glass doors that are capable of being folded open to a clear span that leads directly to the aft deck. Cilla has dubbed this the "infinity deck" due to the elimination of a traditional transom that offers a view quite similar to what one might see from the aft deck of a large motoryacht, only without the height advantage.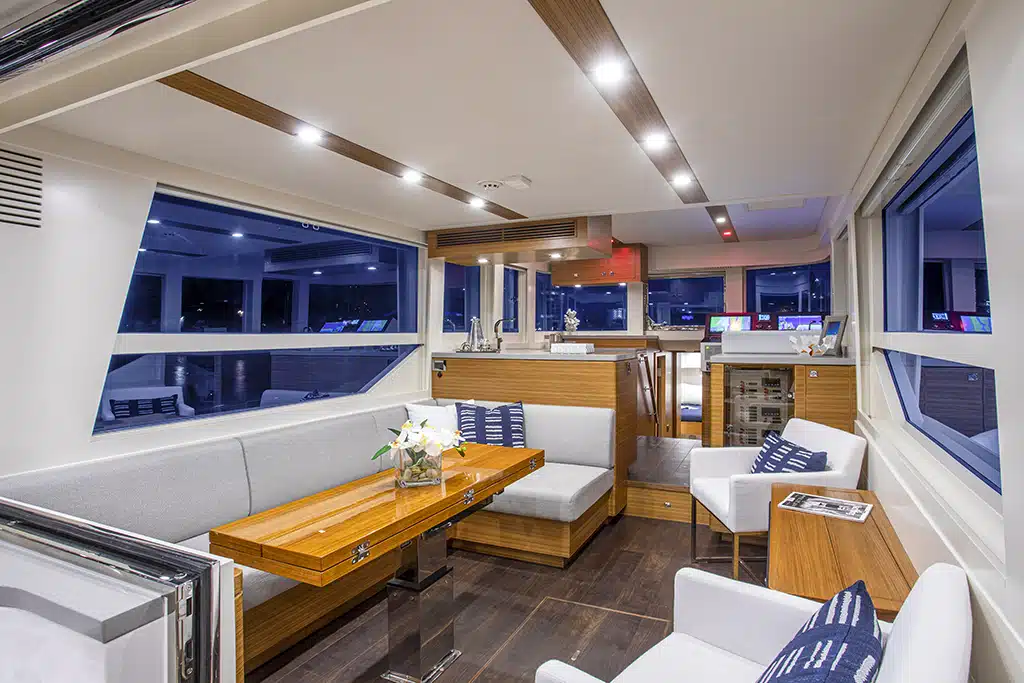 A Transformer
One of the principle building blocks in the Outback's fundamental design was that the boat be easily transformed for various uses, the inspiration being a kind of seagoing Swiss Army knife with a selection of tools for water sports. Hull No. 1 is fitted for backcountry fishing, her aft deck capable of launching and retrieving a technical skiff using a manual winch system.
According to Chris Critchett, the senior naval architect at MPYD, a grid arrangement has been engineered for mounting interchangeable chocks in the deck, an ideal system for owners who have different kinds of watercraft for specialized applications in addition to flats fishing. The solution will allow a relatively simple interchange of racks for paddleboards, kayaks, and chocks for personal watercraft of various types.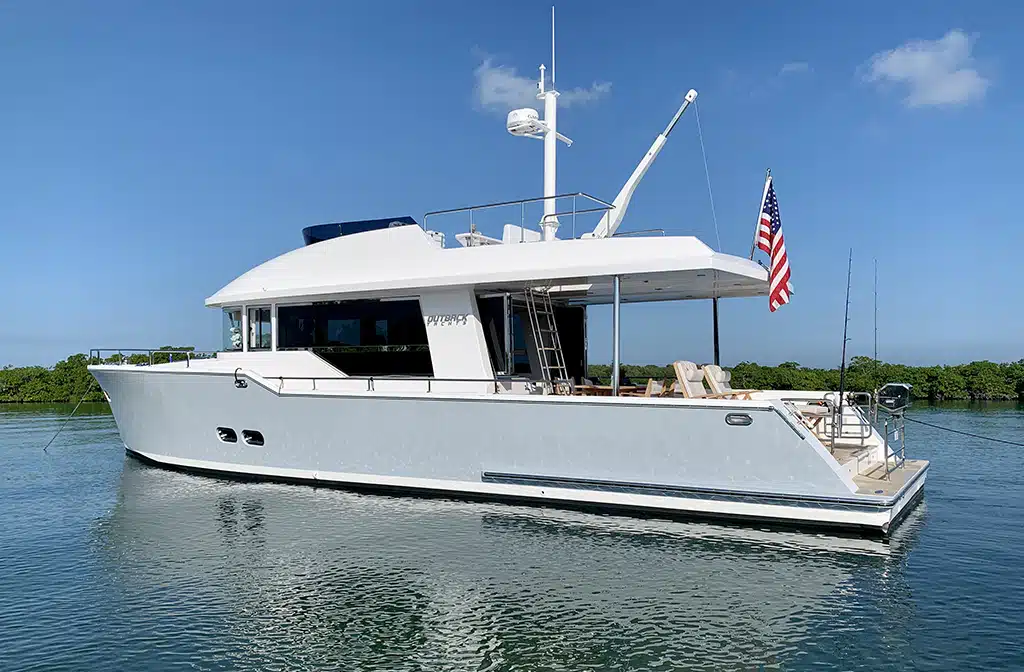 Steady as She Goes
For those who are concerned about the ride characteristics in a boat with such a shallow draft, take heart. The Outback has been designed to accept a Seakeeper stabilizer as optional equipment, an excellent solution that ensures a comfortable, easy motion offshore at slow speeds with no drag or draft penalties.
"This is the boat I've been wanting to build for ten years," Cilla explains as he sits in the shade of the infinity deck. "I've always been intrigued by the fact that design development is typically a product of customer input, and I thought it would be fun to develop a boat that's driven totally by the input of many of the greatest minds in the industry."
Cilla comments on those minds. "This is what they told me to build, and I now see why. Admittedly, I chose to tweak the interior and a few other things, just as I'm sure the next customer will do."
Hull No. 2 was recently delivered, and Hull No. 3 is sold and ready to build. As Cilla predicted, all three boats have different arrangements. The newer boats have a two-foot longer salon which substantially increases interior volume.
So, back to the trip. Week after week, the wind howled. On the best days, they hovered around 20 miles an hour and, on others, approached 30, hardly ideal for throwing a fly. "So what?" we crowed as our departure approached. "We'll just use conventional tackle." Unfortunately, uninvited COVID-19 arrived. "Who cares?" we declared. Well, the National Park Service did for starters—they closed the park. But we'll be back because now we know the Outback 50 will take our adventurous souls wherever we want to go.