Bahamian Cocktail Party
Local fish, fruits, veggies, and rum are the perfect ingredients. Recipes serve 4.
By Lori Ross, Southern Boating May 2020
While in the Bahamas in 2003, cruising in company with a group of friends, the participating yachts gathered dockside one sweltering afternoon for cocktails and nibbles. Every boat owner brought out a favorite drink and an appetizer to share and we had a feast! A pitcher of icy Goombay Smashes (a drink named after a folk music form in the Bahamas based on African rhythms that are beat on goatskin drums) got us started.
One cruiser, who had spent time in the Abacos, bought a beautiful piece of conch (already out of the shell) from a local fisherman, and made a delicious conch ceviche right before our eyes. While we watched, our mouths watering, he diced the raw conch into fresh lime and lemon juice along with onion, sweet red pepper, jalapeño peppers, and salt, then served it in a bowl surrounded by taco chips. The salty flavor of the ocean along with the surprise of sunny citrus and heat hit us at first bite. We were hooked on conch ceviche. Smoky Abaco fish dip with crackers and crudités, fresh avocado and citrus salad, shrimp cocktail, and a chilled fruit salad completed the memorable feast.
Some island music got us dancing, while more wonderful dishes added to our impromptu celebration and inspired all of us to be more creative and look to the Bahamas for appetizers on hot days aboard.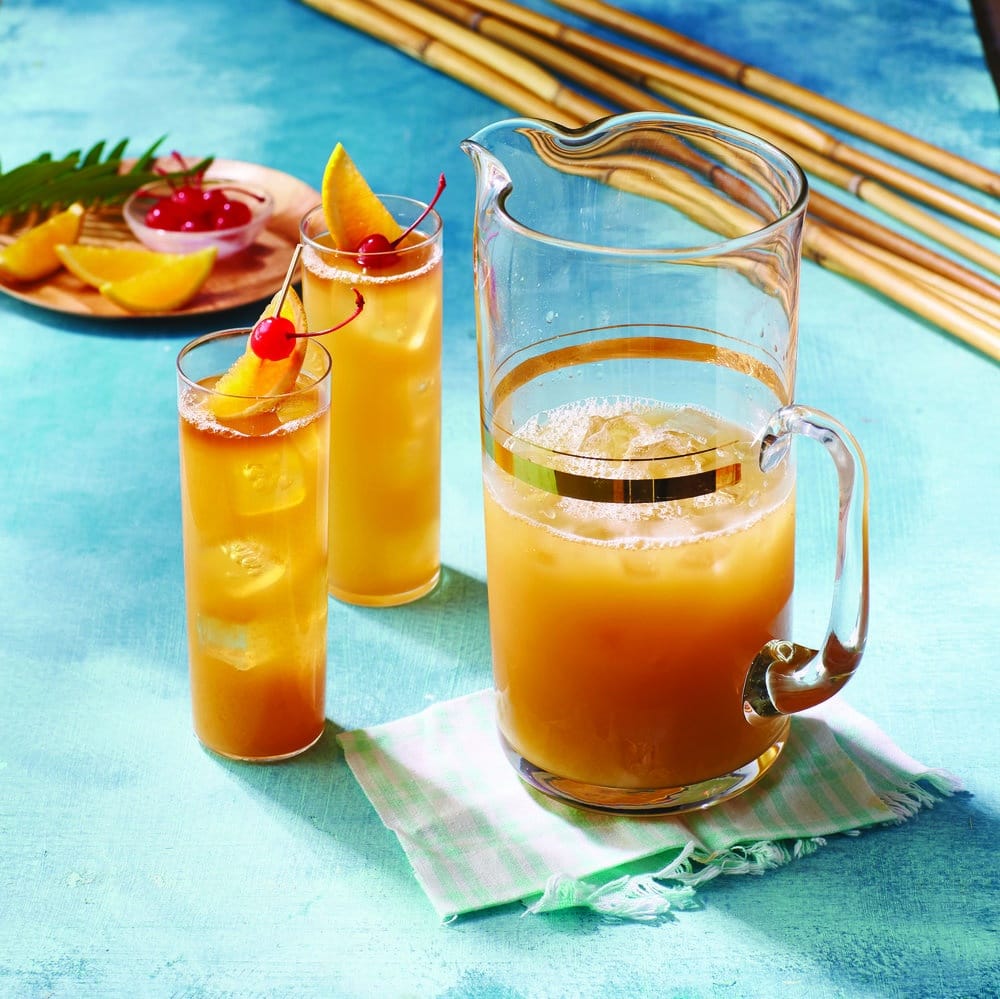 Goombay Smash
4 oz. rum
4 oz. coconut rum
8 oz. each pineapple and orange juice
¼ cup grenadine syrup
4 maraschino cherries
Mix together liquid ingredients. Pour 7 ounces of drink mixture into each of 4 tall glasses filled halfway with ice. Garnish with a maraschino cherry.
---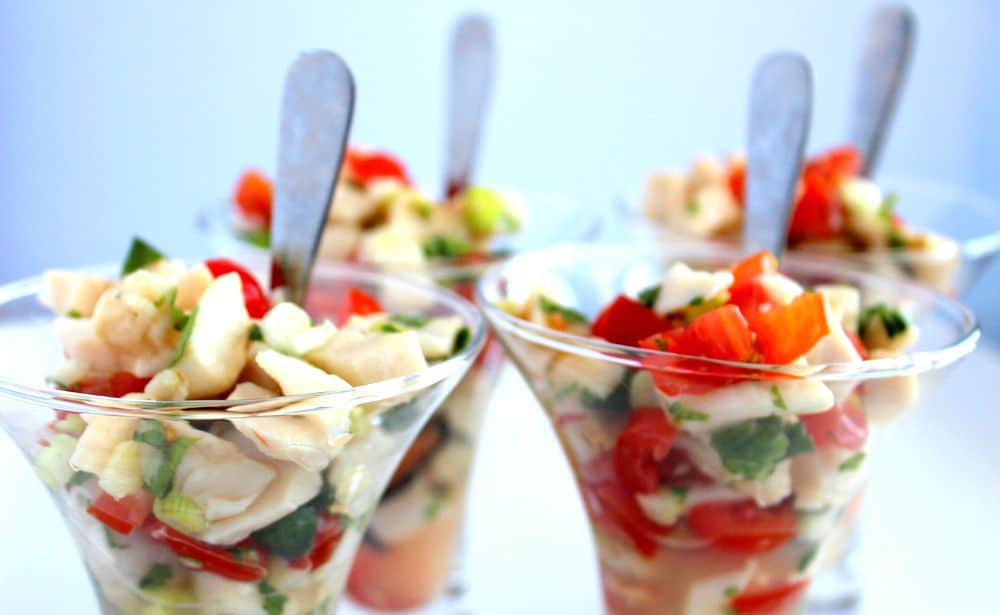 Conch Ceviche
3 cups raw conch cut into ¼-inch dice (substitute raw fish, scallops, cooked crab, shrimp, or lobster, if desired)
4 Tbsp. each lime and lemon juice
½ cup each onion and sweet pepper, cut into ¼-inch dice
1 Tbsp. minced jalapeño peppers, or more to taste (or 1 tsp. hot sauce)
½ tsp. salt, or more to taste
Place the conch in a large bowl. Add the citrus juices, onion, sweet pepper, jalapeño peppers, and salt. Toss to combine. Marinate up to one hour. Serve in lettuce cups or with taco chips.
---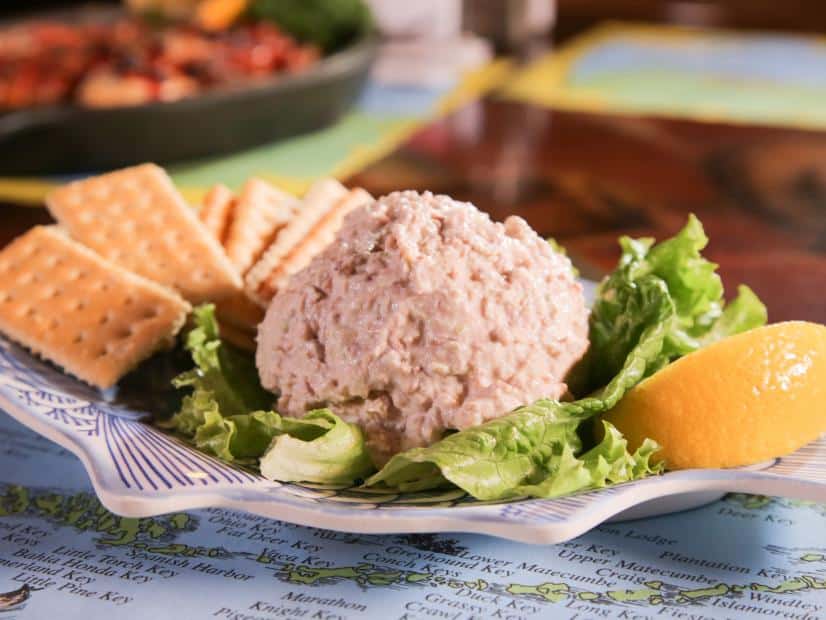 Abaco-Style Fish Dip
8 oz. smoked fish, peeled, boned, and finely chopped (if no smoked fish is available, use equivalent amount of canned sardines, trout, or mackerel packed in oil or water (drained for recipe) with a dash of Worcestershire sauce or liquid smoke, then proceed with recipe)
½ cup each sour cream and softened cream cheese
2 Tbsp. onion, minced
Pinch of dill (optional)
Zest of 1 lemon or lime
1 tsp. lemon or lime juice
Pinch of cayenne pepper or dash of hot sauce
Pinch of salt and pepper, if needed
Mix all ingredients in a bowl. Taste and adjust flavor with salt and pepper, citrus, and hot sauce. Serve with your favorite bread, crackers, or raw veggies and a bottle of hot sauce on the side.
---
Bahamian Fruit Salad
4 Tbsp. lime juice
2 Tbsp. sugar
2 Tbsp. vinegar
5-6 cups cubed or sliced fruit (papaya, melon, mango, pineapple, citrus, bananas)
1 Tbsp. coconut rum (optional)
½ cup fresh cilantro leaves (optional)
Whisk together lime juice, sugar, and vinegar in a large bowl. When cutting fruit, collect juices and add to dressing along with rum. Add fruit to dressing along with cilantro and mix gently. Serve in small bowls or cups with spoons.