The Cruisers 50 GLS is a Pleasant Surprise
The Cruisers 50 GLS is a muscular and sexy sport boat that stole the show in Fort Lauderdale.
I'm going to be completely honest with you. When Southern Boating asked me to visit the Cruisers 50 GLS, I wasn't expecting much—and I certainly wasn't expecting this. I thought I knew Cruisers. I've been to its factory in Oconto, Wisconsin, and was relatively familiar with its product line. I associated the brand with sensible, thoughtfully designed and constructed vessels with a focus on volume. Good boats, but just a little staid. And I was familiar with the GLS sport boat line but considered them more as lake boats, perhaps because of their provenance. However, the 50 GLS I met at the 2022 Fort Lauderdale International Boat Show was none of these things. This boat is badass, and for my money, she made a very good case for being the star of the whole show.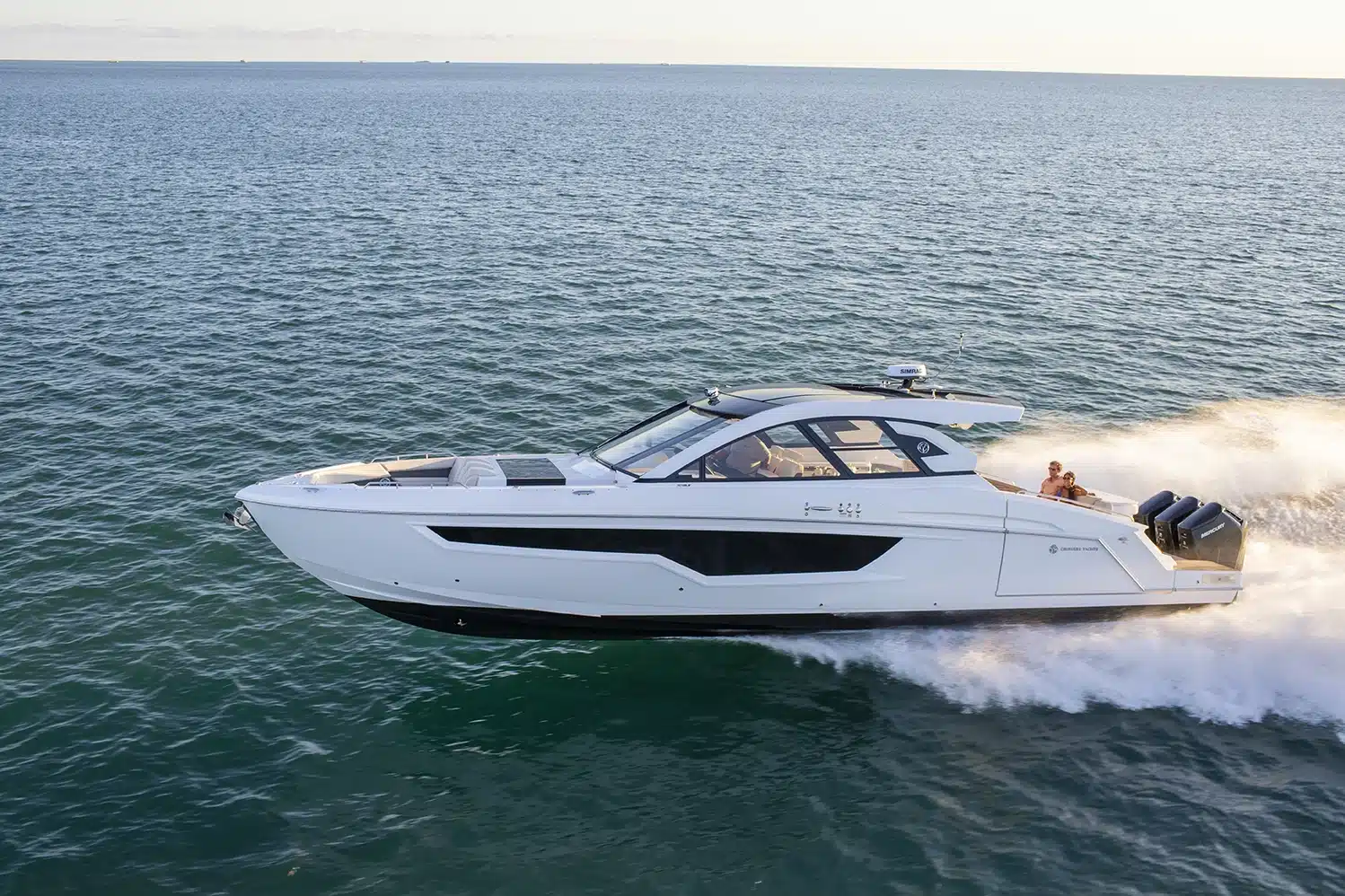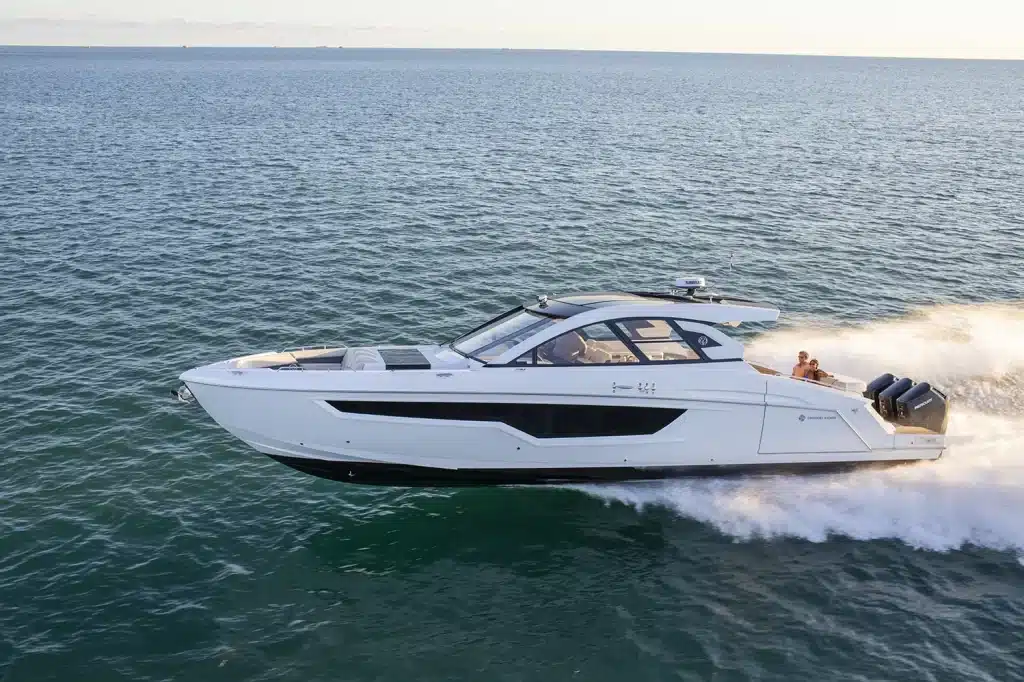 The first thing I noticed about the 50 was her lines. For such a low-profile and athletic-looking boat, there's also something undeniably tank-y about this vessel. She's angular, with a squared-off and recessed windshield, and a sharp—nearly right angle—drop off from her shearline down to the swim platform. But those angles are leavened by a curved superstructure that swoops back to cover the forward part of the cockpit, as well as curved gunwales on her aft section that flex downward like a parenthesis that's been blown over by the wind. To my eye, the overall effect is reminiscent of a GMC Hummer EV convertible. The 50 GLS looks like she could run through a brick wall just as easily as she could outrun a wahoo.
The engines certainly help with that impression. The 50 in Fort Lauderdale had massive triple 600-hp Mercury Verados hanging off the transom. The cowlings alone on these things are worth the price of admission. The big power plants simply look like heavyweight fighters making an entrance to the ring. With the standard trips, Cruisers reports a blistering top end of 56 mph, which begins to nudge into go-fast territory. The builder has not reported a cruise speed as of test time but somewhere within the 40-mph range seems about right. At those speeds, the hop from Fort Lauderdale to Bimini would be about an hour and a half. So if you often find yourself with a hankering for conch ceviche for lunch but don't have time to spend an overnight in the Bahamas, this yacht might be a good option for you.

The 50's hull was designed by longtime Cruisers collaborator Donald L. Blount, known for building hulls that can move quickly and efficiently through rough water. Blount has worked with Buddy Davis, Rybovich, and the U.S. government. He also has loads of experience with very big boats that go very fast, like the 74-mph, 164-foot Devonport Alamshar, as well as the 222-foot Destriero which set a transatlantic crossing record in 1992 averaging 52.6 mph along the way. Suffice to say, a boat built like a sporty Humvee (the 50 GLS displaces 38,000 pounds dry) is right in his wheelhouse.
Ready to Party - The Cruisers 50 GLS X-Factor
Another somewhat unexpected X factor that the 50 GLS offers are the fold-down terraces on either side of her cockpit. This trend is, of course, de rigueur lately, particularly among European brands, but I'd still consider it forward-thinking design and was pleased to see it incorporated into this Cruisers' footprint.
The 50 is effectively a big, fast dayboat and built for a party, so having a cockpit that expands from 14 feet, 6 inches to 22 feet is an excellent idea. A teak sole in the cockpit helps convey an upscale feel while also being cool to the touch and easy to clean. And plunked on top of that sole are all manner of features to keep guests happy and comfortable. A sink set beside twin grills is at the transom, meaning the cook can stand on the portion of the swim platform between the engines and the cockpit and face the guests. Forward-facing transom seating is complemented by mirroring L-shaped settees forward and to port and starboard, all surrounding around a teak table in the middle of the space.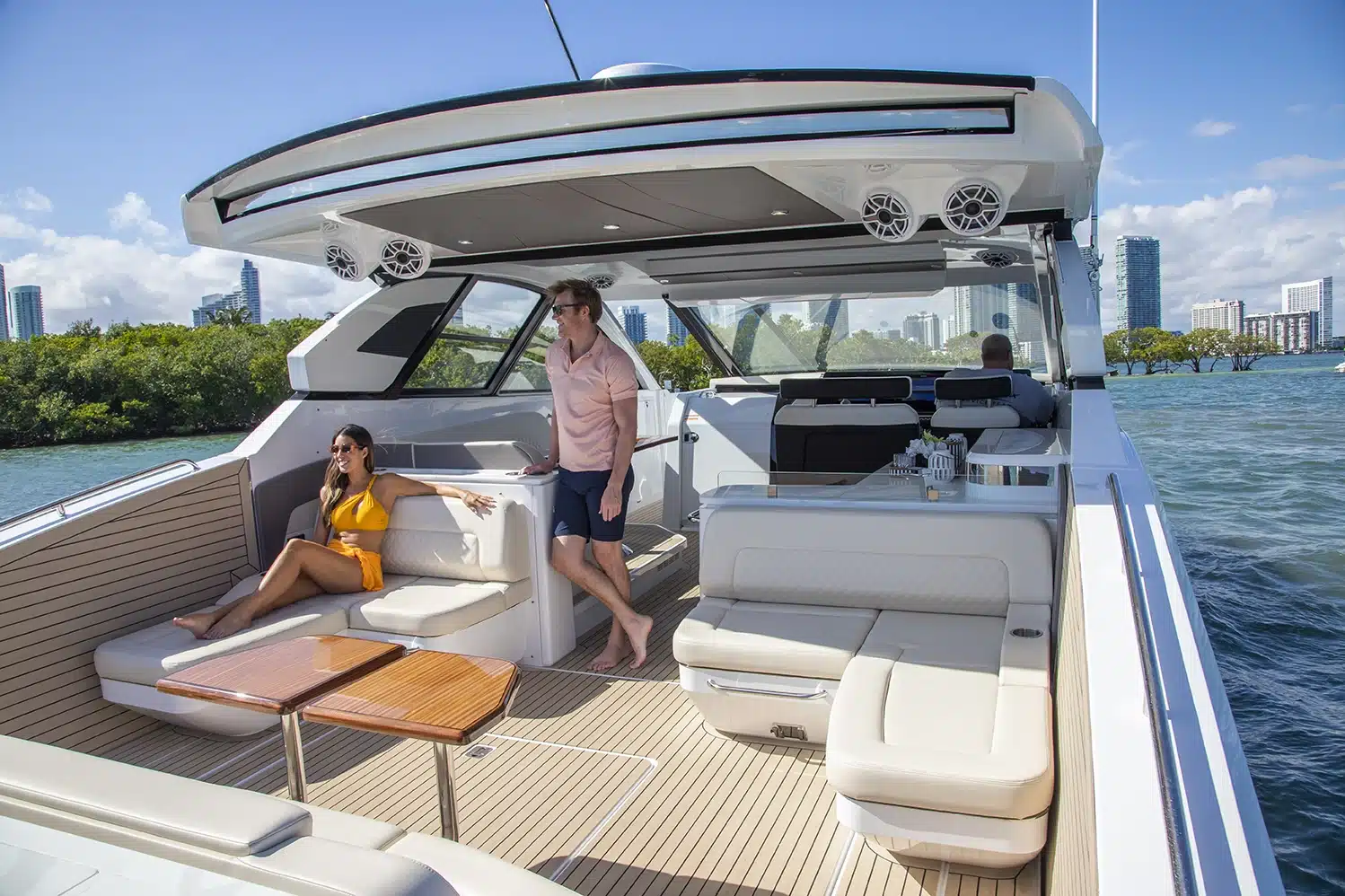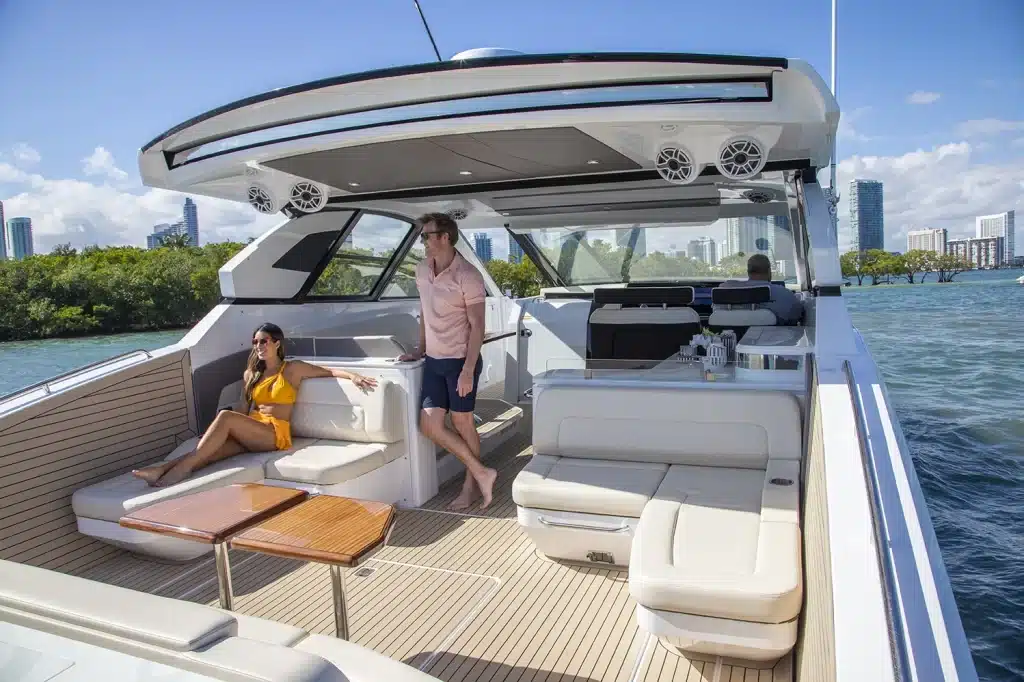 The cockpit is pockmarked with cupholders and has big, macho JL speakers capable of blasting tunes that ring loud and clear even (or perhaps especially) at high speeds. Furthermore, a large hatch in the center of the cockpit offers excellent access to the filtration systems, Kohler genset, and a Seakeeper 6 gyrostabilizer—the workspace here is a benefit of having powerful outboards instead of diesels. Everything is laid out in neat order, with a white gel coat sole, as well. 
Another seemingly minor, but very cool and useful feature in the cockpit, is a phone charging port on the forward port-side bulwark (which makes way more sense than putting it on the starboard side, now that I say it out loud) that can charge six phones at a time. If this boat's scintillating speeds don't thrill your teens, this docking station most certainly will.
The 50 GLS's interior space is marked by its natural light. The boat's massive windshield interplays with an electric sunroof, venting windows, and an open passageway to the bow to bring the outside in. Cool, high-gloss teak touches by Release Marine like a magnetic footstep below the helm seats let it be known that this boat intends to play in the luxury market. An amidships galley to starboard handles more serious cooking duties than the transom grill and serves all portions of the main deck with equal ease. There's a roomy dining settee to port and an optional pop-up 55-inch television to handle further entertainment duties. But really, who wants to watch TV on a boat anyway, especially one as exciting as this?
If all the excitement does overcome you, however, the GLS has a comfortable accommodations level featuring a forward master with a queen-size berth, a sizable hanging locker, and a skylight. An aft cabin can sleep two more people, either in twin bunks or in a second queen once a filler cushion is set in place. The head down here is, shall we say, sized for Americans. That means plenty of elbow room at all turns, not something every boat in this class can boast.
Going Forward With The Cruisers 50 GLS
Once rested, the adventure-seeking crowd this boat is sure to draw would do well to migrate to the bow. A bowrider with this kind of size and speed offers a special kind of excitement. Personally, it's one of my favorite types of styles. If I'm not driving, I'll be found sitting right up front enjoying the sun and the wind—at full strength. For my money, there is no boating like open boating. More JL speakers in this area, as well as a hi-lo table and a chiller box for cold drinks, make sure the experience is even more elevated.
The Cruisers 50 GLS offers something to like at nearly every turn. Whether it be her looks, performance, or onboard features, there are no weak links in this chain. This is a boat that has proven herself to not only be ready for the big time but to dominate once she gets there.  
– by Kevin Koenig