Job Growth and Rising Oil Prices Fuel The Ongoing Inflation Story
Weekly Market Outlook
By Geoff Bysshe and Donn Goodman
My wife and I love to go out to eat at a good restaurant. She is much more of a "foodie" than me (and she is a great cook).
In the past year, it has become increasingly more difficult to get into some of our favorite restaurants. No, they are not packed. They just don't utilize their whole dining rooms. Why?
They don't have enough help. More importantly, they cannot recruit people to work in their restaurants or the industry. Some say they can get higher pay elsewhere (Amazon?), and some say after the pandemic, people would rather not work around a large number of people like in a restaurant.
Even though the average large company CEO has recently started to implement hiring freezes and slow down their human resource benefits, the truth remains that we are short workers in this country. The estimates range from 10-13 million people.
The truth also remains that while some large corporations may be slowing their hiring, small businesses, travel & leisure, restaurants, and many other service-oriented businesses cannot find enough eligible employees.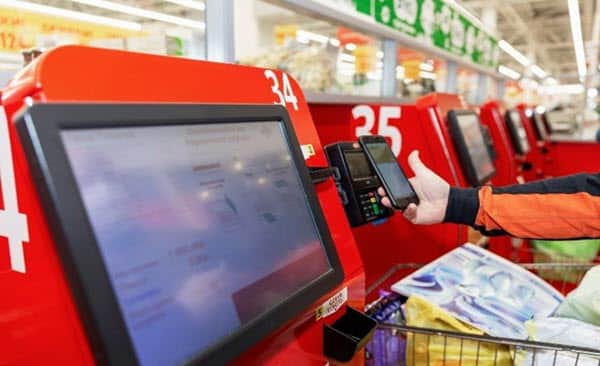 One need only be reminded of this when you go into a Walmart or Target and there are growing rows of self-service cashiers.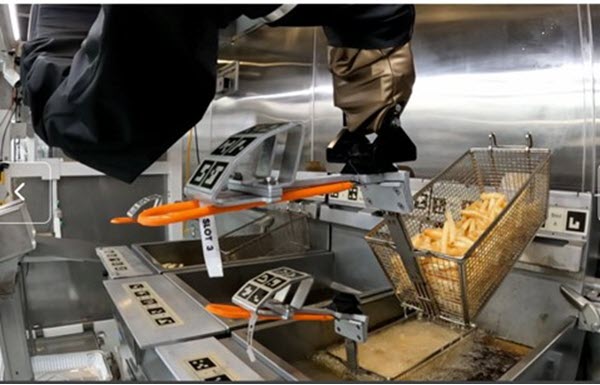 Or if you should go into some national fast food places, you may see heavy use of self-service kiosks. Perhaps you've also seen robots that have replaced humans for the job of cooking french fries and hamburgers.
Given that we have a predominantly service economy, these types of jobs are hard to fill. And with a lack of available and capable workers, it may continue to remain difficult, no matter how much the Fed induced slowdown of the economy should continue.
The See-Saw Continued Last Week.
Early this past week, the unemployment report numbers showed a tick up in unemployment claims. Unemployment claims increased from $190,000 to $219,000, and the 4-week average was up for the first time in 8 weeks. This was welcome news for those wishing to see a softening in the job market. See chart below: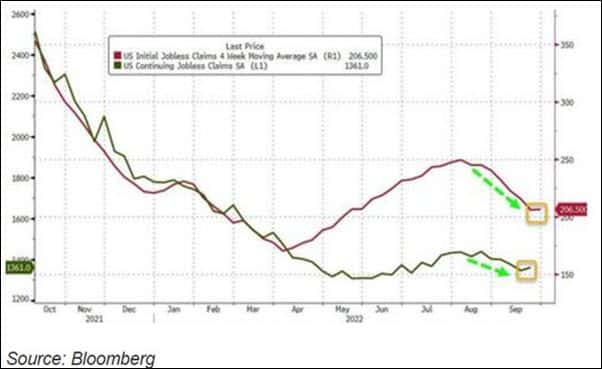 A fierce bear market rally ensued, and the market put in two back-to-back days totaling more than 5.0% (depending on which index/market). The Bulls were waiting for follow thru and then came Wednesday.
It was no surprise on Wednesday when a preview of the upcoming Jobs report released by ADP showed more job growth than expected. Not only did the number jobs in September come in over 200,000 but the August revision showed unexpectedly higher job growth from reported 132,000 to 185,000.  See chart below: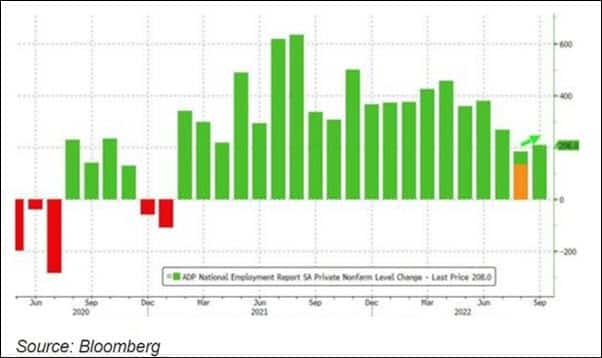 The market sold off on Wednesday and Thursday, somewhat as a prelude to what might come on Friday.
Then the jobs report hit on Friday morning.
September jobs reported at 263,000, unemployment tumbled to 3.5% (from 3.7% the month earlier) and the participation rate ticked down (not as many workers in the economy as projected). Great news for workers and the job market. Bad news for anybody who thought that the Fed would soon pivot and pause their aggressive Fed tightening.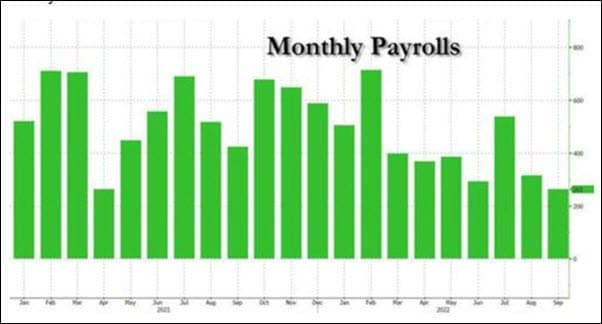 There was substantial job growth in every sector of the economy except the transportation sector (more on this to follow). The Employment report was a much hotter number than expected and not what Wall Street was looking for. The market did not like it and plunged on Friday.
There is one industry in the Transportation sector where jobs may be affecting our economy and certainly have some impact on the Boating industry.
Read on for more information about this story and…
The continuation of oil's rise…
Why interest rates continue to go up and what affect that may have on earnings and the stock market's valuation.
How MarketGauge can help you manage your own portfolio either by helping you access good strategies (do it yourself) or how our sister company, MarketGauge Asset Management can help you manage your money without any effort on your part.
Click here for the full story OR, contact Rob Quinn here (407)-770-7637