June 21, 2023
Weekly Market Outlook
By Donn Goodman and Keith Schneider
Over the last 14 months, the Fed has been trying to bring down inflation by raising interest rates without tipping the U.S. economy into a recession. After 10 consecutive interest rate hikes, the Federal Reserve took a breather at the June meeting. They took a "pause" as was expected but made sure that their rhetoric included why this was merely a skip and going to result in two more interest rate hikes later this year.
The stock market took this as a sign that the Fed was done hiking and potential interest rate easing could occur later this year.  We think that is not likely and the subsequent dot plan showed rates rising further.
The markets may be getting a bit stretched.
The last time we saw the S&P move this far above its moving averages was in February when it went through a 300 point pullback before consolidating and moving higher. We may be at the same place today.  See chart below:
Take a look at this chart of the S&P 500...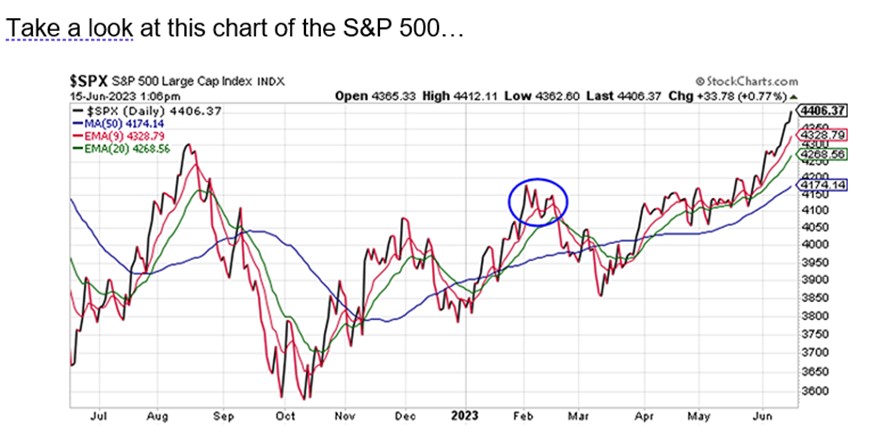 **************
Discover Your Investing Strengths
The Fed seems to have gotten the inflation narrative wrong.  Their perception of where we are in this inflation cycle has been off.   We take you through all of their statements since before their first rate hikes started here.
Inflation is persistent.  While it is coming down, it still has a ways to go.  After peaking in late 2022, inflation has been cut in half.  But tell Americans who are still feeling the pinch of higher energy, food, and rent prices that it is slowly dissipating, and they will tell you they don't see it. 
Inflation has been due to out of control spending, much of it attributable to Fed stimulus during the COVID Pandemic. 
If you add up inflation from the beginning of 2021 to current, it has accumulated to 20% or more.  This has led to the Fed's hawkish actions to the unprecedented 10 rate hikes these past eighteen months.
The news flow can be confusing and intimidating, but investing in this environment doesn't have to be. If you would like personal guidance and hands-on management of your assets with the assistance of tactical, risk managed, strategies, please contact me at donn@mgamllc.com or Keith at keith@mgamllc.com.