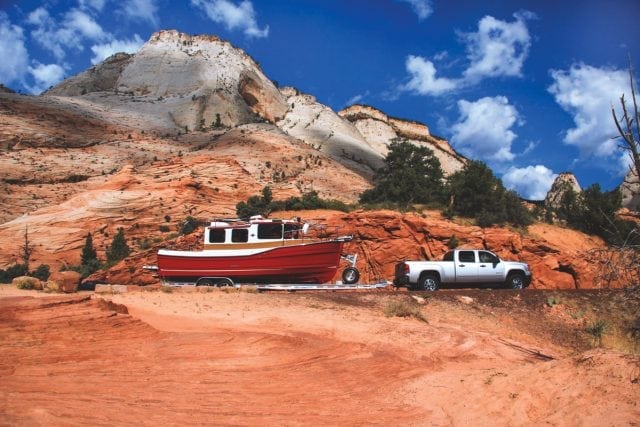 Follow Jim and Lisa Favors as they cruise in their Ranger Tugs and live in a snowboaters paradise.
It's no secret that as soon as it gets cold up north, Florida gets busy. Excluding tourists on vacation, nearly one million temporary residents flock to Florida in winter and then leave in the spring. These winter residents are commonly referred to as "snowbirds."And because there's no better way to enjoy Florida than by boat, many of them are snowboaters too.
Michigan-based Jim and Lisa Favors discovered a unique way to enjoy their retirement, including winter snowboaters adventures in Florida. They got a taste of southern waters when they completed the Great Loop on a 42-foot powerboat. They've found their way back year after year.
They traded in their 42 for a trailerable trawler built by Ranger Tugs that completely changed the way they boat. With the versatility of being able to trailer the boat on the highway, they could explore new and different boating areas. When they took delivery of their first Ranger Tugs, an R27 named Kismet, at the factory in Washington State so they took the first cruise around Puget Sound.
On their way south that winter, they got to explore interesting inland boating areas that many cruisers never see, including Flaming Gorge on the Green River, Lake Powell, and the Tennessee River. Along the Arizona/Utah border, Lake Powell was formed when the Glen Canyon Dam was built in 1963 on the Colorado River. This immense inland lake at an elevation of 3,700 feet is over 150 miles long and has more than 1,500 miles of shoreline that includes many picturesque coves and anchorages. When they couldn't find appropriate lakes or rivers along the way, the Favors used their boat in campgrounds, or "boaterhoming."
Snowboaters Paradise
With the boat back in saltwater on the Alabama/Florida border, they cruised their R27 along the panhandle, around both coasts of Florida and across Lake Okeechobee. After spending the winter in Florida, they packed their boat onto the trailer and headed to Michigan. Summer cruising in the Great Lakes can be spectacular with destinations such as Door County, Wisconsin and the Thousand Islands of Canada. Being able to transport the boat on the trailer allowed them to cruise vastly different areas depending on the season and where they wanted to go next.
After the Favors cruised areas that take many a lifetime to accomplish—the Great Loop, Canada, Key West, the Pacific, Atlantic, and the Gulf of Mexico—"two-foot-itis" set in and a bigger boat beckoned. Jim and Lisa commissioned a new Ranger Tugs R29S in 2017 and like the original Kismet, the R29 is trailerable and provides the flexibility they relish, but delivers more power, better accommodations and fresh modern styling. "The Volvo Penta D4 300 engine works with authority," says Favor.
"When we move the boat during docking, cruising, or close-quarters maneuvering, there is no hesitation. While cruising, on the hook or at the dock, we have an unobstructed panoramic view of our surroundings. The seamless integration between the salon and cockpit provides better continuity for us and our guests."
They took delivery of their new boat at the factory outside of Seattle and, once again, cruised the Puget Sound, The San Juan Islands, and into Canada. A stop in September at the Ranger Tugs and Cutwater Boats rendezvous in Roche Harbor, Washington, brought them together with 400 fellow boaters, and their new boat shined among the 150- plus Ranger Tugs.
This past winter, the Favors dropped their boat in the water at Legacy Harbor in Ft. Myers, Florida, and stored their truck and trailer. The snowboaters like this marina because it's an easy walk into town and there are lots of activities. They've made friends from all over the country, and in Florida, they often cross paths with fellow boaters.
All About Balance
Additionally, the Favors balance time between marinas with friends and enjoy shoreside amenities as well as quieter, remote anchorages and parks. That's where they can be alone on their boat to appreciate nature's beauty. Their first Florida excursion on the new boat was to Punta Gorda for a Ranger/Cutwater rendezvous. Thirty other boats like theirs joined the festivites. At the rendezvous, fellow snowboaters gathered with native Floridians to enjoy the sunshine and boating. Some live on their boats and others have condos or houses and use their boats for excursions.
After showing off their new boat at the rendezvous, the Favors headed for more peaceful surroundings. Cayo Costa State Park, a barrier island near Sanibel, is a great place to explore, hike and enjoy windswept beaches. Another spot the Favors enjoy is Lover's Key, where there is a long sandy beach to play on. The anchorage provides views of spectacular sunsets over the gulf.