With more than seven decades of experience, Capt. Jerry Lewless is the ideal Exumas ambassador.
Jerry Lewless is arguably the longest-running boat captain in the world. As a reference point, consider he first captained a boat at age 14, or as he tells it, "I was so young I still had milk around my mouth." His first fishing client didn't take the teenager seriously until the young captain extended his hand and said, "If you don't catch fish, you don't have to pay."
Spend a day aboard Lewless' pristine catamaran and expect to be wowed by his treasure trove of sailing stories, celebrity friendships and insider revelations about his beloved Bahamas. If there are six degrees separating Kevin Bacon from the rest of the world, after a Capt. Jerry catamaran tour, most passengers believe Lewless is connected to anyone who lived, breathed and sailed near The Bahamas. During his tours, Lewless points out the private islands of country western music stars, movie directors, magicians, and business tycoons.
Starry Eyed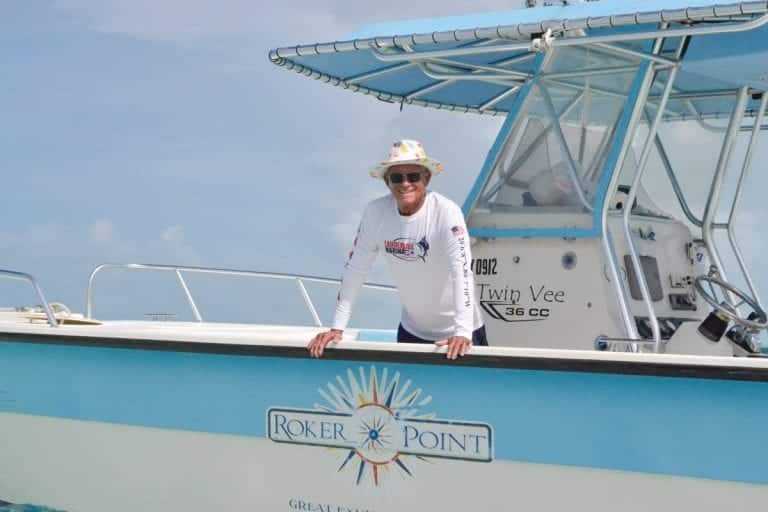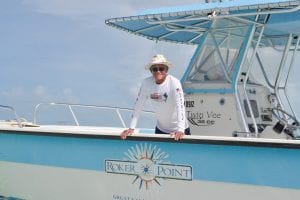 But while Lewless holds most stories regarding the rich and famous close to his tanned chest, others are spun matter-of-factly. According to Lewless, Howard Hughes asked him to take Ava Gardner waterskiing. When Johnny Depp needed a place to stay during the filming of the Pirates of the Caribbean movie series, Lewless housed the star in one of his villas. When David Copperfield wanted to explore the cays for a private island he'd call home, Capt. Jerry showed him around. In the early 60s, Lewless discovered an underwater cave system while snorkeling at a point just west of the Staniel Cay Yacht Club. When a film crew arrived on Great Exuma to shoot scenes for the 1965 James Bond movie Thunderball, they used the cave as the setting for Sean Connery's underwater fight scene.

Sixth Sense
Capt. Jerry's current clientele pay a pretty penny for a guided tour along his native and scenic cays. That's because Lewless has a highly touted reputation as not only one of the most well-informed captains in The Bahamas, but he's also someone with an uncanny instinct for dodging inclement weather. When a Minnesota couple inquired about a dark cloud that was keeping pace to the east, Lewless said, "Don't you worry about that. Let Captain Jerry take care of the weather." Roughly 30 minutes later, his catamaran was sailing under perfect, cloudless skies.
No matter the weather, perfection is a splendid word for describing Lewless' turquoise playground. A handful of the richest people in the world fall so in love with the beauty and privacy offered by the Exuma Cays—they don't just buy a home, they purchase an entire island. Capt. Jerry has personally guided these deep-pocketed individuals around the waters he calls home.
Roker Point Estates is one of the Exuma Islands' newest residential developments. A Roker Point developer met Lewless 30 years ago in Nassau and never forgot his level of boating expertise. A majority of Roker Point clientele choose this 58-acre oceanfront community because they enjoy or envision a yachting lifestyle.
Cat Life
There's no better guide to show curious newcomers Exuma's gorgeous islands than Lewless on Roker Point's 36-foot Twin Vee powercat, which the development let him handpick. "I've been sailing Twin Vee catamarans for years. In fact, I quality test several of their lines. For as much time as I spend on the water, I want the smoothest sailing boat there is," Lewless says. He escorts Roker Point clients on four or six-hour tours of Exuma's spectacular chain of cays. If clients are undecided on this ultra-turquoise setting before going on a boat tour, Capt. Jerry wins them over with his colorful narratives of sailing, pirate and fish stories.
Smooth sailing on a Capt. Jerry tour means experiencing the Exuma Cays at the most memorable level. This could mean watching a green turtle respond to Lewless' voice on Little Farmer's Cay, witnessing an island dome home that Lewless claims receives regular visits from aliens at midnight, or stopping for lunch at the legendary Staniel Cay Yacht Club. He is a homespun celebrity there, so when the waitress at the Club stops by Lewless' table, she merely nods and asks, "The usual?"
On the way back to the Roker Point Marina, Lewless asks his Minnesota guests if they'd like to see the Question Mark Sandbar. Even though the Roker Point catamaran is in the middle of the Atlantic, the Minnesotans jump off the boat into three feet of water. The couple experiences a photo opportunity for the ages as they step out on this half-mile long, pure-white sandbar surrounded by gin-clear, turquoise water. Capt. Jerry can only beam at their joy as they return to the boat.
The Legend
As Lewless docks his trusty catamaran back at Roker Point Estates, he encourages his new friends to return to Exuma soon. After an amazing day at sea, Lewless' guests realize that at this moment, it's hard to say no to Roker Point Estates' secret weapon.
rokerpointestates.com; captjerrytours.com
Words and photos by Tim Cotroneo, Southern Boating October 2018