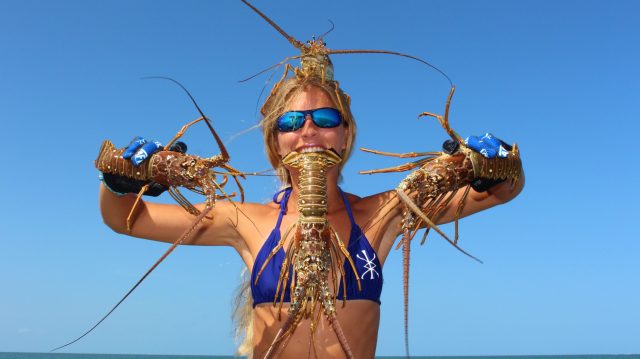 It's here! Avid lobster hunters say the lobster mini season is the best unofficial holiday of the year.
Those unfamiliar with the event are generally left scratching their heads. But there is one thing these two parties can agree on: lobster rolls are delicious… and that mini season brings said lobster rolls.
Mini season always falls on the last consecutive Wednesday and Thursday of July.  The regular lobster season is August 6th through March 31st, so mini season provides an opportunity to get a jump on gathering the spiny crustaceans before the busy regular season begins.
It's a time to get on the boat and dive—but do you know the regulations and hunting limits? Lobster hunters who break the rules can face steep fines—so make sure you know what you can bring home (and turn into lobster rolls!).
If you are late for the mini season party, you can still celebrate this weekend with BugFest by the Sea. Or if you don't happen to be in Florida, you can cook up your own version of a lobster and appreciate the taste of summer.
Season Dates: July 25th-26th, 2018 (Last consecutive Wednesday and Thursday in July each year)
Bag Limits: 6 per person per day for Monroe County and Biscayne National Park and 12 per person per day for the rest of Florida
On-water possession limits: Equal to the daily bag limit
Off-Water Possession limits: Equal to the daily bag limit on the first day, and double the daily bag limit on the second day
Possession limits are enforced on and off the water
Night diving is prohibited in Monroe County during the mini season
Harvest of lobster is prohibited in John Pennekamp Coral Reef State Park during the mini season, and in Everglades National Park, Dry Tortugas National Park, no-take areas in the Florida Keys National Marine Sanctuary and in the Biscayne Bay/Card Sound Lobster Sanctuary during both the 2-day mini season and regular season.
Minimum size limits: Carapace* larger than 3″, measured in the water. Additionally, possession and use of a measuring device is required at all times.
*What the heck is a carapace?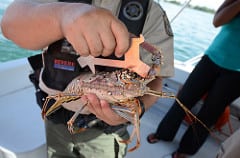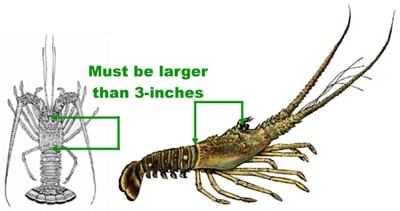 For more information, visit myfwc.com/