Feliz Día del Padre!
For Father's Day, celebrate the dads in your life with a zesty Tex-Mex menu! All recipes serve four.
Steak Fajitas
½ cup Mexican or other beer
½ cup lime juice
2 tsp. chili powder
½ tsp. salt and pepper
2 lbs. skirt steaks (may also use chicken, shrimp or pork tenderloin)
2 large sweet peppers
1 large onion
2 Tbsp. olive oil
1 Tbsp. garlic, minced
12 foil-wrapped, flour tortillas (warm) Optional extras: shredded cheddar, chopped scallions, sour cream, hot sauce, avocado
Mix first four ingredients and marinate the steak for 30 minutes. Meanwhile, cut the peppers into 1/2-inch-wide strips; cut the onion in half and then into thin slices. Place vegetables into a bowl and mix in 1 tablespoon of olive oil and garlic.
Add the other tablespoon of olive oil to the skillet and heat for a few seconds. Add peppers and onions, and let them cook undisturbed for 2 minutes, then stir and cook for two more minutes. Repeat until vegetables are softened and charred in spots. Grill steak to desired wellness.
Let rest for 5 minutes, then slice thinly across the grain. Serve with onions and peppers, warm tortillas and accompaniments.
Mexican Street Corn Salad
2 Tbsp. oil
5 cups sweet corn
2 Tbsp. mayonnaise
2 Tbsp. chili powder
¼ cup queso fresco, cotija or feta cheese, crumbled
2 Tbsp. lime juice Heat oil in a large skillet over medium-high heat. Add corn and cook, stirring occasionally 4-6 minutes until corn is charred. Turn off heat. Add remaining ingredients, mix well and serve. Rapido Guacamole 2 ripe avocados,
Rapido Guacamole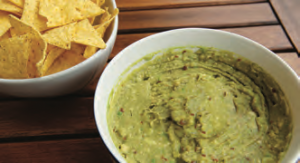 2 ripe avocados, mashed
¼ cup of your favorite salsa
½ tsp. each, salt and pepper
1 Tbsp. lime juice
Mix all ingredients, spoon into a festive dish and serve with salted tortilla chips.
Michelada
½ tsp. chili powder
1 ¼ tsp. salt
1 lime, quartered
2 ½ cups tomato juice
½ cup lime juice
¼ cup orange juice
1 Tbsp. Worcestershire sauce
¾ tsp. black pepper
4 dashes of hot sauce (optional)
4 lager beers
Pour chili powder and 1 teaspoon of salt on a plate; mix evenly. Moisten the rims of 4 glasses with a lime wedge, then dip each in chili-salt mixture. Add a few ice cubes to each glass. Mix the next six ingredients with the remainder of salt in a pitcher. Pour equal amounts into the glasses, top with beer and serve.
Chocolate Cayenne Cake
½ cup butter, plus more for greasing pan
1 cup cocoa powder, plus more for coating pan
1 cup sugar
1 tsp. vanilla
¼ tsp. salt
½ tsp. cayenne pepper
3 eggs, beaten
¼ cup powdered sugar
Preheat oven to 300˚F. Grease an 8-inch round cake pan with butter and dust with cocoa powder. In a medium saucepan over low heat, melt butter. Remove from heat and stir in cocoa powder, sugar, vanilla, salt, cayenne pepper, then eggs. Pour batter into pan and bake for 40 minutes. Let pan cool for 10 minutes, then carefully turn the cake onto a plate. Dust with powdered sugar.