A round-up of our most popular web stories in 2016.
From gadgets and gear to destinations and DIY, SB&Y covered a myriad topics in 2016. It was a historic year for the marine industry: think Cuba, changing marine regulations, new boats, burgeoning technologies, record-setting boat shows and so much more.
Boats were king for Southern Boating this year. But destinations and a handy guide to rescuing a submerged outboard weren't far from the top. Readers flocked to our stories on Bimini as well as our storied round-ups. Take a look back at the year's most popular stories and remember why they made you read on the first time.
Happy New Year, from us to you! May the year be filled with warm days on the water, cold drinks, and that Southern Way of Life.
(Use the arrows left and right to see the Top Ten Stories of 2016)
Bimini Weekend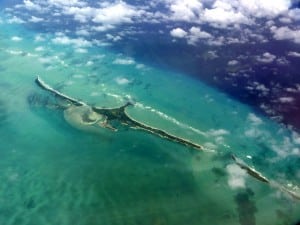 This takes it back (throwback!) to an article published in the 2014 magazine. No matter how much time passes, Bimini never loses the allure of it's blue waters, warm winds and unparalleled possibilities for exploration. One destination, two islands: no wonder the magic never wears off for our readers.
southernboating.com/bimini/
Grand Banks' GB60
A short, sweet and simple review of this Grand Banks' was immensely popular. This  65-foot cruiser has a wide beam and shallow draft– perfect for any cruising adventure! southernboating.com/grand-banks-gb60/
 Downeast Buyers Guide
The first of two round-ups to make it into the top ten. Our Downeast Buyers Guide featured 16 stunning "downeast" style boats. These classic beauties are definitely a must-see. southernboating.com/downeast-buyers-guide/
Bimini: where folklore meets luxury
Bimini part II. A mere 50 miles from Florida's coast, this Bahamian Island is a unique blend of natural beauty, strange mystical tales, and new luxurious resorts. The lure and lore of Bimini clearly never disappoints!
southernboating.com/hilton-at-resorts-world-bimini/
Small Generators
Small but mighty! This was our most popular technical article in 2016. A true testament to the power of generators and a handy guide that was revisited (and revisited and revisited).
southernboating.com/small-generators/
Find Your Center (Console)
Round-up number two. Arguably the most popular boat model on the market right now, the center console style is taking boating by storm. Varying sizes, shapes and style make center consoles versatile and customizable. We've made it easy to find your center console with 28 different models. Find your center.
southernboating.com/find-your-center/
Marlow Mainship 37
The Marlow Mainship 37 is a speedy and seaworthy trawler. Innovation, classic lines, and a dash of David Marlow-esque influence make this trawler a can't miss. A hit with readers then and now.
southernboating.com/marlow-mainship-37/
Dunked Outboard Rescue
Once in every boat owner's life, it's likely to happen. You dunk the outboards. But don't fret– it can be saved. Readers flocked like seagulls to this DIY story about fixing a common mistake.
southernboating.com/dunked-outboard-rescue/
Swimsuit 2016
No surprises here. Consistently a cruiser favorite, our annual Swimsuit issue was a hit online too.
southernboating.com/swimsuit2016/
Hatteras 45 EX
Taking the top spot for 2016: The Hatteras 45 EX! The readers have spoken– Hatteras has created a fun, easy to operate, great handling boat. Cruise with the family, drop a fishing line with the guys or gals, or just lie at anchor with your favorite book/movie/sunset view, etc, etc. This boat delivers.
southernboating.com/hatteras-45-ex/