The Shows Must Go On! Boat shows —and the products and events they showcase— have changed significantly over the past 45 years.
You've come a long way, baby! Since 1972, when the first issue of Southern Boating hit the newsstand and subscribers' mailboxes, the entire boating industry—from technology to boat shows to fashion—has greatly evolved.
Here, we highlight just a few of the many changes.
Swimwear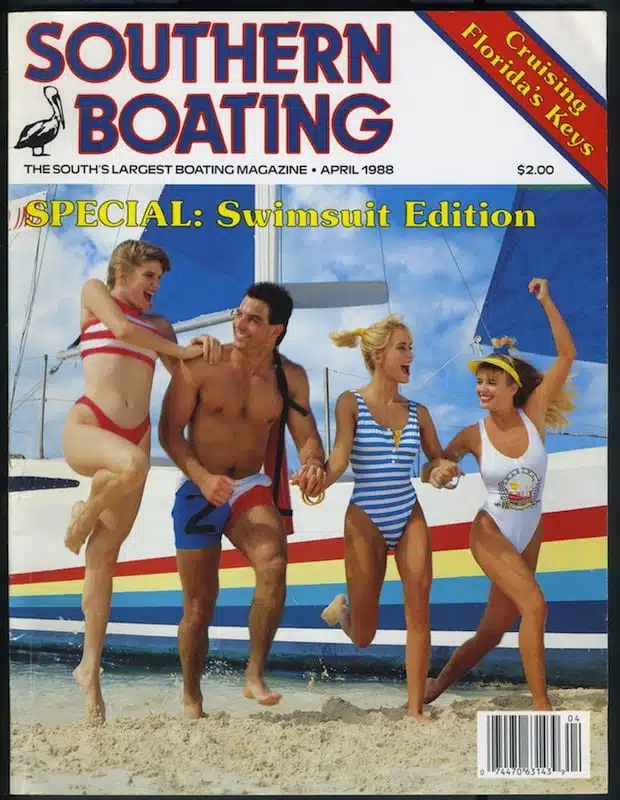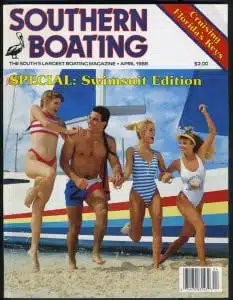 The Disco Decade brought with it women's tight one-piece bathing suits that were high-cut to show off the hips and had a deep neckline. (Think Farrah Fawcett in her iconic '70s poster wearing a rust-colored one-piece.) Bikini styles ran the gamut from high-waisted to "barely there" (the thong was introduced in 1974). Men fully embraced tightfitting swim briefs (Speedo®) and upper thigh-revealing board shorts. Colors were bright and often floral-patterned.
Today's styles include roomier—and longer—board shorts for men, while bikinis and one-pieces in many different cuts and hues are still popular with women, although high-waisted "retro" designs are making a comeback.
Certainly, swimwear styles—and boating fashion in general—have played a role in the marine industry; indeed, Southern Boating started publishing its annual swimsuit edition (April issue) more than 30 years ago.
Boats
Southern Boating's first cover featured a 55-foot motoryacht, with three double cabins, a convertible dinette and lounge and a spacious aft deck. At the time, it was considered quite a large and elegant boat. The National Marine Manufacturers Association (NMMA) reports that while large yacht sales currently may be on the rise, smaller vessels—water sports boats, day boats, pontoons—are attracting a whole new generation of boaters for their affordability and versatility. Yet, regardless of the size or style of the vessel, manufacturers offer the latest and greatest options; it's not surprising to see center consoles with multiple livewells for bait and espresso machines for the anglers!
Power
As for engines, outboards in the '70s were typically 100- or 135-hp, very large, noisy and fuel-hungry machines. Today, boatbuilders are experiencing a growing demand for outboards as the need for more horsepower increases. Manufacturers like Suzuki, Yamaha and Evinrude have answered the call producing smoother, quieter 300-hp and 350-hp outboards with greater fuel efficiency and dependable power. Triple and quad outboards are able to reach popular fishing and cruising grounds in record time.
Technology
Builders are incorporating advanced technology into their vessels, such as docking a boat with a joystick or using a smartphone or iPad to operate your boat. Helm stations that once integrated different brands of electronic components—chartplotters, radars, autopilots, etc.—that couldn't share data have evolved with the installation of new one-brand systems that make networking easier and improve operations.
Navigation has also become more reliable these days with Global Positioning System (GPS) technology. Prior to GPS, boaters depended on LORAN, radar and their own intuition to help determine their position. Now, electronic charts and chartplotters provide mariners with accurate location information. Even on smaller boats, cruisers can navigate via GPS using a smartphone app.
Boat Shows 
There's no better place to find all of these products than at a boat show, where you have access to everything that comprises an on-the-water lifestyle. Boat shows showcase what the marine industry has to offer in new builds, concept vessels, the latest innovations, and accessories. In the 1970s, the shows mainly focused on the boats themselves, but today, you'll also find seminars, clinics, demonstrations, and workshops—for adults and kids alike— where industry experts share their knowledge and advice with show-goers, in addition to equipment, water toys and marine products for sale.
Some displays flaunt exotic cars, helicopters and submarines, as well as a variety of food and entertainment; gone are the days of eating only hot dogs and stale potato chips. You don't even have to be a boat owner to enjoy the show, since they've become a must-attend social event at which to see and be seen. Builders are eager to reach new buyers so now, boat shows are staged all over the world: Dubai, London, Monaco, Sydney, and so many other international locations.
Compared with boat shows in the early '70s, the dollar value of products displayed has exploded. The precursor to the Fort Lauderdale International Boat Show (FLIBS), the world's largest in-water boat show, exhibited just 100 used yachts with an aggregate value of $1.5 million in 1972.
In 2016, along with toys, accessories, and equipment, there was an estimated $4 billion worth of products presented, according to the Marine Industries Association of South Florida (MIASF), which owns the event.
So, yes, the marine industry has come a long way since 1972. Boat shows are flourishing globally, technology is advancing to the point where even a beginner can comfortably take command, and popular swimsuit fashions of the past are still trending today. Bigger, better, faster, eco-friendly… it's all in demand and available.
No one knows what the next 45 years of the boating industry will look like, but if the past four decades are any indication, the future will continue to evolve in ways we can only imagine.
By Bonnie Schultz, Southern Boating September 2017