Texas is home to a huge boating community ported out of Houston, Galveston and Corpus Christi and plenty of destinations along the coast. The state also sports more than 367 miles of coastline along the Gulf of Mexico and many more when you add all the bays and the Laguna Madre. This holiday season give your favorite Texan boater a gift from their home waters that'll stroke his Texas pride and simultaneously support the state's local businesses.
Sea Dart Boats
Boatbuilding is an evolutionary process and Texan craftsmen are reaching back to traditional wooden boats and joining them to modern styles to create hybrid designs that serve the creeks and near shore waters of the state. Craftsman David Escobedo of Escobedo Boatworks is doing this on the outskirts of San Antonio in the one-horse town of Buda, Texas. His Sea Dart is a 16-foot lapstrake-type build—a type of creek boat ideal for lake, creek fishing and hunting redfish along the coast—that combines the look of a canoe and a kayak. seadartboat.com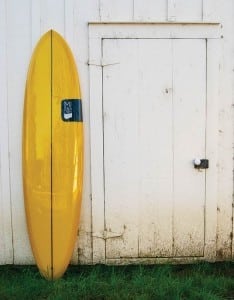 Third Coast Surfboards
Not only is there a Texas Gulf Surfing Association, but only a few miles inland from the barrier islands along Texas' long Gulf Coast in Victoria, Tom Sterne has been building custom surfboards since 1997. His handcrafted boards are specifically geared to handle the Gulf's "slower" wave action rolling onto South Padre Island with a flatter bottom. thirdcoastsurf.com
Texas Rums
It's a cliché for a reason—boaters and sailors enjoy rum whether mixed with tropical fruit for "boat drinks," with soda water or simply enjoyed neat. These days Texas is exploding with artisanal rum distilleries that produce anything from pecan to vanilla flavored rums with many using ingredients and sugarcane from Texas and Louisiana. No. 4 St. James (a Texas lifestyle brand) has a good Texas-sized spread of these tipples for exploration. fourstjames.com
Books for boating
Texas has a long and fascinating maritime history and is ideal reading material when at anchor and enjoying a fine Texas rum. Books such as From Buffalo Bayou to Galveston Bay: The History of the Houston Yacht Club by Dora F. Akkerman; From Sail to Steam: Four Centuries of Texas Maritime History by Richard V. Francaviglia, or Corpus Christi: A History by Murphy Givens and Jim Moloney are fascinating reads and delve into the deep history of the Texas Coast. Most can be found at your local bookseller or online.
Guayabera Crew Shirts
Whether your significant "skipper" races in Galveston Bay, Corpus Christi or in the Great Texas 300, their closet is likely filled with piles of crew shirts that are collecting dust. Shake things up with an embroidered and custom shirt inspired by the folk traditions of the Yucatán and Cuba from Dos Carolinas out of San Antonio that sports the boat's name. doscarolinas.com/guayaberas
By Harlen Leslie, Southern Boating, December 2015