Hurricane Joaquin was the dominant event this fall in The Bahamas. The brutal, slow-moving hurricane suddenly went from a category one near Mayaguana to a category four and sat over Crooked and Acklins islands for two days with destructive winds and torrential rains. Joaquin then caused major damage in Long Island, Rum Cay and San Salvador as it moved west, north and northeast out of the region. But as they say in The Bahamas, "Thank God for life," as the storm did not claim a soul. There are hundreds of stories of heroic action and bravery and later of incredible generosity. One family in Crooked Island had to leave their house through a window as it became flooded to the ceiling. Michael Carroll was able to free one of his boats from its trailer, then he and his family spent 19 hours in the boat tied in the lee of his house.
The long rebuilding of the southern islands has begun, and their citizens are showing amazing resilience and determination.
Recovery
Some areas are recovering from Joaquin a lot faster than others. In Long Island, Stella Maris Resort Club & Marina opened soon after Joaquin's passage. Flying Fish Marina reported some slight damage to its docks yet was expected to be fully operative within weeks of the hurricane's landfall. Cape Santa Maria Beach Resort on the north tip of the island had a bit of beach erosion but is completely open. Long Island Petroleum is pumping fuel in Salt Pond. Services in Salt Pond will be fairly normal by Christmas though many of their fishing boats were destroyed.
In San Salvador, Club Med and Riding Rock Resort & Marina are working on repairs. Club Med hopes to be open by December 20th. Rum Cay's recovery efforts are a bit slower as the loss of government docks hampered equipment delivery.
Crooked Island, Acklins and Long Cay are in various stages of reconstruction, but they sustained the most damage and full recovery will take time. Be sure to be full of fuel, water and supplies if you sail to Rum Cay and the southeast islands. Phone lines are expected to be back in service so call ahead to your destination.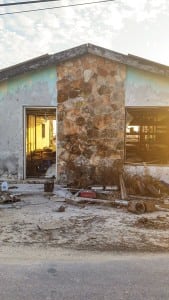 Giving a hand
December is known as a season for giving, so what can the cruising community do to help the southern islands? The best answer is to carry on and bring business to the islands. Cruise down to the southeast and purchase groceries and fuel where available. Eat ashore if there is a restaurant open. Hire a bonefish guide. If you want to get involved, look around to see where help is needed and ask the local people. Offer whatever skills you have, or simply start working alongside someone. Remember also that cash is good.
El Faro
There was loss of life at sea—a reminder of nature's wrath and the importance to be prepared for the worst. The 790-foot cargo ship El Faro ("the lighthouse") went down with all 33 crew members on board in an area near the southeastern Bahamas during Hurricane Joaquin's passage. The nearly 40-year-old El Faro was on its regular run from Jacksonville, Florida, to San Juan, Puerto Rico, when it lost power and began taking on water in heavy seas. It is the worst cargo shipping disaster involving a U.S. flagged vessel in more than 30 years.
Navtours
A good charter company is operating crewed and bareboat charters out of Nassau, Staniel Cay and Great Exuma. Navtours is a French Canadian company with years of experience in the business, and they are the first to offer extensive services in the Exumas. Skipper your own boat, or charter one with a captain, mate and cook.
Charter companies have been operating in the Sea of Abaco for years because it is a safe, enclosed area where visitors can cruise for weeks and anchor in a different location every night. The Exumas are more difficult because there are fewer good harbors in westerly winds, but this island chain is definitely worth it with the support of a good charter company. With the variety of departure and return locations and with its backup and safety services, Navtours provides a wonderful way to enjoy the finest cruising in the Bahamian region. navtours.com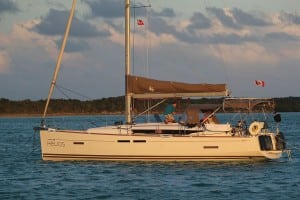 Navigation notes:
There were few aids to navigation that could have been affected by Hurricane Joaquin in the southeast islands none of which are essential. Proceed with caution and call ahead to marinas before making way to storm affected areas.
by Stephen Connett, Southern Boating Magazine, December 2015