Wearable technology keeps your eyes on the horizon, not your instruments.
The recent rise in popularity of wearable technlogy is due to its practical uses and innovative designs. This trend has developed from basic fitness trackers to the emerging market of smart clothing. Wearable technology combines ease of use and functionality to enable individuals to interact with their surroundings to a greater degree than ever before. This technology has moved into the marine market as both corporations and consumers recognize its value as an irreplaceable tool for outdoor activities such as fishing, sailing and coastal cruising. Many options are available that integrate seamlessly with your lifestyle and budget.
Garmin has been at the forefront of marine technologies and an industry pioneer having developed innovate, wearable pieces for more than a decade. Garmin created a strategy aimed at building purpose-driven devices for multiple types of active lifestyles ranging from running to sport fishing. Garmin also supports a variety of third-party app developers, allowing endless permutations on functionality.
An essential component of the Garmin product line is the Garmin Connect™ online community, which not only brings millions of users together but also gives them the tools for fitness tracking and data analysis. This feature fosters a sense of connection that's proven to help individuals quickly reach their personal goals. "We believe that wearable devices enable and enhance a broad range of active lifestyles, and we offer purpose-built devices designed specifically for those lifestyles," says Cliff Pemble, Garmin president and CEO. Garmin branched out even further in the marine market with a line of products geared toward those looking to land a massive billfish or push the boundaries of navigation.
The quatix®3 (MRSP $599.99) is Garmin's next-generation wearable instrument, with capabilities that surpass the average sport watch. "Garmin has been designing wearables for more than a decade, and we're excited to merge feature and design qualities from the fe-nix®3, one of our most popular watches, with marine-centric capabilities for quatix®3," says Dan Bartel, Garmin vice president of worldwide sales. The quatix®3 features user-friendly marine apps that provide data from local tide levels to a fish catch counter—all of these features are available at a glance. This smartwatch designed for the water features sporty construction and excellent GPS tracking. Furthermore, it can stream NMEA 2000 data from any onboard Garmin device. It also has a man overboard button (MOB), which allows the wearer to tag a specific GPS location in the event of an emergency.
Another wearable sport watch, Garmin's epix™ (MRSP $549.99) is designed for easy navigation. It comes loaded with a variety of charts and graphs, which makes navigating lakes and rivers a breeze. You can easily add supplementary maps depending on your final destination. Furthermore, the sport watch's waterproof, durable construction enables it to handle any type of environment, while its low-power display allows the battery charge to last for weeks at a time.
In addition to popular wrist-based models and smart clothing, Garmin's Nautix™ (MRSP $399.99) clips onto most eyewear frames and allows the user to keep important data in their line of sight. It displays key points of critical information such as wind speed, water depth, temperature, and even engine RPM. "The Garmin Nautix™ is another example of our innovative head-mounted display technology that's purpose built and designed for dedicated activities like cruising, fishing or sailing," says Bartel. The Nautix™ allows users to have constant watch on multiple aspects of critical boat data—helpful in many on-the-water situations. Its lightweight design and continual eight-hour battery life allows for enjoyable long-term use.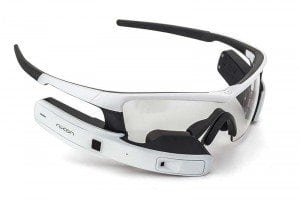 Head-mounted wearables are still in early stages of development, but some companies are already utilizing the technology. Recon Instruments developed the Recon Jet, an eyewear product that allows a number of up-to-date metrics to be displayed on the screen. While the Recon Jet's base model is primarily used for endurance racing and snowboarding, companies such as Afterguard Marine have adapted Recon's technology for the water.
Afterguard and Recon have partnered to create a nautical heads-up display (HUD) that shows your vessel's performance data in your line of sight. The display shows all relevant data and metrics, including boat speed, wind angle and speed, heel angle, and depth. The Afterguard system has been uniquely designed to help sailors dominate their class and win more races. It uses a Central Communications Unit (CCU) that connects to your onboard instruments to manipulate data that is wirelessly sent to the HUD sunglasses. With all relevant information a glance away, decision-making is much quicker keeping you ahead of the competition.
Like Afterguard Marine, Five.K Studios developed its own take on the Recon Jet and created a software called VELA that utilizes Recon Jet's technology to create an HUD sailing application. When paired with a tablet, users share and sync their sailing activities while accessing live data through Recon's eyewear. Sailing routes are easily planned with VELA, which enables its users to check local weather forecasts and engage with others in its online community.
INFORMATION:
afterguard.co
garmin.com
go-vela.com
reconinstruments.com
By Susanna Botkin, Southern Boating Magazine August 2016