One-bowl Boat Feasts
Quick, easy, delicious, and filling meals
Filled with grains or noodles, veggies, and meat, chicken, or fish, one-bowl meals are created to everyone's individual taste and preference. They require little planning, often use up leftovers, and make for easy cleanup. Nowhere is the feast-in-a-bowl more suited than on a boat.
To put one together, start with a base. Add a protein, then veggies or fruit, a sauce, and toppings.
Base: 1 cup
Create a base to your bowl of shredded greens (arugula, spinach, collards, kale, cabbage, endive), or potatoes (hash browns, tater tots, mashed), noodles, rice, or grains (brown rice, bulgur, couscous, polenta, quinoa, farro).
Protein: 1 cup
Think meats, poultry, fish, shellfish, beans, cheese, tofu, and eggs.
Veggies and Fruits: ¼ cup each
Consider various flavors and textures, like sweet peas, carrots, beets, corn, winter squash; savory mushrooms, tomatoes, onions, peppers; soft avocados; chewy dried fruit or tart fresh berries, sliced stone fruit; crunchy apples, pears, celery, fennel, summer squash; sour and salty pickles, olives.
Sauces: 1-2 teaspoons each
Tart vinaigrette; spicy hot sauces, salsas; fresh herbal pestos, chimichurri or charmoula; creamy or cheesy sauces, mayonnaise, aioli, sour cream, yogurt; sweet, salty, and spicy Asian sauces; tomato sauce.
Crunchy/Crispy Toppings:
1-2 teaspoons each
Roasted nuts, seeds, croutons, bread crumbs, crumbled crackers, potato chip crumbs, bacon bits, tortillas or wonton strips.
Bowl Ideas:
Hot Potato and Egg Breakfast Bowl
Warmed tater tots or hash browns, topped with sautéed chopped ham, sausage, or bacon, sautéed onions and peppers topped with a sunny-side up egg, sprinkled with toasted bread crumbs.
Cold, Crunchy, Creamy Breakfast Bowl
Granola or muesli or Grape-Nuts topped with yogurt or cottage cheese, chopped fresh or dried fruit, salted seeds, and a drizzle of honey or maple syrup.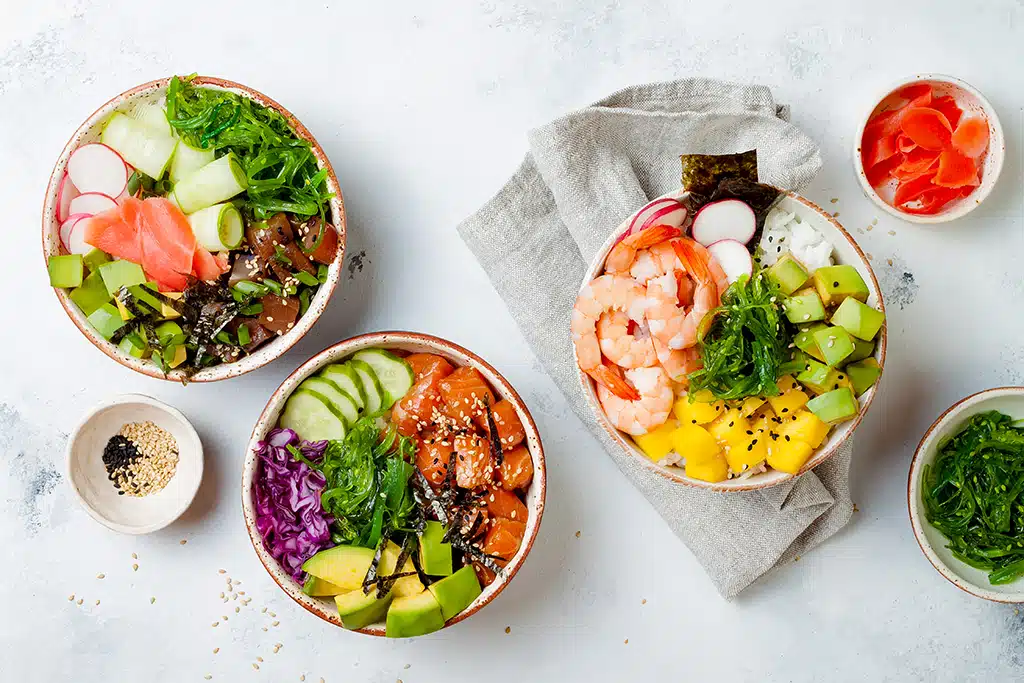 Hot Tex/Mex Lunch or Dinner Bowl
Warm rice, cool shredded lettuce, hot taco beef or chicken, shredded cheese, chopped tomatoes, peppers, onions, sliced avocado, cilantro, salsa, sour cream, hot sauce, and crumbled tortilla chips.
Cool Greek Chicken Lunch or Dinner Bowl
Lettuce topped with cooked pasta, grains, or rice, then chicken, chopped cucumbers, cherry tomatoes, and onions; drizzled with dressing of lemon juice, oil, garlic; and finished with black olives, pickled peppers, a dollop of hummus or yogurt, and feta cheese.
— by Lori Ross