A power-to-weight ratio champion
Power-to-weight ratio is a key factor in boat performance. Lighter boats need less horsepower to run properly, which saves fuel, reduces emissions and lowers the cost of ownership.
The new Volvo Penta 5.3-liter V8 gasoline engine is a perfect example of a lighter weight powerplant that produces the same horsepower as previous heavier engines. General Motors cranks out more than 4,500 of these Gen V aluminum engine blocks per day at its North American manufacturing plants, and although most end up in cars and trucks, Volvo Penta's marine division gets its share and marinizes the blocks at its plant in Lexington, Tennessee.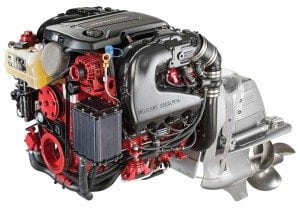 The new Volvo Penta 300-hp 5.3-liter V8 weighs 119 pounds less than the previous engine, which results in a 15 percent improvement in power-to-weight ratio. That weight savings and performance upgrades are a result of a host of design advances, most notably the new lightweight aluminum block versus the old, cast iron block and viable valve timing over fixed-cam timing.
In addition, direct fuel injection replaces multi-port fuel injection, and that precisely mixes air and fuel to provide faster acceleration, more stable rpms, improved low-end torque, and up to 8 percent better fuel efficiency. "We are establishing a new industry benchmark for acceleration, speed, weight-to-power ratio, fuel economy, emissions reduction, and proven reliability," explained Ron Huibers, president of Volvo Penta of the Americas, at the 2015 Fort Lauderdale International Boat Show, where the new V8 was introduced. "Our new engines are going to power highly efficient cruising boats as well as some exciting new boats. We're out to make boating more fun and easier for today's families to discover the joy of being on the water."
Huibers pointed directly to Regal's new 2100 RX Surf boat, a 21-footer that is powered by the new 300-hp V8 and mated to Volvo Penta's new Forward Drive system. The Forward Drive is like a mini IPS setup and safer for watersports because the DuoProp propellers are under the boat—more than two feet farther forward than a conventional sterndrive.
As opposed to a fixed inboard, the Forward Drive's variable trim easily adjusts upward to enhance watersports action, cruising or docking. Another benefit with the Forward Drive is that exhaust and noise are greatly reduced because everything is under water.
"It's amazing how much people love the sport of wakesurfing, and that's where the new V8 and the Forward Drive are really good," said Huibers, a watersports enthusiast who learned how to wakesurf over the last year. "If I can do it, anyone can do it. It's like riding an endless wave. You are only five feet from the back of the boat, and when you are done you just jump off."
Regal's 2100 RX Surf is built for watersports, and offers comfortable seats, a premium sound system and large aft swim platform for getting on and off the boat. "Volvo Penta delivered a leading edge power package that will enhance our product," said Duane Kuck, president and CEO of Regal Marine.
"Our new V8 and V6 engines also incorporate our tried-and-true rpm-based speed control, which automatically maintains speed," Huibers said. "That's a big plus for watersports. Volvo Penta was the first to pioneer rpm-based speed control back in 2008 and standardized it across our sterndrives in 2010."
Another benefit for consumers and marine service centers is the standardization of all the maintenance across the V8 and V6 line. Common parts and service points have reduced the number of parts that dealers need to carry, and also simplified service and maintenance. The V8 is the big brother engine to the lineup of V6 4.3-liter Gen V engines offered in the 200-, 240- and 280-horsepower range that were introduced at the 2015 Miami Boat Show. Also, Huibers said a 6.2-liter V8 will be introduced in 2016, which will finish off the new lineup.
Manufacturers offering the new Volvo Penta engines on new models include Chaparral, Chris Craft, Cobalt, Cutwater Boats, Formula, Four Winns, Monterey, Regal, and Stingray. For example, the all-new Cutwater 24 is powered by the Volvo Penta V6 240-horsepower engine, and runs to 32 knots. "That's fast and efficient," Huibers said. "And all these engines run on 87-octane gasoline, which is convenient for the customer."
Other improvements to both the V8 and V6 include standard closed cooling for more consistent internal temperature. That's a big benefit to boat owners who want to tube, wakesurf, wakeboard, and waterski in salt water. The closed-cooling system means internal engine parts won't be subjected to the corrosive effects of raw water.
"With more than 1.3 million Gen V engines in operation, customers are getting proven quality, reliability and long life," Huibers said. "This gives unprecedented economy of scale and enables us to introduce new technologies that have never before been available in the marine industry at an affordable price."
— By Doug Thompson, Southern Boating Magazine February 2016  
INFORMATION:
volvopenta.com