Choose the perfect fit for your boat.
Choosing the perfect marine antenna is just as important as buying the best speakers you can afford for an expensive stereo. If you buy a cheap pair of speakers, even the finest entertainment system won't sound very good. The same is true for a marine antenna. Purchase and install a high-quality VHF radio and equip it with a low-end antenna, and you are likely to be disappointed in the performance. In fact, antenna and VHF radio quality may be equally important. In addition, because cellphone and Wi-Fi service has become so crucial for boating enthusiasts in the last 10 years, combination antennas that can do triple duty with GPS, cellular and Wi-Fi signals are more popular than ever.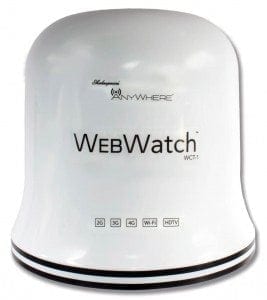 A lot of innovation is coming out of Shakespeare, a 100-year-old company that has been manufacturing VHF antennas since the 1950s. Back in the 1960s, Shakespeare pioneered low-angle radiation techniques and built it into its marine antennas, so today's VHF antennas fade less and have the greatest maximum range.
Shakespeare marine antenna sales manager Chris Catoe says antennas fall into "good," "better" and "best" categories. Boat owners may make a big mistake by choosing a less-expensive VHF antenna in order to save a few dollars. For example, a good antenna may cost around $50, while the best antenna from Shakespeare costs $200. "The technical aspect of VHF antennas has not changed because it's all physics," said Catoe, who has worked for Shakespeare for 25 years. "It is line-of-sight communication, so the higher the antenna is located on the boat, the better. That's the best tip we can give people. Now, what have changed are the materials to build the antennas," Catoe continued. "Coaxial cable is much cheaper than brass and copper tubing, but brass and copper tubing is a much better conductor than coax. It's still the same adage: You get what you pay for."
Catoe said that everything in the good category is in Shakespeare's Classic Series. "These antennas are for boating close to shore, to listen in to the weather and to chat with a buddy," Catoe said. "Our better antennas are in the Galaxy Series and our best antennas are in the Phase III series." The Galaxy Series features a more rugged finish for durability, while the Phase III Series is a truly commercial product that is for the hardcore angler. Phase III VHF, cellular, VHF-AIS, SSB, and AM/FM antennas have silver-plated elements that actually improve with age. These antennas also feature a stranded, high-quality, tinned copper, inner conductor that maximizes signal strength. "We have put an emphasis on innovation," Catoe said. "The ways people communicate through cellphones and Wi-Fi is important on boats. Customers are demanding that connectivity."
Catoe says the new JellyFish JF-3 Galaxy Multi-Band Antenna delivers that connectivity. "It looks like a jellyfish with the leads coming off," he adds. "It's really for smaller boats where real estate is limited as far as installation but where the boat captain and passengers have the need for a lot of electronic communication." The JellyFish is an omni-directional, IP67 waterproof antenna that delivers GPS/2G/3G/4G/Wi-Fi in a compact package. The Wi-Fi functions include 802.11abgn and emerging 802.11ac. The antenna has its own ground-plane and can radiate on any mounting surface such as metal, plastic or fiberglass without affecting performance.
Among other novelties are the Shakespeare QuickConnect Antennas that allow for upgrading a VHF antenna from three to eight feet easily. "It's like an erector set for antennas," Catoe said. "For trailering or winterizing it also makes it very easy to disassemble and then re-assemble when it is time to go boating again."
Boat owners who enjoy satellite radio on board will want to look at the new Shakespeare antenna approved for SiriusXM service. "We combined our SiriusXM inshore and offshore antennas into one product," Catoe said. "It can be mounted four different ways, which will greatly help in installation on all different types of boat. This new Shakespeare antenna is the only antenna approved for the new SiriusXM system coming out."
Finally, Shakespeare's WebWatch System combines Wi-Fi, cellular and HDTV into one dome antenna. While the HDTV signal is hardwired throughout the boat, the Wi-Fi and cellular bands feature smart switching, meaning that the antenna looks for a Wi-Fi signal first. If it cannot find Wi-Fi, it will seamlessly switch to cellular. Switching can be done manually as well with an app Shakespeare offers. "Innovation has always been a part of the Shakespeare DNA," Catoe said. "Two years ago we decided to get reinvigorated with innovation. People want all kinds of entertainment on the water, and that is what we are focusing on."
— By Doug Thompson, Southern Boating Magazine February 2016
Information:  
shakespeare-ce.com/marine