Electrically Charged
Vision Marine Technologies introduces E-Motion
By Bonnie Schultz – Southern Boating
With the popularity of electric boats on the rise, Vision Marine Technologies is making waves in the marine industry with the new E-Motion 180E electric outboard. Dubbed "the world's most powerful electric outboard," the E-Motion 180E is the flagship of the Canadian-based company who wanted to create an engine to meet the demand for power and sustainability that would appeal to a new generation of environmentally conscious boaters.
"We finally achieved the balance we sought between power, functionality, and autonomy," said Alexandre Mongeon, CEO and co-founder of Vision Marine Technologies. "Our engine has surpassed our expectations in every aspect."
The 100 percent electric E-Motion 180E can be fitted to any boats from 18 feet to 26 feet that use a 180-hp outboard gas engine. Powered by a 60-kWh lithium battery, the 180-hp, 650-volt engine will provide an estimated range of 70 nautical miles at a cruising speed of 20 mph for three-and-a-half hours, depending on the type of boat its operating. The company offers a two-year warranty on the motor.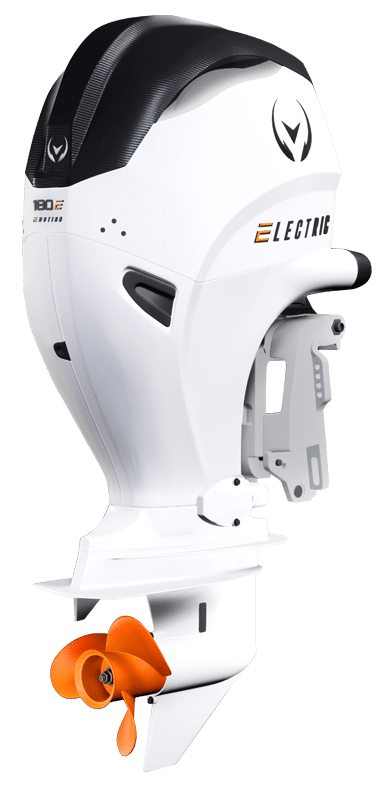 Vision Marine's goal is to reduce the carbon footprint without compromising the boater's experience on the water. The electric outboard offers greater fuel efficiency and produces zero emissions, noise, odor, or smoke. Therefore, the eco-friendly motor is not polluting the water or the air while giving passengers a quiet and pleasurable ride.
The company says the technologically advanced electric outboard results in a 90 percent reduction in fuel and maintenance costs compared to gasoline outboards. Less maintenance is needed than with traditional combustion engines as it has significantly fewer moving parts and does not require gasket changes, oil changes, carburetor cleaning, or other costly upkeep. When the battery is low, the E-Motion 180E can easily recharge overnight by plugging into a 220-volt power outlet at any marina or dock.
Vision Marine is taking pre-orders for the E-Motion 180E on its website. The first production units will be available for delivery later this year. visionmarinetechnologies.com