C32B Tier 3 Recreational High Performance Propulsion
It's said that more horsepower equals more speed, and Caterpillar Marine's new Cat C32B high-performance, 2,000-hp marine engine has a five percent power increase over existing C32 ratings. Add to that just a two percent increase in weight, and the C32B delivers more muscle in the same package.
Why is that good news? Anyone, especially those like sportfishermen, who wants more power out of their engines, can now run at wide-open throttle, the full 2,000 horsepower, as much as eight percent of the time, about three percent longer than the closest competitor. Talk about getting out to the fishing grounds faster.
Drop In and Go
The C32B is designed as a drop-in replacement to make upgrading your engine from a 1,800 bhp or 1,899 bhp simple as it will fit into the same space in the engine room. It has a similar look and most of the same connection points and footprint as the current C32 engine. It also carries the same emissions certifications and high-performance ratings, including EPA Tier 3 Recreational and IMO II.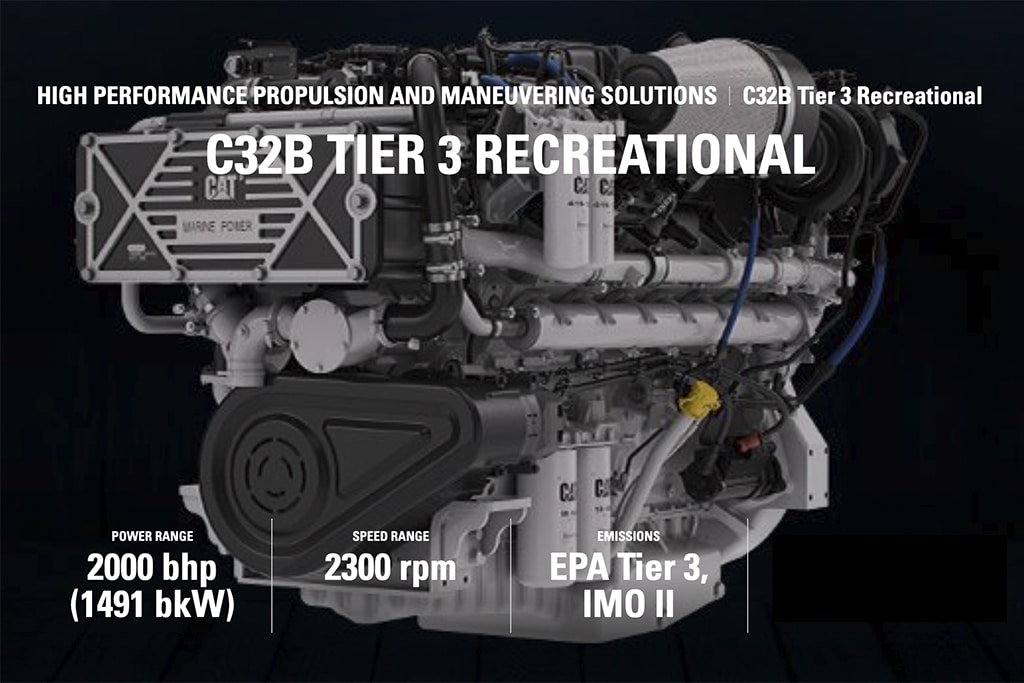 New Advances
The American-made engine is all new from the block up, but built on the reliable C32 platform and tested for more than 30,000 hours. Not only can you run longer at a higher horsepower, noise levels have been reduced so you can actually carry on a conversation on deck. Even at full throttle, the engine is 25 percent quieter than its predecessor under low-speed conditions. Similar to common rail fuel systems, the C32B's advanced unit injection fuel system fires multiple fuel injections per power stroke to not only help reduce noise, but also to diminish vibration from combustion.
"We're very excited to offer our customers more power with the C32B engine, while also helping to reduce engine noise and continuing to provide excellent engine performance and reliability," says Allen Bowman, marine product strategy engineer for Caterpillar Marine. "The C32B will provide expanded opportunities for our customers for new builds and repower options, which is generating excitement about the future of the C32B and what it will bring to the market."
Beyond the power density improvement, additional benefits include updated electronics, such as the Advanced Diesel Engine Management 6 electronic control module, and redundancy. A failed high-pressure fuel pump renders a common rail system inoperable, but with unit injection, the engine can still bring the boat home if an injector fails.
Reliable and Powerful
The company points out that as engines get more powerful, keeping the system clean becomes more important. The C32B incorporates ultra-high efficiency plus filters to keep out contamination so components last longer. With regular maintenance and fluid samples, the engine can run up to 500 hours before an oil change. More time for fishing, right? The engine also comes with an unlimited-hour protection warranty for the first two years with extended service coverage for the next three. After five years and a certified Caterpillar inspection, an additional five-year extended service coverage begins. That should give you some assurance that this is a reliable, more powerful engine. Don't let the bragging rights go to someone else. Got horses?
Specifications
Power range: 2,000 bhp (1,491 bkW)
Speed range: 2,300 rpm
Emissions: EPA Tier 3, IMO II
Bore/Stroke: 5.71/6.38 in.
Displacement: 1,959 in3
—
By Steve Davis, Southern Boating December 2020