Say the word Bahamas and what comes to mind? Many will picture big marlin or gin-clear waters or sugary beaches, or simply sitting in the cockpit enjoying a warm trade wind while sipping an icy rum punch.
Me? My mind must work differently because I think of conch. Magnificent, tender, succulent, perfectly prepared conch. When "She Who Must Be Obeyed" and I first moved to Florida, we immediately went on our quest for the best conch. Then we went to the Bahamas. We were, quite literally, in conch heaven. Fritters, salads, burgers, no one has more ways to prepare this delicacy than Bahamian chefs.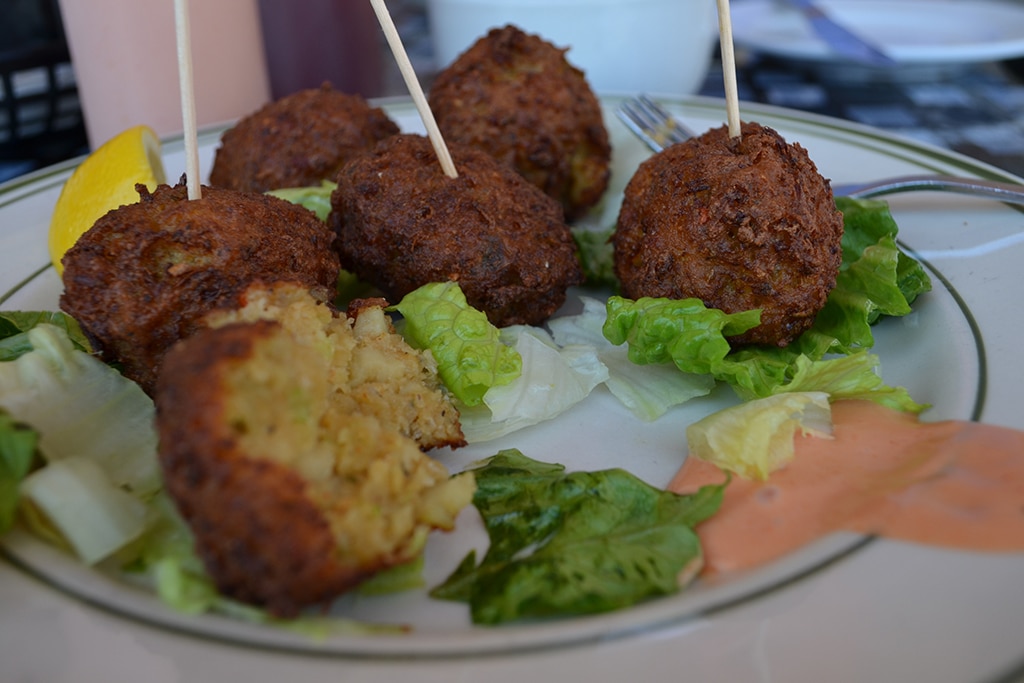 Conch Fritters 
This is the go-to starting point for any conch quest, and one that you'll find on the menu of every hole-in-the-wall cookery in the islands. Want to start a fight on the docks? Ask a couple of locals who makes the best conch fritters, and you'll get enough suggestions to last a month of taste testing.
Fritters are deep-fried and battered balls of conch, but that point is where the chefs get inventive.  You can find them made with various "mystery" seasonings, onions, peppers, and cheese. Some chefs make them with hot goat pepper, different hot sauces, and sea salt.
Big D's Conch Spot on Great Exuma is a reason that many conch lovers head directly to this island. Big D and his daughter have been creating amazing fritters for years.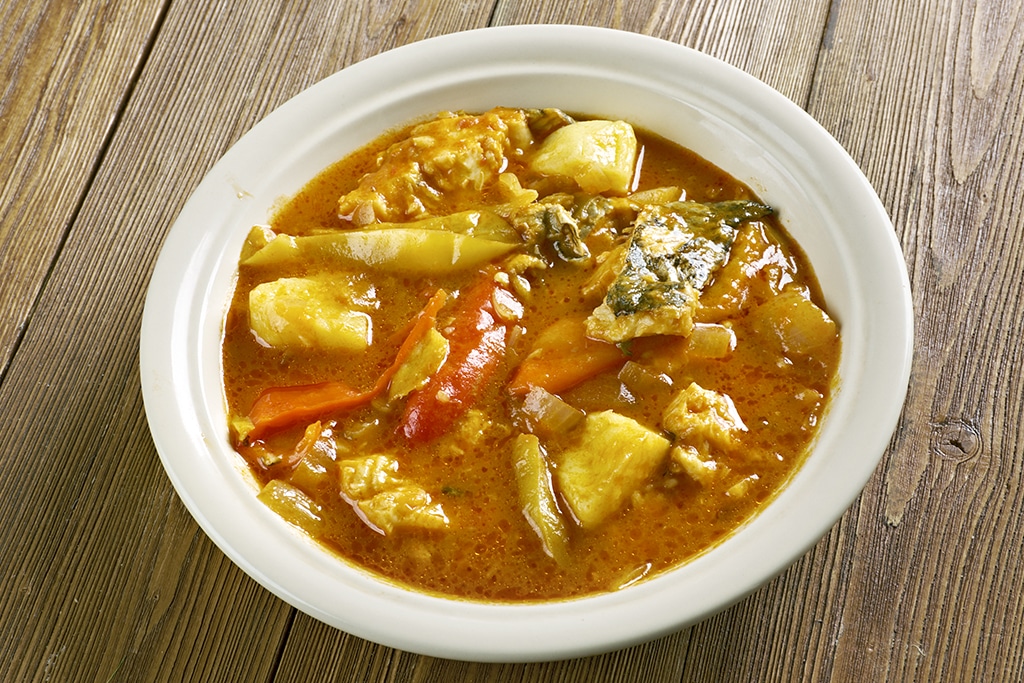 Conch Chowder
This is as popular as fritters and just as easy to find because every island chef has their own recipe. First, as with anything conch, the chef has to beat the bejesus out of it to make it tender.  At that point, chowder starts with small chunks of conch, diced tomatoes, onions, minced garlic, celery, and a dash of lemon juice. From there, conch chowder goes off in all directions: carrots, bell peppers, bacon, white wine, lime juice, and, of course, salt and pepper.
Weirdly enough, a Greek restaurant is often cited as having the best conch chowder, but don't forget Greeks came to the Bahamas a century ago to harvest sponges. Just off Bay Street in Nassau, Athena Café offers a Mediterranean take on this chowder. Not inexpensive (it's close to the cruise ship docks), it draws yachties and casino denizens in equal measures.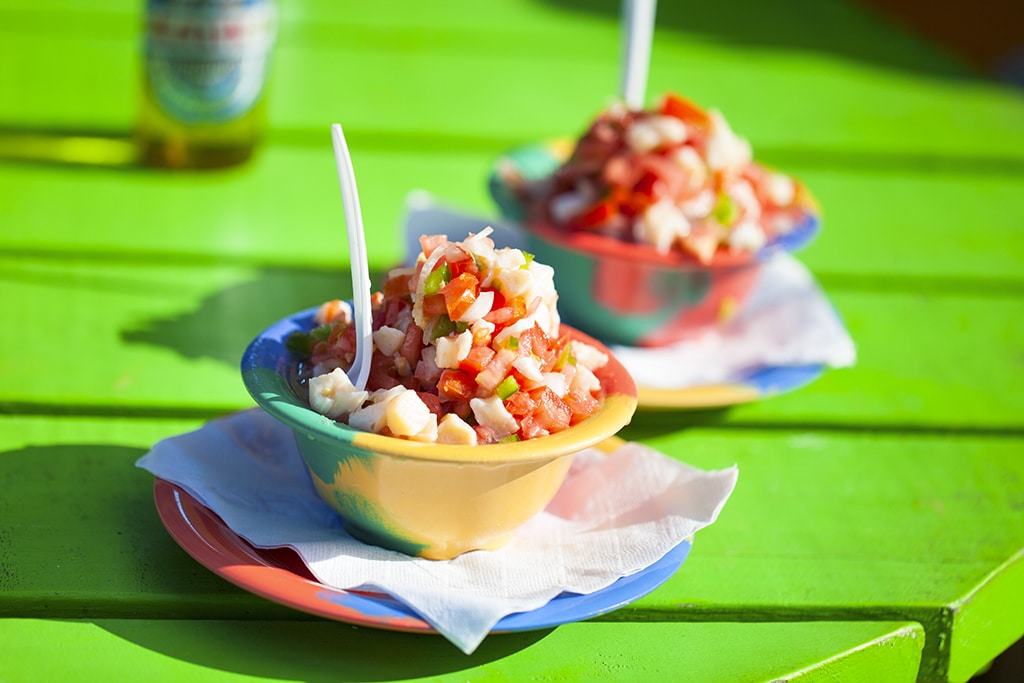 Conch Salad
This tasty salad, served in a bowl to contain all the ingredients, is an explosion of citrus flavors and diced veggies along with white conch meat. A fresh bowl of conch salad is the comfort food for Bahamians. It combines as much as a pound of conch meat, lime and lemon juices, diced onions, bell peppers, tomatoes, and, for a little bite, perhaps some diced habañero chile peppers.
With a Bahamas-wide reputation, Queen Conch on Bay Street in Dunmore Town on Harbour Island is the go-to for conch salad. Just off the ferry landing, they throw in chopped mango, green apple, and, upon your carefully considered request, chopped jalapeños. You'll need at least a couple of icy Kaliks if you choose the hot alternative.
Conch Burgers
This is so far from a Big Mac that you may have to study it for a moment before you dive in. The starting point for some of these is a six- to eight-ounce slab of tender conch, while others grind up the conch just like a real burger. For those grinding the conch, you can expect celery, lime juice, garlic powder, and red peppers thrown into the mix. Either way, you can order this exactly like an American burger, adding cheese, raw onion, and lettuce, topped with a mystery sauce held sacred by the chef.
Aside from tender conch, the most important ingredient is Bahamian bread to hold it all together.  Thick and flavorful, ask the chef to lightly grill the inside of the bread for a little crunch.
Ma Ruby's in Dunmore Town on Harbour Island is recommended by sportfishing captains and cruising skippers hands down. Chef Mike, who has been flipping conch burgers there for a quarter of a century, will come out and chat with you about how to make your burger memorable.

Cracked Conch
This is the only version of conch that you can eat at a linen-topped table in a four-star restaurant or wrapped in paper and munching on it while walking the docks.
The starting point is "cracking" the conch which, in island terms, means tenderizing it by pounding with a meat mallet or, more often, the frying pan preferred by island chefs. Then it's seasoned, breaded, battered, and deep-fried to create a Bahamian version of the British fish-and-chips. Think long conch nuggets with either a delicious dip like a tartar sauce or fresh lime juice.
You don't have to pay the high-ticket for fine dining at the Graycliff Restaurant in Nassau because they have a casual outdoor eatery on West Hill Street called Chillin'. If you're on Bimini, a good stop is CJ's Deli on Queens Road, a hidden gem popular among fishing guides in a nondescript building on the oceanside down from Brown's Marina near Radio Beach—paper plates, outdoor dining, yummy!
By Chris Caswell, Southern Boating December 2020