Volvo Penta's popular pod drive is going green with a Hybrid IPS.
Eco-conscious captains might feel fuel is flowing foolishly when throwing down the throttles to quickly get to running speeds. It's called "the holeshot" in performance boating—a measure of the time and effort to go from zero mph to get on plane or reach cruise speed. As the engines gulp fuel, the thought of all those petrol dollars being burned out the exhaust pipes can be nauseating.
Based on its battle-tested, highly successful pod propulsion Inboard Performance System (IPS), Volvo Penta takes the next step with a hybrid concept that might be the alternative to all that foolish fuel consumption. Hybrid concepts have been kicking around for years—Northern Lights launched its Hybrid Marine System in 2011—but the knowledge from Volvo Penta's IPS system gives the company a step forward in hybrid propulsion design and their goal to provide electric power solutions by 2021.
"Our hybrid IPS system is currently designed for boats from thirty-five feet up to one hundred twenty feet," says Niklas Thulin, Volvo Penta's director of electromobility. "The IPS hybrid system is planned initially for the eight- to thirteen-liter engine range, suitable for powering vessels such as ferries, pilot and supply boats as well as yachts. It will be similar to the traditional Volvo Penta IPS installations with two to four individual drivelines (engine/electric motor/pod)."
More Flexibility
A recent Volvo Penta press release detailed how a hybrid provides a flexible solution that maintains the high efficiency offered by the hybrid IPS system and adds the ability to run in zero-emission environments. With full torque from the electric motor available instantly, the boat will maintain responsiveness and controllability and provide a more efficient holeshot using electric power as well as the ability to run at 10 to 12 knots in electric-only mode.
The new hybrid configuration allows boats to operate in low and zero emission zones expected to go into effect around the world in the coming years. The hybrid also brings additional benefits, such as lower noise levels, vibrations and running costs.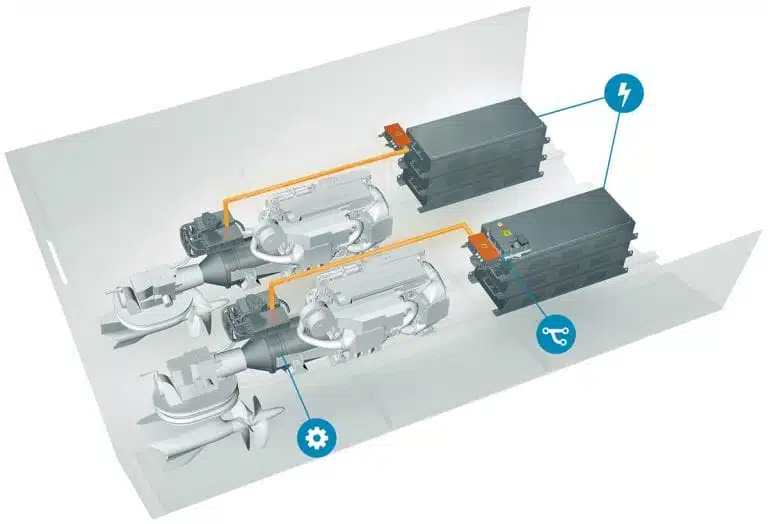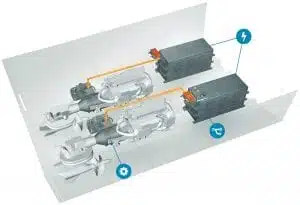 The hybrid IPS concept design features a clutch and electric motor added between the engine and the IPS pod. The boat runs in an electric-only mode with the clutch open and with the clutch closed, the boat uses diesel and electric power in parallel. The captain selects the desired drive mode through the familiar IPS system control interface.
"The electric motor can provide more torque than the combustion engine at low rpm, which makes it very useful at maneuvering and low speeds," says Thulin. "The combustion engine will have more power at higher speeds and, therefore, be the main power source from half to full speed."
Electric-Only
The electric motor is supported by Li-ion battery packs that are charged by either external AC or DC chargers or through the primary diesel engine. The battery packs are modular in nature and allow owners to customize their design and performance whether for commercial or recreational use.
Electric-only cruising is extended with more battery capacity, and frequent external charging allows for the use of a smaller diesel engine to lower fuel costs. Service costs are lowered as well with the effectively maintenance-free batteries and fewer operating hours on the diesel engine. Volvo Penta will continue to support customers in tailoring a prop-to-helm configuration based on the specific application needs.
"Our solutions will be based on proven technology within the Volvo Group based on more than ten years of development of electrified solutions," adds Thulin. "With the deep application knowledge, the solutions will be fit for a purpose and adapted to customer needs…. We've also got a great team of naval architects that are able to analyze precisely what energy content is necessary to move a vessel with a given hull at a certain speed."
The parallel hybrid IPS system is in the early stage of development. It's being validated at the company's test center in Gothenburg, Sweden. A test boat is planned for sea trials in early 2020. Customer input will play an important role in the development of the system, which is expected to reach the commercial market in 2021, followed by a leisure boat option soon after. Volvo Penta's commitment to offer customers flexible technical solutions will evolve this system into more hybrid technologies and all-electric drive variations.
By Doug Thompson, Southern Boating December 2018