Kahlenberg's new electronic horn raises the bar.
The last thing you need when pulling someone else's yacht out into the fairway of an unfamiliar, and oftentimes busy, marina is to have the horn fail. In this case, the yacht was headed in, so when I pressed the horn switch at the lower helm to indicate that I was maneuvering astern and nothing happened, there was only a moment to spare.
Fortunately, I'd sent my mate aft with a rechargeable air horn and, with a quick handheld radio hail from me, he provided the requisite three short blasts after a quick look up and down the fairway. I thanked our lucky stars for portable safety gear—signal horns and handheld VHF radios in this case. "Not a Kahlenberg," I thought out loud.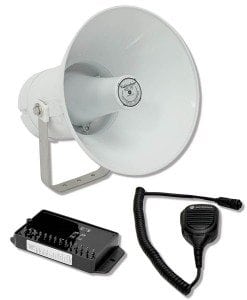 Signal horns and hailing devices may be the most overlooked safety systems aboard yachts these days. In the 12- to 20-meter category (40 to 65 feet), if you didn't have a working USCG/IMO-approved horn and a working radio/hailer, you were out of compliance.
The gold standard in air horns for yachts worthy of the name has long been Kahlenberg. The Two Rivers, Wisconsin-based company has been a trusted source for the highest quality sound signaling gear on every kind of ship, from a large family cruiser to an aircraft carrier, for 120 years. Manufactured in the USA to the highest standards, Kahlenberg has earned, and continues to earn, accolades for longevity and reliability.
Recently, the company married their signaling expertise to offer a combined electronic horn and hailing system that is USCG-type approved for all types of vessels up to 20 meters in length. The Kahlenberg KB-15 is based on an in-or-under console-mounted black box control module, a console-mounted speaker/microphone, and a high-output marine duty speaker which can mount in a variety of locations. It is available for 12-volt and 24-volt direct current (DC) electrical systems, and consumes 30 watts.
There's a momentary push button for the horn signal, and the speaker/mike lets the helmsman hail and listen to responses, the so-called "talk-back" function, from crewmen on deck, nearby boats or dock crews. And the horn features a polyamide horn and driver, finished in Matterhorn White, with stainless steel bracket and fasteners—all designed to withstand the rigors of the marine environment.
An unexpected and sometimes guilty pleasure—if used without regard for the ears of nearby boat owners—is the feature that lets you select from a long list of horn sounds available on the Kahlenberg Mobile App. It might be less than sporting to let rip the sound of an aircraft carrier's signal horn when entering a quiet anchorage, for example.
One of the best new accessories Kahlenberg has introduced recently is the M-512 Signal Controller and Fog Signal Timer. According to Kahlenberg, it "significantly improves safety by producing automatic sound and light signals for navigation as required by the USCG, IMO and SOLAS" regulations, as they pertain to various ships and yachts.
The M-512 is illuminated and dimmable, and can be linked to your sound or light signal system, or any additional external push buttons, in multiple locations. Its capabilities include automatic or at-will control for up to two horns and/or Morse lights.
One touch simplicity is part of its user interface. Dedicated buttons for automatically producing maneuvering signals, including one for "altering to starboard," two for "altering to port," three for "moving astern," and five for "danger," are plainly displayed for ease of selection and use. There is also a control for automated fog signals used for restricted visibility (fog), that will sound the appropriate horn signals at your choice of every 40, 60, 90, and 120 seconds. Should you wish to override the convenience of having the switch make these signals for you, there is an "At Will" button on the upper row to let you signal manually. Similarly, there is an automatic and manual control for Morse lights, per IMO regulations.
"The KB-15 is available in a few different versions," said Erick Kahlenberg, one of the two grandsons of the founder, still very much involved in the company, "but I imagine for your readers the KB-15W BLUETOOTH, (white version with Bluetooth capability) is most interesting. Retail for that version is $870.00. The M-512 Control is $901 list, but we also have a smaller timer probably more suited for the KB-15 which is M-485A, $235.00 retail."
It very well may be that you want the traditional Kahlenberg horns to grace your yacht, and multiple varieties for ships and yachts of every size are available at kahlenberg.com. Whichever you decide is right for your yacht, expect the best. That's what the company continues to deliver, which is requisite from a marine industry icon.
— By John Wooldridge, Southern Boating Magazine May 2016