Watermakers take seawater and make it clean.
Carrying hundreds of gallons of freshwater aboard your boat on long cruises is a weighty concern, yet having plenty of clean, freshwater in remote locales is crucial, while filling up with the local water at a foreign port can be a cringe-worthy act.
Here's where onboard watermakers turn the ocean into your reservoir, and raw seawater into drinkable freshwater. Processes have improved, equipment has become smaller and prices have dropped since coming onto the marine market in the late 1980s. Whether or not you need a watermaker depends on your boating activities. If you rarely stray from ports where freshwater is available, then the need for a watermaker is small. But if you are out for days at a time or cruising to foreign ports, then a watermaker is a necessity. At 8.35 pounds per gallon, water is heavy, and most long-range cruisers save fuel by starting with minimal water in the holding tanks. After the long cruise, the generator is turned on and the watermaker starts working, making freshwater.
Watermakers use a series of pumps, filters and membranes to turn raw seawater into freshwater. The process, reverse osmosis, is the same process used on a large scale at desalination plants. At the heart of the process is the membrane, a filter with pores the size of a red blood cell. After the larger particles in seawater are filtered out, the high-pressure pump forces water through the membrane removing almost all of the dissolved solids. This method rejects up to 99 percent of salts, contaminates and pollutants from seawater.
Heat and standing seawater is the ideal environment for biological growth—the bugaboo for watermakers—that can affect water quality. In the past keeping biologicals from growing involved flushing the system with acidic chemicals. Today freshwater flushing keeps the membranes clean and greatly reduces maintenance.
Most boats 40′ and longer will use watermakers run with AC-powered pumps, however DC-powered watermakers are used on smaller power boats and sailboats. AC-powered systems deliver a more constant flow rate and higher pressure over a longer period of time, while DC systems are for boats with less demand and smaller tanks.
Here's a look at watermakers built for cruising boats 40′ to 80′ LOA from five U.S. manufacturers. (Watermakers cost $12,000 per unit or more depending on features.)
Watermakers, Inc.
The WMS-1000 offers commercial duty endurance and user-friendly design in a modular package meant for rugged reliability and ease of maintenance. Producing 1,080 GPD, the WMS-1000 provides ample water for most cruisers. Salinity monitors and an automatic product diverter ensure only drinking-quality water is produced, and a large LED display gives an exact parts per million readout taking the guesswork out of the water quality being produced. The WMS-1000 is available as an automatic, remote panel-operated system, or as a manually operated system. The WMS-1000 uses no proprietary parts, allowing the owner to find replacement filters, oil and parts virtually anywhere in the world. watermakers.com
Dometic Sea Xchange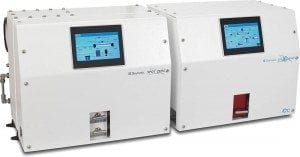 The Sea Xchange XTC offers fully automatic pressure regulation and is controlled by a 7" touchscreen that meets the NEMA 4X rating to ensure resistance to corrosion and water. Available in outputs from 600 to 2,200 GPD, the XTC features true one-touch operation. The programmable logic control (PLC) software monitors and regulates all system functions without operator intervention. The XTC Series also provides remote access via smartphone, tablet or computer using Dometic's embedded Smart Touch Integrated Intelligence Control (STIIC) software. This allows for monitoring the system and troubleshooting problems via a free app. The XTC Series uses a 316 stainless-steel high-pressure pump and boost pump motor shaft. Additional features include automatic freshwater flush and seawater membranes. spotzerowater.com
Blue Water Desalination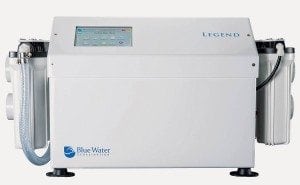 Blue Water's Legend series is designed for fully automatic operation for vessels 50' to 90' with capacities ranging from 480 to 1,872 GPD (gallons per day). Featuring a 7" color touchscreen it provides an intuitive interface and NMEA 2000 compatibility. The main screen allows for one-touch start and stop functions, while the proprietary software continuously monitors and adjusts the system to maximize water production and quality. The Legend series units use a compact frame or modular configuration and come complete with a freshwater flush system, stainless-steel-shafted booster pump, product water carbon filter, and an installation kit. bluewaterdesalination.com
FCI Watermakers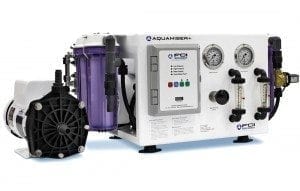 The Aquamiser+ Series offers programmable settings and remote display capability through an advanced control system. With outputs of 250 to 1,800 GPD, this series provides the safety and controls needed to operate both dependably and efficiently. The Aquamiser+ is available in framed and modular configurations to be utilized in tight spaces and bulkheads. However, despite its small size, the expansive controls include a fully automatic freshwater-flush system for unattended maintenance. Scheduled flushes, once a week or more frequently, can help maintain and keep the watermaker ready for the next voyage. A remote display offers system control up to 150 feet away, as well as the monitoring of water quality and adjusting tank-level controls. fciwatermakers.com
Sea Recovery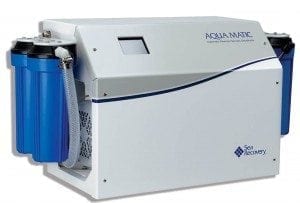 The Aquamatic series has a proven track record of more than 15 years of operation on boats worldwide and reliability is its hallmark. The Aquamatic's automation includes its pressure regulation allowing simplistic one-touch operation from the optional remote controller. The system is smart enough to create the right amount of water needed and turn itself off when it meets the water requirement for the day. Maintenance is also automatic which provides longer lifespan of the watermaker that allows for more time for leisure activities. The Aquamatic is configured in various sizes ranging from 450 to 1,800 GPD in a compact frame or modular design. searecovery.com/marine  
— By Doug Thompson, Southern Boating Magazine May 2016