For faster, more comfortable and more economical boating, equip your vessel with the most advanced power options available.
In addition to boat builders, marine equipment manufacturers—from propulsion to stabilization to desalination—utilize boat shows to debut their new power products.
Some are kept under wraps so manufacturers can launch them with great fanfare and buzz at shows like the Fort Lauderdale International Boat Show. But if you couldn't make it, here is a showcase of some of the latest power products introduced in 2018.
Propulsion
Yamaha V8 XTO Offshore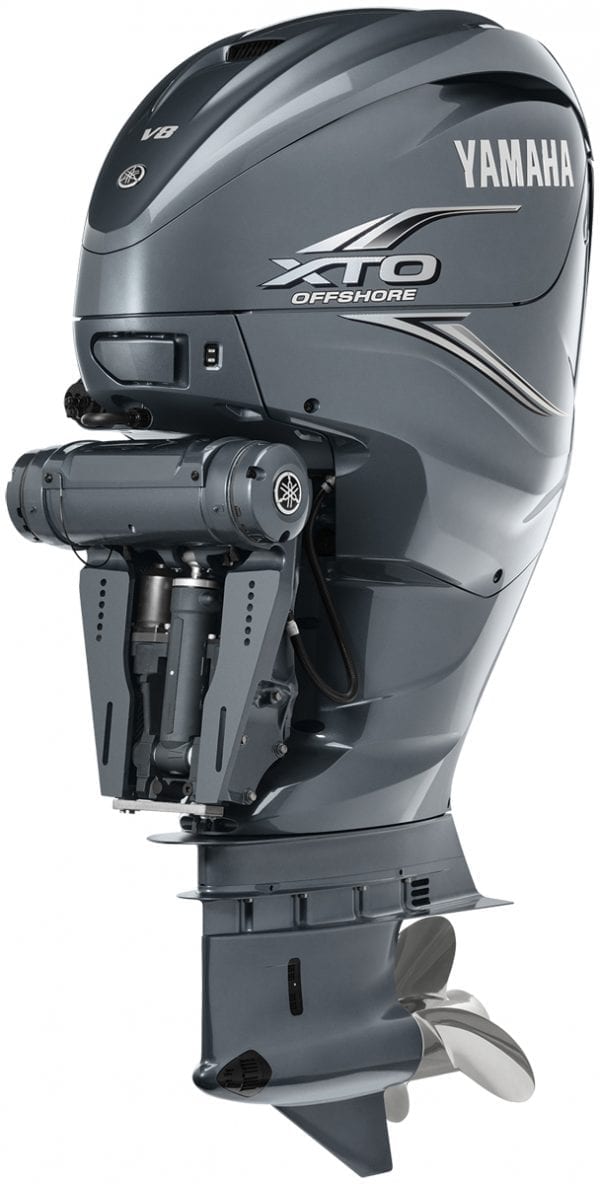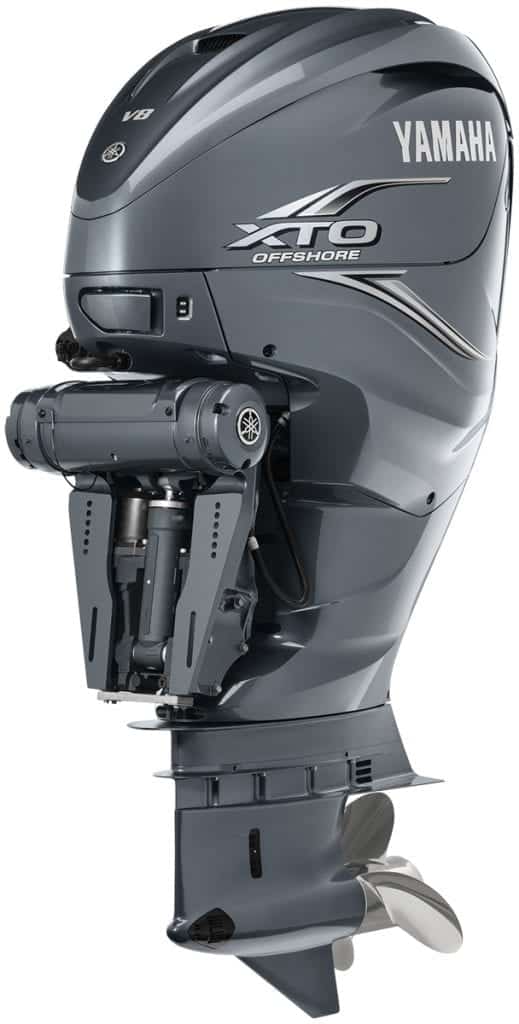 The Yamaha V8 XTO Offshore features a first-of-its-kind electric steering system. Rather than the typical electro-hydraulic setup, the integrated steering system directly moves the outboard to deliver secure, precise and responsive steering that is leak free, consumes less power and with its streamlined rigging, reduces maintenance. The 425-hp, 32-valve, 5.6-liter, four-stroke engine utilizes a direct injection powerhead to maximize power and efficiency, and its three-stage fuel pump system incorporates two independent, rpm-activated fuel pumps to create high injection pressures to maximize atomization. The XTO Offshore is compatible with the Helm Master Setpoint suite of functions that includes the ability to adjust heading and position while in StayPoint, FishPoint or DriftPoint modes, as well as troll below standard in-gear troll, speeds with the new Pattern Shift function. It's also compatible with Yamaha's CL7 7-inch touchscreen display that monitors vital boat functions and performance. yamahaoutboards.com

MAN Engines
MAN Engines introduces the MAN V12-2000, the only twelve-cylinder V engine with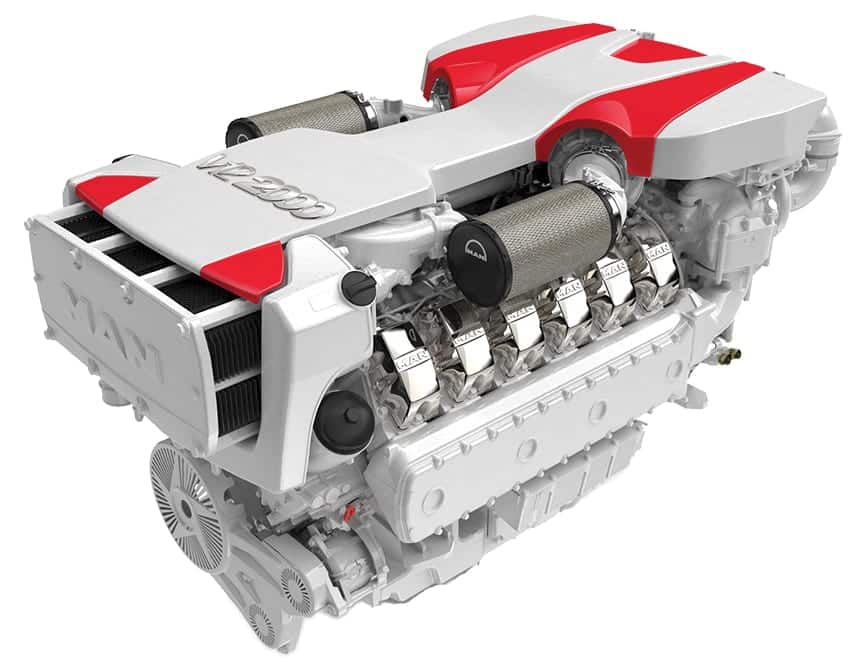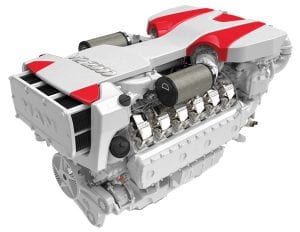 2,000 horsepower (1,471 kW) to date, and the V8-1300 (956 kW), the strongest for yachts and sportfishing boats. The installation dimensions are compact (5'8" L x 3'9" W x 4' H for the V8-1300), and the dry weights of 2,380 kg (V12-2000) and 1,880 kg
(V8-1300) contribute to a lower power/weight ratio. Through a series of modifications,
MAN engineers managed to add 100 horsepower compared to the previous, most powerful V12 and V8 engines from their range. An improved injection system, new turbocharger, newly developed cylinder heads, an adjusted cooling system, and a new crankcase ensures high performance throughout the engine's long service. The engines run quietly and with low fuel consumption. Both engines meet the currently applicable emissions requirements U.S. EPA Tier 3 as well as IMO Tier II. engines.man.eu
Mercury Marine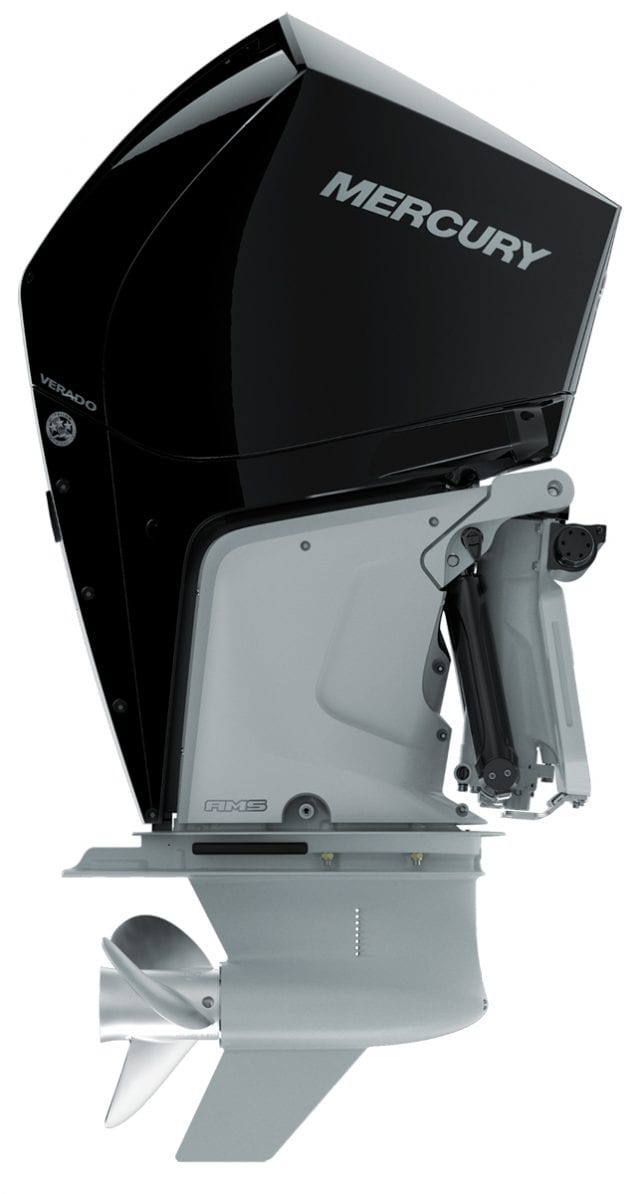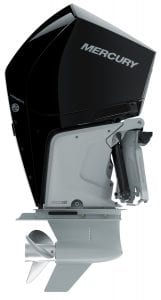 Mercury Marine unveiled a new V6 3.4-liter outboard engine system earlier this year. In one of the largest, single new-product development programs in Mercury's 80-year history, the Wisconsin-based company set a new benchmark with the recent introduction of the V8 4.6-liter platform. Available in the 250- and 300-hp Verado and FourStroke models and the 225-300-hp Pro XS and SeaPro models, as well as their racing engines, the new outboards, offer the performance, fuel efficiency and ruggedness demanded by professional anglers, the commercial segment and the avid boater. The Verado is equipped with Adaptive Speed Control for increased throttle response, noise, vibration and heat reduction for an ultra-quiet ride, an advanced midsection that delivers minimal vibration, and is compatible with the Mercury Joystick Piloting system. mercurymarine.com
Seven Marine
Seven Marine introduced its new line of outboards this past spring that takes the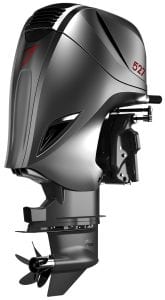 aluminum engines to a greater power. The new 527, 577s and 627sv each have supercharged, smallblock V8s with water-cooled stainless headers that deliver powerful acceleration and improved fuel economy. The outboards have a choice of gearcase setups to optimize cruise efficiency and low speed control based on the boat's speed range—the new CR gearcase incorporates two contra-rotating propellers for boats with top speeds less than 60 mph, and the CT is for boats with top speeds greater than 85 mph. A new Quick-Start technology allows rapid automatic fuel system priming at the turn of a key, and the ZF Marine transmission includes inboard-style wet disc clutches, integrated trolling functionality and smooth, progressive shifting. seven-marine.com
Generators
Phasor Marine 
Phasor Marine has been manufacturing generators for 28 years and introduces a new compact model at the Fort Lauderdale International Boat Show. The K3-15.0 kW is powered by a Kubota diesel engine, and the single bearing, direct coupled, brushless generator measures 37.5″L x 24″W x 28″H with a powder-coated aluminum, sound-attenuated enclosure. The unit includes a safety shutdown system, U.S.C.G.- approved fuel lines and Awl-Craft urethane finish. phasormarine.com
Stabilizers
Seaskeeper 2
Seakeeper now has a stabilizer for almost every size boat. Its groundbreaking Seakeeper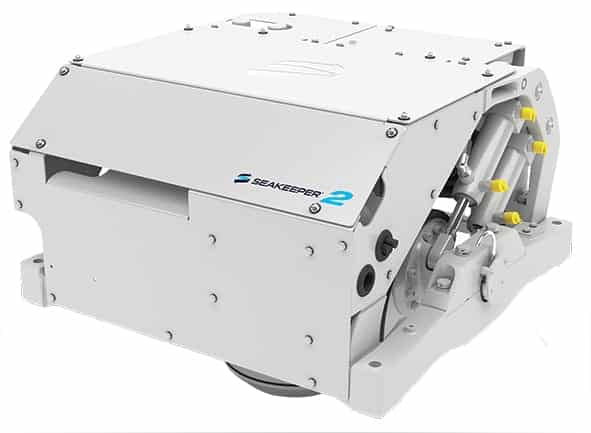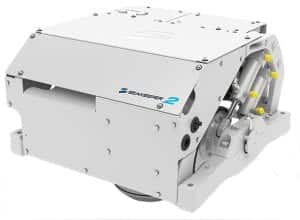 3 was a big step to stabilize boats in the 30-foot range, but now, they've made one that works on smaller boats. The Seaskeeper 2 became available in April and can eliminate up to 95 percent of boat roll on 27- to 32-foot vessels. The stabilizer weighs 414 pounds and measures 24x25x20 inches. The Seakeeper 2 runs exclusively on 12-volt DC power and because of its size can be installed almost anywhere, including as a leaning post replacement that can be integrated with no major structural modifications. A newly designed touchscreen control panel with an intuitive user interface allows users to capture real-time performance information. seakeeper.com
Refrigeration
Indel Webasto Marine
The Isotherm Clean Touch Stainless Steel Refrigerator  by Indel Webasto Marine features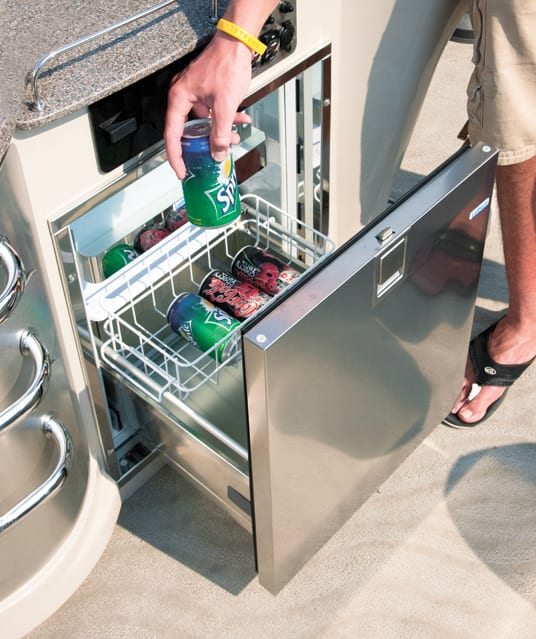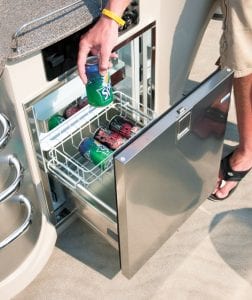 a high-tech coating that remains clean to the touch, is scratch and abrasion resistant and provides protection from salt spray, sun, heat, UV light, and condensation in the marine environment. The Cruise 130 Elegance Clean Touch refrigerator is the latest in the line and has a thicker door than traditional refrigerators, so it better retains the cold and provides greater energy efficiency and performance. An innovative internal anchoring system allows flush or proud mounting with or without a flange for a wide range of design options. The new Isotherm Cruise Clean Touch Stainless Steel refrigerators are also available in the 42, 49, 65, and 85 models. indelwebastomarine.com
Water Treatment
Dometic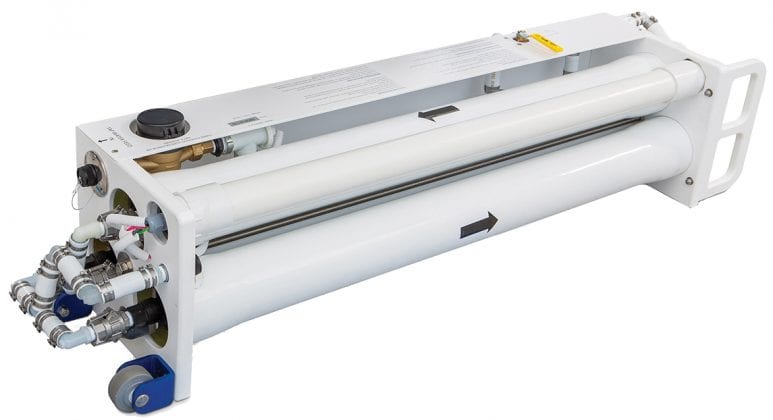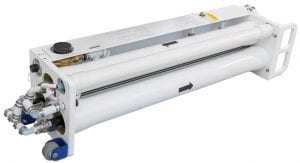 The new Dometic Spot Zero SZ Mobile Washdown System is a freshwater reverse osmosis syste. It'sdesigned for boats 60 feet and less that don't have the space for a built-in, onboard system. The compact, portable design removes up to 99 percent of total dissolved solids (TDS) from freshwater dock sources from around the world that have varying water quality characteristics, pressures and temperatures. Dried dissolved solids in water leave water spots, so removing them allows for a spot-free washdown. The Spot Zero system takes water that's typically a few hundred parts per million (ppm) down to 10-20 ppm. It utilizes the most advanced reverse osmosis technology for pure water from a potable source that can fill the water tank and also lets water-sprayed surfaces dry clean. spotzerowater.com
FCI
For larger boats, the FCI DTS+SOLO is specifically designed to treat dock water and can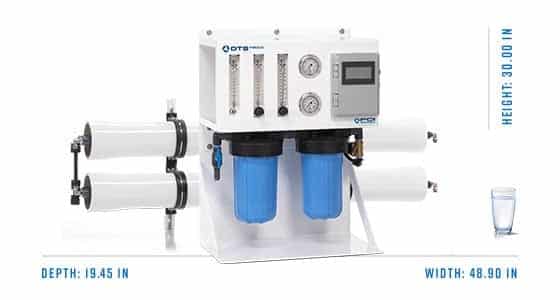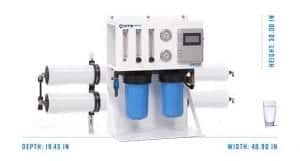 produce 2,000 or 3,000 gallons per day. The DTS (Dockside Treatment System)+Solo is a stand-alone dockside water purifying unit. It uses a granular activated carbon and sediment filter that produces purified drinking, cooking, and bath water from a dockside source. The system eliminates viruses, bacteria and cysts and removes up to 99 percent of total dissolved solids. The DTS+Solo uses utilizes FCI's exclusive HMI/PLC touch control system and the DTS+SOLO's compact, modular design allows it to mount almost anywhere. fciwatermakers.com
Climate Control
Webasto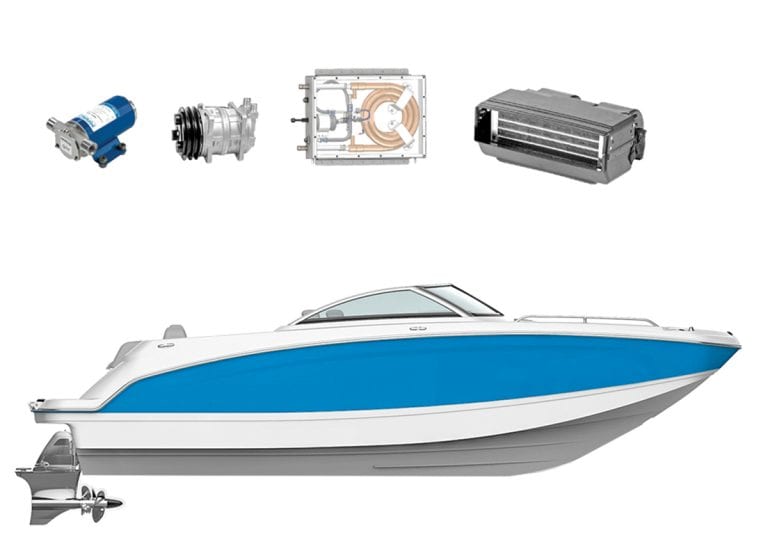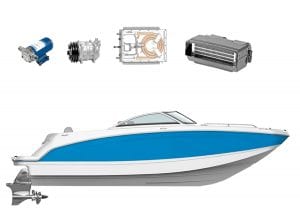 Open cockpit, sterndrive boats can now have a fully integrated, engine-driven air conditioning with optional heating system. Webasto Thermo & Comfort North America and Volvo Penta of the Americas unveiled the modular Webasto Breeze system that provides ambient cooling and heating. The entire system is 12 VDC and eliminates the need for an auxiliary generator. Webasto Breeze puts out 7,000 BTU of ambient comfort at idle or slow speeds and up to 30,000 BTU at higher engine rpms. It is controlled by a simple dash-mounted unit with three fan speeds and a mode switch. The first U.S. boatbuilder to offer the system is Four Winns, which introduces it as an option on their HD270 model. webasto.com
By Steve Davis, Southern Boating November 2018