Power up! Last month we featured 38 of the must-see new boats making their debut in Fort Lauderdale. In this installment, we present some of the New Equipment from FLIBS we saw at the show.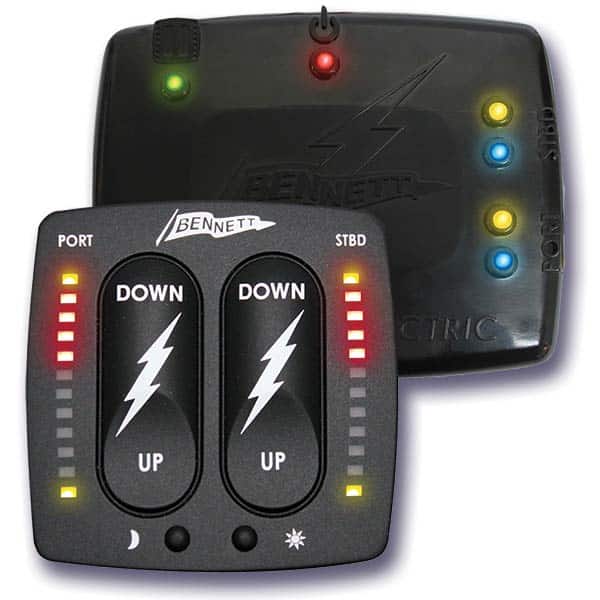 Long a mainstay in the industry, Bennett Marine has been in the forefront of trim tab design and operation since 1959. Now the company offers its new BOLT electric system designed for fast and easy installation. BOLT is designed with a tough, watertight black nylon actuator and complete protection for wires and seals. Each set contains a pair of 12-volt actuators, the tabs and mounting plates, and two 20-foot or custom length harnesses with waterproof connectors. There are six sizes, starting with 12″ x 9″ going up to 24″ x 12″ and are recommended for flats boats, center consoles and RIBs among a long list of others. Three control options are available with rocker switches, rocker control with diagnostics module and auto tab retraction, and a rocker control with all that plus a lighted indicator. bennetttrimtabs.com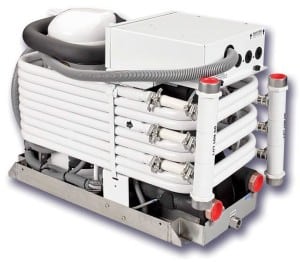 Dometic Marine offers its mobile-enabled STIIC—for Smart Touch Integrated Intelligence Control—that allows you to connect to six onboard Dometic systems, including reverse osmosis systems, water purification, Eskimo ice machines, premium chillers, refrigeration, and climate control equipment. STIIC allows you to monitor, check system status, change settings, turn on/off, or diagnose a problem even from a remote location using a phone, tablet or computer. Next up is the XTC-ZTC Double Pass Watermaker. This fully automatic, integrated double pass system—to further cleanse the water—can purify onboard water as well as sea, brackish, lake, river, and dockside water. The company's Titan Chiller, with its new titanium tube condenser, resists corrosion from barnacles and other fouling organisms while being able to withstand the harshness of chemical cleaning. dometic.com/marine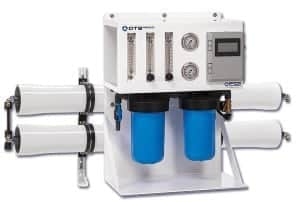 FCI's latest offering is its DTS+ SOLO, for Dockside Treatment System, an innovative product from this worldwide designer and manufacturer of reverse osmosis systems. The DTS+ SOLO is a stand-alone dockside water-purifying unit that allows you to enjoy fresh, purified water for drinking, cooking and bathing dockside, but it also includes a GAC and sediment filter, a feature that can optimize membrane life. According to the company, the DTS+ SOLO eliminates viruses, bacteria and provides bottled quality water. A compact, modular system, it is designed to fit into tight spaces. FCI's DTS+ SOLO requires no equipment on the dock and comes complete with all pumps and motors. Its low power consumption is complemented by a quiet and vibration-free operation, and it is bulkhead or deck-mountable. fciwatermakers.com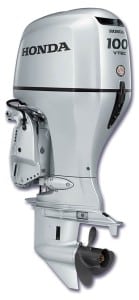 Honda has been in the forefront of four-stroke engine technology in the U.S. for some 50 years. To boost its mid-range offerings the company now presents its latest, the BF 100-hp outboard. As with all Honda power, the engine contains the entire range of design and technology DNA the manufacturer has become known for in the automobile industry. The result is a high performance, fuel-efficient, environmentally friendly, four-cylinder, 1496 cc engine.It has a full-throttle rpm range between 5500-6300 and tips the scales at 366 pounds. Innovative and advanced design elements include VTEC™ for power, torque and efficiency at any speed; BLAST® for improving hole shot and acceleration; lean burn control for automatic adjustment of the air/fuel mix as per speed and load; programmed electronic fuel injection for precise delivery of fuel/air to each cylinder; and a new high performance gear case.The Honda BF100 has NMEA 2000® certification, is covered by a five year, non-declining, limited factory warranty and is CARB 3-star certified in all 50 states. marine.honda.com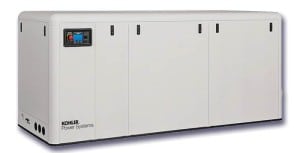 Kohler has added some new units to its expanding Tier III compliant lineup. First up is the 200EFOZDJ 200-kW system, a big powerhouse generator, designed for superyachts or commercial applications. Also being introduced are the 20EKOZD, 20-kW and 23EKOZD, 23-kW single-and triple-phase generators. All feature Kohler diesel engines as well as the company's Decision-Maker® 3500 controller (DEC 3500).With the DEC 3500, two or more Kohler generators can easily be paralleled with a single communication wire. For example, with instant and automatic transfer and paralleling, should the first generator's load be light, the second unit automatically drops off. Conversely, when there is a heavy load on, the second genset will take up the power slack. The controller's space-saving design eliminates the need for oversized switchgear. Other benefits of the DEC 3500 include built-in load management software, remote monitoring, fully potted circuit boards and sealed connectors, and fewer failure points for an enhanced level of reliability. kohlerpower.com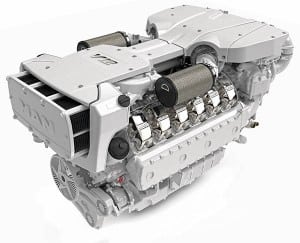 The big news from MAN is its high-speed, four stroke V12-1900 powerhouse that extends the range of its engines for yachts to 1,397 kW (1,900-hp). The company has completely redesigned the injection, power train, and cooling systems. With its compact size—approximately 7′ l" x 3′ 8″ x 4′ 2″ and weighing in at about 5,200 pounds—both new builds and repower jobs in larger boats and yachts can be accommodated. As with all MAN engines, the V12-1900 is EPA Tier 3 compliant. And if you want to dress up your engine room, optional gilded or chrome-plated cylinder head covers as well as a design cover are available. engines.man.eu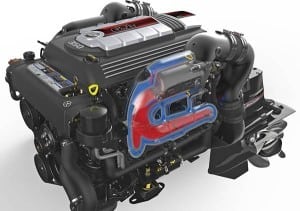 Besides Mercury Marine's introduction of the Verado® 350-horsepower outboard, Mercury Racing Verado 400R outboard, Mercury Racing QC4v 1550 sterndrive, and Mercury 4.5-liter 200-hp/250-hp sterndrives at the 2015 Miami show, the company introduces several new additions in Fort Lauderdale as well.
The Flo-Torq SSR HD is a propeller hub system designed to improve shift noise and vibration on high horsepower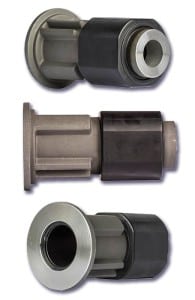 outboards that use a heavy-duty 1.25-inch propeller shaft. According to Mercury, the result is a 25 percent improvement in shift noise and vibration. The company's GPS-based controlled
Active Trim System (ATS) automatically delivers instant, effortless trimming of boat engines. Tests on a broad range of boats indicate improved engine performance and decreased fuel costs. ATS has five selectable trim profiles, regular manual trim, and is compatible with analog or digital gauges as well as any new Mercury Outboard or MerCruiser engine with SmartCraft. Mercury MerCruiser's new 6.2-liter V8 300-hp and 350-hp sterndrive engines feature Adaptive Speed Control, Axius Joystick control (optional) and freshwater cooling, anti-corrosion protection, freshwater flush system, easy access maintenance points, and a QR code on the engine's service label for smartphone users to access "how to" videos online. mercurymarine.com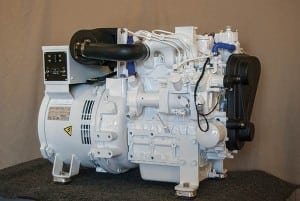 Phasor Marine introduces its new 2016 Compact Series Model K3-15.0 kW marine genset. Phasor Marine employs a fuel-efficient Kubota diesel engine—renowned for its quality and dependability. The freshwater, heat-exchanger cooled marine generator features a cost-saving, low 1800 rpm operating speed for less noise, vibration and wear. Weighing in at 646 pounds (34'5″L x 21'W x 26'H) the K3-15.0 kW will be available with Phasor's optional powder coated aluminum, sound attenuated enclosure. Standard features include single circuit control system with no printed circuit boards, cast stainless steel exhaust elbow and molded blue silicone water hoses with stainless steel AWAB hose clamps among others. Options range from DC gauge panel with start/stop/preheat/20-foot plug-in wiring harness to 24 volt DC starting system and 50 cycle output and many more. phasormarine.com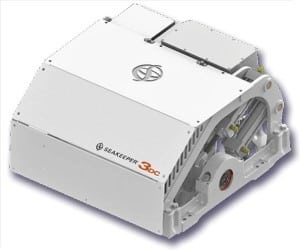 Seakeeper, whose long list of gyro stabilization units has made this particular piece of equipment the option boat owners must have, offers its battery-powered 3DC. Designed for boats from 30 to 40 feet in length, the 3DC works without a generator making it an especially perfect fit for the rise in popularity of the center console design. Indeed, to show off its abilities, Seakeeper had one installed in a Contender 35ST, the same boat that will be docked at the nearby Bahia Cabana and available to the public.
The unit is mounted at deck level and positioned underneath the leaning post. During sea trials on a rather nasty day according to Seakeeper, the result was a 94 percent reduction in roll. seakeeper.com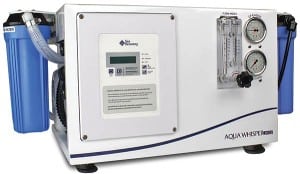 Along with Sea Recovery's many other watermakers, including the AW Mini for smaller boats, they will be displaying the new Aqua Whisper Pro unit. Designed for offshore cruising and fishing as well as the charter sector, its manual and touch pad control system allows for easy operations with water production rates from 450 to 1,800 gallons per day, and the AW Pro is upgradable to high-capacity operations.
Features include a one-pressure adjustment to accommodate varying water feed conditions, LCD touch screen, failsafe water diversion valve, shielded terminals and covered high voltage components, and replaceable pre and post filters fit right on the frame. Units are shipped complete and ready to go right from the factory with an entire installation kit and comprehensive operations and maintenance manual. A remote control touch pad is available as are a commercial prefilter, oil water separator, pH neutralizer, and automatic fresh water flush. searecovery.com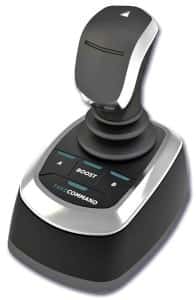 SeaStar Solutions has upped its Optimus Electronic Power Steering System (EPS) to include inboard powerboats from 40 to 70 feet in length. Taking its operational parameters from the company's proven applications with single, twin, triple, and quad engines, the inboard EPS system offers the inboard boat owner programmable options covering lock-to-lock ratios, steering response and wheel resistance. For example, when moving slowly and more rudder is required, Optimus EPS can be programmed to lower the number of lock-to-lock helm turns to four or five. This reduces the number of times the captain has to turn the wheel to get the rudders positioned properly. Helm resistance can also be lessened so the wheel requires less effort to move. These and other customizable settings make controlling the boat in tight spaces easier and more intuitive. When at cruising speeds, the lock-to-lock turns and steering resistance will automatically increase. Features include an exclusive design for use in salt water, Optimus CANTrak display, a pump control module, and a newly designed SmartCylinder. seastarsolutions.com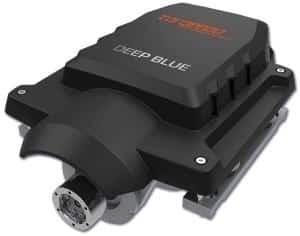 In the electric outboard sector, the offerings from Starnberg, Germany-based Torqeedo cover the gamut from ultralight, lithium battery-powered 1-hp motors for kayaks to 1.5- to 3-hp and 5-hp to 8-hp for various other applications including tenders and sailboats, to its Deep Blue, high-voltage, high-performance lithium-powered models up to 40 and 80 horsepower. (All hp numbers are the electrical equivalent.)Getting a lot of attention are the Deep Blue i1400 and i1800 rpm inboard systems, also in 40- and 80-hp models. Deep Blue includes an onboard, touch screen computer with 14 application views including heading and range, ETA, and battery status, battery charger. Other features consist of an electronic remote throttle, emergency magnetic kill switch, connection box for all electrical and signal cables, and, of course, the high voltage electric motor. torqeedo.com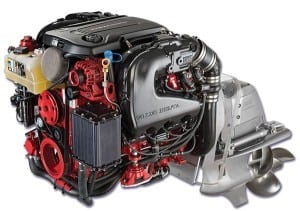 On the gasoline sterndrive engine side, Volvo Penta will be showing its next generation of 5.3L V8 engines. Available in 300- and 350-hp, the series is based on GM's GenV platform and was developed with input from a select group of boatbuilders. Technical features include direct fuel injection, lightweight all-aluminum block, standard closed cooling, variable valve timing, and wideband oxygen sensors—according to Volvo Penta to reduce CO emissions by 95 percent. A host of common parts and service points across the range reduce the number of parts dealers need to stock, thus simplifying service and maintenance. volvopenta.com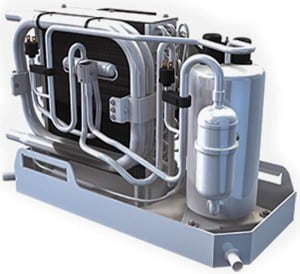 Webasto Thermo & Comfort North America is adding two new models to its FCF Classic and BlueCool systems. The FCF Platinum series comes in 12,000 and 16,000 BTU/h ratings in either 115 or 230v. These units feature an improved, slim design making them perfect for retrofitting older and larger systems as well as for boatbuilders. Rugged design, a durable marine-grade stainless steel frame, a larger proprietary condenser for better water flow and improved performance in high-stress conditions typify the outstanding engineering put into the Platinum series. FCF Platinum 12,000 and 16,000 BTU/h models come standard with a digital display and feature low-cost replacement parts. webasto.com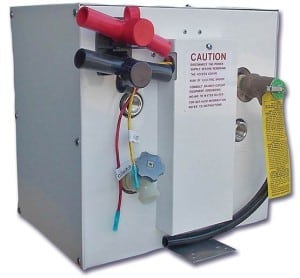 Whale Marine has a rather innovative solution for the small boat owner who would like hot water available on board. The Whale 12V Water Heater is lightweight and compact making it ideal for this kind of use where space is an issue.
The Water Heater connects to a 12V power supply eliminating the need for a generator, inverter or shore power. Rapid heat-up time provides hot water in less than an hour and high-efficiency heat retention of up to 10 hours, so the 12V Water Heater is a quick and easy way to have hot water when you need it. whalepumps.com 
By Ken Kreisler, Southern Boating Magazine November 2015