What Lies Ahead: How Forward-Looking Sonar increases safety
FarSounder's 3D forward-looking sonar detects obstacles in real-time.
With Forward-Looking Sonar you can confidently navigate any waters. Imagine operating your boat by only looking in a rear-view mirror, while someone tells you what's in front of you. Sound a bit challenging? Well, as far as anything under the water is concerned, this is exactly how most boaters do it. The depth sounder tells you the depth of the water directly under the boat, but because of your forward speed, it is far behind you by the time you see that information at the helm. 
This means every time you look at your depth gauge, you're actually looking in a rear-view mirror at the bottom you've already passed over. The faster the boat is going, the farther behind you're looking. So how do you know what's under the water in front of you? The only way is by what your chartplotter is telling you, so you blindly push ahead trusting the information is correct. While there are many sonar options on the market, FarSounder decided to make some advances.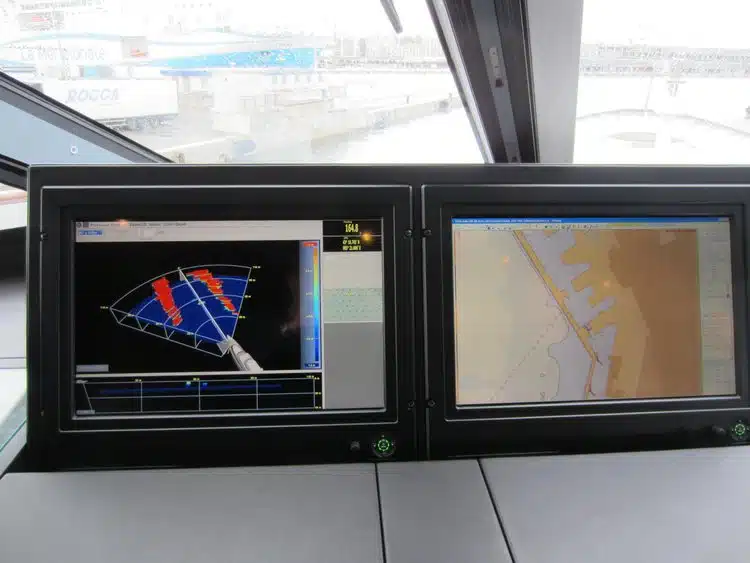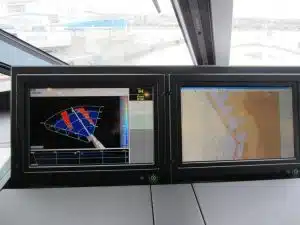 Staying Current
Safe boating requires knowing water depth. The problem with this is the depths shown in our chartplotters are frequently out of date. Even in well-charted areas, there are challenges keeping the data current in an ever-changing environment—sandbars form and shoals build over time. Add to this the variety of unseen submerged objects, and it's easy to understand how towing companies and boatyards make money from boats being grounded or hitting something that's under the water's surface.
The U.S. has some of the best charts in the world; yet, according to the National Oceanic and Atmospheric Administration (NOAA), a significant percentage of the depth information found on NOAA charts is derived from hydrographic surveys conducted before 1940, and in remote areas like Alaska, depth measurements could date back to Captain Cook's voyages in the late 1700s.
A professor and group of students in the ocean engineering program at University of Rhode Island were drawn to the gravity of this problem after a ship ran aground spilling oil in Rhode Island waters. The research program's goal was to prevent these types of accidents by developing a better way to see what's under the water in front of a vessel. 
One of the students in the program, Matt Zimmerman, would become instrumental in the development and, in 2001, go on to create FarSounder Incorporated, a boundary-pushing technology company with a mission to make boating safer for boaters and marine life. Zimmerman and the URI team also believed this technology could help save the endangered population of North Atlantic right whales by preventing fatal whale strikes by boats and ships. Out of this research came the world's first functional forward-looking 3D sonar.  
Advanced Technology
FarSounder's 3D forward-looking sonar reliably detects in-water obstacles and shallow areas in front of a boat. The system creates a true three-dimensional image ahead of a vessel in real time. The largest of its Argos Series can see out over a half-nautical mile in front of the boat at speeds up to 25 knots. The system software is easily integrated into most helm systems.
The chart overlay software and 3D sonar display make it easy to understand what lies ahead underwater. The fast update rate paints the entire 3D image with a single ping eliminating wait time. FarSounder's engineers developed a user-friendly interface to give captains and crew a real-time picture of what looms on the seafloor and in the water column.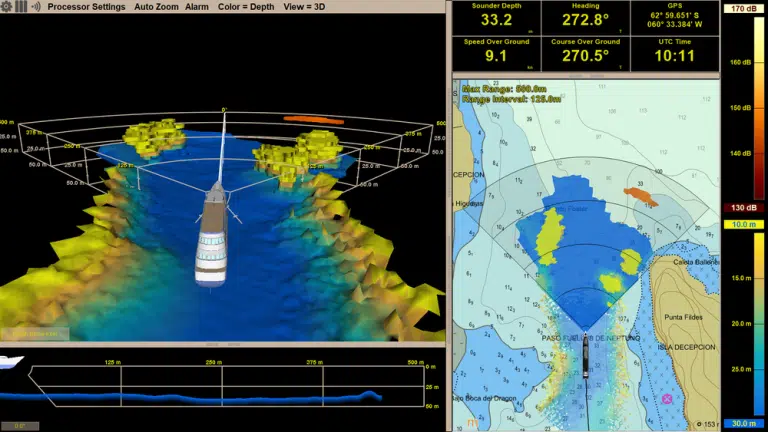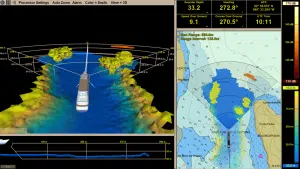 FarSounder created a unique phased array technology which generates a wide transmission of sound ahead of the boat. Its single-ping 3D-processing provides a clear image eliminating interference from the boat's rolling and pitching motion. With this advanced technology, boat captains and crew can distinguish between the seafloor and dangerous in-water obstacles through the system's processing of depth measurement and color mapping.
FarSounder's mapping history capability lets users build a 3D map of the seafloor in the chart overlay view. Navigators will see a color-coded, real-time picture of the seafloor in front of the vessel, as well as where they have been. Since the sonar has a wide horizontal field-of-view ahead of the boat, a single pass of an Argos 3D forward-looking sonar's mapping feature can map a much broader swath of the seafloor than a standard echosounder.
Global Resource
While FarSounder's forward-looking sonars are designed primarily as real-time sensors for obstacle avoidance, boaters can also use the information to contribute to a worldwide crowdsourcing initiative to improve chart accuracy. With a recording of the mapping history, boaters can participate in the company's Expedition Sourced Ocean Data Collection program, where participants record all their data on a hard drive, which is sent to FarSounder for compilation. As an official trusted node, the company will submit the data to the International Hydrographic Organization for use in Seabed 2030, a global initiative to accurately map the world's oceans by the year 2030.
To date, FarSounder's Argos series of forward-looking sonars have been used primarily in commercial vessels, cruise ships, and large yachts; however, the company is actively developing more cost-effective units for smaller boats. farsounder.com 
-by Bob Arrington
For more content on new technology and electronics, click here, or subscribe to our newsletter for updates:
Subscribe to our eNewsletter