This Is One Smooth Operator
The future is here with Volvo Penta's new Glass Cockpit navigation system. In collaboration with Garmin, Volvo Penta has created a user-friendly control platform at the helm that makes boating more simple and fun. If you've used a smartphone or tablet computer, you'll be at home swiping, pinching and zooming your way around the display screens.
Now, for the most part you can still actually drive boats with the Glass Cockpit system—all the fun doesn't have to be automated. But it can be. Garmin's auto-guidance feature suggests the best way to avoid obstacles and shallow water, and if you pair it with autopilot, you've created a self-driving boat.
We took a long ride at the 2014 Miami International Boat Show on the new Cobalt A40 cruiser equipped with the Glass Cockpit system. Powered by a pair of Volvo Penta D6 diesel 400-horsepower engines mated to stern drives with joystick control, the A40 has twin 12-inch Volvo Penta Glass Cockpit 8212 multi-function displays mounted side by side on the dash. With the power off, the blank screens looked sad and uninteresting. But when you fire up the engines, the world of boating in the electronic age springs brilliantly to life.
"It's easy to use and takes hardly any time to get used to," explained Alex Barry, Cobalt's western regional manager. Indeed, on one screen Barry had saved past routes through a crowded Biscayne Bay in the chartplotter view and simply followed the path without ever having to worry about obstacles. On the other screen, we toggled through a host of engine and performance information, and then started "dividing" the screen into even smaller screens. The captain decides what functions should be displayed on the screens and how they should be distributed.
Volvo Penta's goal with the Glass Cockpit is to make boating more car-like. The system is less complicated because everything is integrated, and there is one point of contact if a problem arises. "The Volvo Penta Glass Cockpit gives the boat operator a similar experience to driving a modern automobile," said Marcia Kull, Volvo Penta's vice president of North American marine sales. "The driver environment in cars is similar regardless of the car brand. A driver pushes a button with confidence that it all will work. In the boating world, it has not been quite as easy—until now."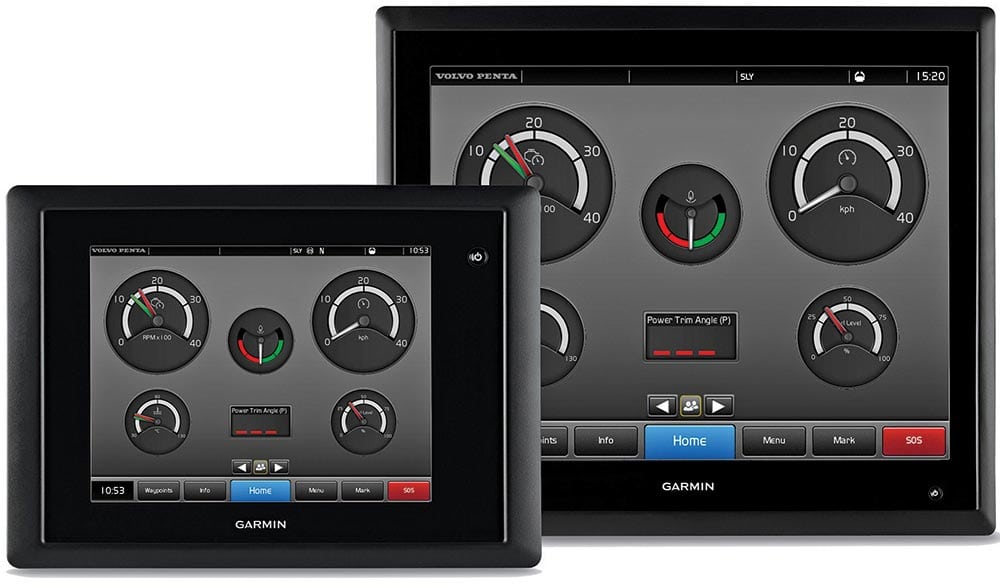 It's true that if you lose power, your screens won't work, but just like in a car, nothing else will work, either. That's no different than if your boat had analog gauges and you lost power, but for some reason it just feels different to have your speedometer or tachometer as a virtual gauge and not a hard one cut into the dash panel. "If you lose only the functionality of the screens the boat is still going to continue to run," Barry explained. "However, the helm is all digital and if something is to go wrong, it's not going to be the Glass Cockpit system; it's going to be a problem with whatever is feeding it. Remember, what's new is that Volvo and Garmin are doing this project together; this technology has been around for a few years now and it's tried and proven."
Garmin's side of the technology centers around its GPSMAP 8000 Glass Helm system that includes sonar, radar, VHF communications, GPS antenna, autopilot hardware, regional navigations charts, and software updates.
The Glass Cockpit system is a standard feature on the Cobalt A40 when powered by Volvo Penta engines. The displays are easy and intuitive to handle, with touch and pinch-to-zoom functionality. Depending on boat type and size, one or more displays can be mounted on the dashboard. The screens are available in different sizes from 8 to 19 inches. The Glass Cockpit system is fully integrated with the Volvo Penta Electronic Vessel Control (EVC). That means that all Volvo Penta easy boating options—dynamic positioning system, trim tabs or interceptors and autopilot—can be monitored and controlled through the displays.
"In addition to the benefits for the boat owners, the Glass Cockpit system opens up a new world of possibilities for boat builders to create exciting—but also logical, safe and ergonomic—dashboard designs," said Kull. "And the boat owners will be able to drive the boat in a relaxed but safe manner and enjoy the ride—which is why they bought a boat in the first place. This capability is possible thanks to Volvo Penta's boating knowledge and the Volvo Group's experience with driver environment designs."
By Doug Thompson, Southern Boating April 2014